Death On The Nile's Armie Hammer Has Wild Facial Hair Now And He's Totally Unrecognizable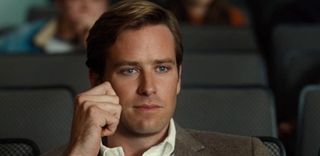 You know Armie Hammer, the oft-cleanshaven actor in such hits as The Social Network or On The Basis of Sex. In fact, we've seen Armie Hammer play a variety of different types of characters over the years, from a man in a mask in The Lone Ranger to an in love research assistant in Call Me By Your Name. He's even voiced a car in Cars 3. Though we've seen him in many ways, I can almost guarantee you've never seen him look like this before. Armie Hammer is unrecognizable in self-isolation.
I mean it. Generally when I see an actor or actress who has changed his or her look, it's often for a role and usually the changes are unrecognizable-ish. But Armie Hammer has shaved part of his head, left the rest in a mohawk, and given himself some devilish facial hair. There's nothing else I can say to explain this. You just have to look.
.… and look and look and look. I can't tear my eyes away, in fact, from either the facial hair or the fashion choices. The one thing that's actually a damn shame about this whole thing is that Armie Hammer is famous enough he probably gets recognized out on a regular basis. Right now, with that look, I'm pretty sure he could go wherever he wanted without anyone being the wiser.
Unfortunately, the only reason he has this look currently is likely due to being in social isolation and not an upcoming role (although there may be Joe Exotic casting opportunities coming up). So, he won't be able to go incognito in public right now.
Next up, Armie Hammer is set to play Simon Doyle in Kenneth Branagh's remake of Agatha Christie's popular Hercule Poirot mystery Death on the Nile. That one'll be a period movie, and thank goodness it's already in post-production, because I do not think that look would have flown on set.
Armie Hammer hasn't been super active on social media since social distancing became the norm. However, if he was going to share a gem, I'm glad it's this one.
Meanwhile, he's not the only celebrity cutting his or her hair in social isolation. Carson Daly let his kid shave his head the other day in a gripping TV moment. Other celebrities like Chris Pratt are going "full Wolverine" during quarantine.
While Armie Hammer puts in a valiant effort here, I still believe the win for best facial hair goes to someone who tried a unique look before self-isolation. That celebrity would be none other than Zac Efron, who went with a "panini"-based look for his role in Matthew McConaughey's The Beach Bum. However, Hammer gets bonus points for creating his wild look in his free time, so I can see arguments both ways. So, congratulations to Zac and Armie for really going for it with their respective hairdos.
This poll is no longer available.
Amazing Race & Top Chef superfan with a pinch of Disney fairy dust thrown in. If you've created a rom-com I've probably watched it.
Your Daily Blend of Entertainment News
Thank you for signing up to CinemaBlend. You will receive a verification email shortly.
There was a problem. Please refresh the page and try again.