8 Things To Watch On Disney+ Since You Can't Visit Walt Disney World Or Disneyland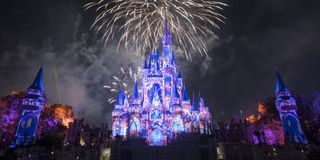 CinemaBlend participates in affiliate programs with various companies. We may earn a commission when you click on or make purchases via links.
Walt Disney World and Disneyland are closed, and nobody has any real clue when they'll be open again. If you were planning a trip to one of these magical places, that trip is, postponed at best and cancelled at worst. Even if you weren't planning on visiting the parks, the fact that isn't currently an option can be quite depressing, and might make you wish that much more that you could be there. It's a desperate time, and that means it's time for desperate measures. Plan yourself a virtual trip to Disneyland or Walt Disney World.
We can't go on any rides or see any shows. All we can do is watch TV, but luckily, there's an entire Disney+ streaming service at our disposal, and there's no shortage of theme park-related and theme park-inspired content to be found. Certainly there are lots of aspects of the Disney parks that are inspired by the movies on Disney+, but these are the shows and movies that specifically cause you to think about the parks while you watch them. Here are a few things you can watch on Disney+ (which is offering a free seven-day trial) to get that vicarious Disney parks feeling.
The Imagineering Story
Where You Want To Visit: Literally any Disney theme park in the world
If you're a fan of Disney theme parks, then it seems like a foregone conclusion that you've already watched The Imagineering Story from start to finish (unless you're holding the last 10 minutes until after you finally get a chance to ride Rise of the Resistance). If, however, that's not the case, there's no better way to experience Disneyland and Walt Disney World without being inside inside them then this excelling 10-part documentary series. It's so good you'll wish Leslie Iwerks' production had 10 more parts to it.
Pirates Of The Caribbean: The Curse Of The Black Pearl
Where You Want To Visit: New Orleans Square - Disneyland/Adventureland - Walt Disney World
Disney has attempted to turn its popular theme park attractions into successful films a handful of times, but it's only ever really worked once. The Pirates of the Caribbean franchise has continued to be financially successful even after its fifth installment, but as a movie, you really can't get better than the first one, The Curse of the Black Pearl. And, of course, since nobody knew this one would be a successful franchise at the beginning, all of the major references to the attraction, like the dog holding the key, as well as the skeletons, which inspired the plot itself, are found in the first movie. Drink up me hearties, yo ho.
Disneyland Around The Seasons
Where You Want To Visit: Disneyland, but in the past
One of the things that is sorely lacking on Disney+, but has slowly seen more inclusion is classic Disney television. However, one episode of Walt Disney's Wonderful World of Color which can be found on Disney+ is all about Disneyland, or at least all about the way Disneyland was in 1967. "Disneyland Around the Seasons," like many episodes of the older Disney anthology series, is little more than an hour long commercial to try and get you to go check out the theme park, but we're already sold on Disneyland, right? At the moment, we just want to see it.
Mickey Mouse: Space Walkies
Where You Want To Visit: Tomorrowland
Disney got its start with animated shorts, and while that part of the company is certainly much smaller than it once was, new shorts are being produced all the time. If you haven't kept up with the modern run of Mickey Mouse cartoons, you're missing out on some absolutely gloriously insane adventures. The new shorts bring back Mickey's original Charlie Chaplin-inspired roots in ways not seen since the original 1930s shorts. They also contain a lot of fun easter eggs, but the short entitled 'Space Walkies" includes a great Disneyland/Walt Disney World reference, as when Mickey Mouse lands his rocket ship at the end, he lands it in Tomorrowland, right in front of Space Mountain. In fact, Mickey's rocket itself can be found in the park.
The Haunted Mansion
Where You Want To Visit: New Orleans Square - Disneyland/Liberty Square - Walt Disney World
As previously mentioned, the Pirates of the Caribbean franchise is the only theme park based movie to actually work, but we're desperate here. So if you need a Haunted Mansion fix, and let's face it, who doesn't now and then, don't forget that there is a Haunted Mansion movie. It's not great, but it does include a scene where marble busts sing "Grim Grinning Ghosts," and sometimes that's what you need if you're trying to stay sane.
Be Our Chef
Where You Want To Visit: The Churro stand, The Dole Whip stand or anyplace else with great theme park food
Most of these entries are focused on the attractions of the Disney theme parks, but for some of us, our favorite memories surrounding Disneyland and Walt Disney World involve food. Much of it can't be recreated at home, but there are some cookbooks out there if you want to try. Beyond that, you can watch Be Our Chef, the Disney+ original series sees families creating special Disney-themed dishes. While they may not remind you of the parks themselves, each episode is judged by a chef at a Disney resort restaurant, places you're likely to have had a fantastic meal that you can now remember.
The Three Caballeros
Where You Want To Visit: Epcot - Mexico Pavilion
Disney's The Three Caballeros came out in 1944, more than a decade before Disneyland would open and more than 60 years before Epcot would open Gran Fiesta Tour Starring the Three Caballeros. And yet, I would wager that, at least before Disney+, more people knew Donald, Jose and Panchito from the attraction than they do this movie (or Saludos Amigos, which came before and first introduced Jose and Panchito). And as Disney songs go, "The Three Caballeros" is pretty catchy, and will instantly take you back to the boat ride.
Decorating Disney: Holiday Magic
Where You Want To Visit: Disneyland or Walt Disney World at the holidays
One certainly hopes that by the time the winter holidays come around, we'll actually be able to visit Disneyland and Walt Disney World again. Until then, we can look forward to what it will be like with this television special that shows what goes into transforming the Disney Parks into these places of holiday magic. Perhaps it will remind you of a previous trip to the park, and the sights and smells that came along with it.
It's going to be a while before anybody is going to have a chance to make a trip to Disneyland or Walt Disney World, and its going to be even longer before that trip resembles anything close to normal. Until then, we'll have to find our joy in little places, like remembering the places that we enjoy visiting. Eventually we'll get to see these places again.
Your Daily Blend of Entertainment News
Content Producer/Theme Park Beat
CinemaBlend's resident theme park junkie and amateur Disney historian. Armchair Imagineer. Epcot Stan. Future Club 33 Member.