10 Disney Movies Still Available To Stream On Netflix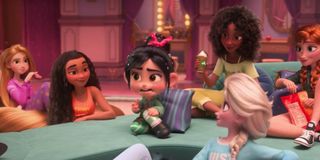 CinemaBlend is partnering with PIA VPN to bring you fresh content to stay in and stream with each day. We're also offering a special 76% discounted rate for a limited time only. You can sign up for the package with PIA here.
For the longest time, it seemed like Netflix was the place to turn whenever you or your kids were in need of a great Disney movie, but all of that changed with the introduction of Disney+ in November 2019. Ever since then, the number of Disney titles appearing on Netflix has turned from a flow of new animated movies and live-action films to a slow trickle. Fear not, as movies like The Incredibles 2, Mary Poppins Returns, and The Princess And The Frog can all be enjoyed through your Netflix account, at least for now.
To make things easier for everyone (myself included), I've put together a list of 10 great Disney movies that are still available to stream on Netflix. So if you're part of the minority and haven't signed up for a subscription from the House of Mouse, these titles are your best bet.
The Incredibles 2 (2018)
This may come as a surprise, but The Incredibles 2 is the highest grossing Pixar movie to date, bringing in $1.2 billion worldwide upon its release in 2018. Even more surprising is the fact that the followup to the studio's 2004 superhero flick about a reversal of roles in the Parr/Incredible house is still available to stream on Netflix. But act soon as The Incredible family will be moving to Disney+ on July 30, 2020.
Stream it on Netflix here.
The Princess And The Frog (2009)
Fans of The Princess And The Frog have plenty of options to choose from when trying to find the best place to watch the 2009 animated Disney animated feature. This reimagining of the classic fairy tale takes place in the swampy marshes and seedy underbelly of New Orleans, and features a superb supporting cast of characters as well as one of Disney's best villain songs, "Are You Ready?" so there are plenty of reasons to revisit this one on Netflix before it's too late. You can also watch Tiana and Prince Naveen on Disney+ where its currently streaming as well.
Stream it on Netflix here.
Mary Poppins Returns (2018)
A sequel more than 60 years in the making, the 2018 Christmastime hit Mary Poppins Returns traded Julie Andrews for Emily Blunt, who is phenomenal in the titular role as the magical nanny for the Banks family. With a story, songs, and animation that is on par with the original 1964 musical, the new and improved variation of Mary Poppins is one to remember. Watch it now before it moves to Disney+ in January 2021.
Stream it on Netflix here.
Tarzan (1999)
Disney's Tarzan will forever be one of my favorite animated films from the studio. The Phil Collins soundtrack, the detailed animation, and the fact that my parents found my childhood cat the night the movie hit theaters all bring the movie up a few spots on my list. Tarzan and Jane will be taking up residence on Disney+ on June 23. 2020.
Stream it on Netflix here.
Ralph Breaks The Internet (2018)
Audiences fell in love with the video game villain turned hero Wreck-It Ralph in his theatrical debut, but they fell a little deeper with the clumsy and misunderstood character in the 2018 followup Ralph Breaks The Internet, which sees the titular character escape from the safety of an arcade cabinet into the uncharted waters of the World Wide Web. Netflix is the best place to watch this movie now as it won't debut on Disney+ until December 11, 2020.
Stream it on Netflix here.
Chicken Little (2005)
Chicken Little is one of those movies that proves that the even the smallest and craziest of us can sometimes be right and actually know how to save the day. This 2005 animated feature from Disney might often get forgotten when discussing the studio's output in the 21st Century, so why not revisit it for old time's sake. You can watch Chicken Little in his attempt to save the world from what appears to be an alien threat on Netflix and Disney+ right now.
Stream it on Netflix here.
Bolt (2008)
Like Chicken Little three years earlier, the 2008 Disney animated film Bolt is another theatrical release that often gets overshadowed by more prominent movies that were released the year it came out. But answer me this, does Wall-E feature a dog voiced by John Travolta who is convinced that he is a superhero and not just a canine actor? You can watch Bolt on Netflix and Disney+ right now.
Stream it on Netflix here.
Christopher Robin (2018)
If you're looking for a new take on Winnie The Pooh, then the 2018 family drama Christopher Robin is going to be the way to go. Set decades after the titular character left the Hundred Acre Wood for the hustle and bustle of London, this charming film follows Winnie The Pooh as he searches for his long-lost friend. Netflix will be your best option to continue the adventures of Winnie and Christopher Robin as it won't hit Disney+ until September 5, 2020.
Stream it on Netflix here.
Walt Disney Animation Studios Short Films Collection (2015)
Disney Animation Studios has always done a tremendous job with its animated shorts, and now you have a place to watch 12 of those short stories with the Walt Disney Animation Studios Short Films Collection. With a dozen shorts and introductions from the animators who brought them to life, there is a little bit of something for viewers of all shapes, sizes, and ages. And as far as I can tell, this title is not available on Disney+, so Netflix is the place to catch up on your Disney shorts.
Stream it on Netflix here.
The Nutcracker And The Four Realms (2018)
The Tchaikovsky ballet The Nutcracker is brought to life like never before in the 2018 reimagining, The Nutcracker And The Four Realms. When Clara (Mackenzie Foy) receives a mysterious gift, the young girl embarks on a journey to four secret realms in order to discover her greatest strength. The title won't appear on Disney+ until November 28, 2020.
Stream it on Netflix here.
Those are just 10 of the great Disney movies you can watch on Netflix before they move over to the Disney+ later this year and 2021. Which of these is your favorite Disney movie? Make sure to let us know in the comments, and make sure to check back on all things Disney here at CinemaBlend.
Your Daily Blend of Entertainment News
Philip grew up in Louisiana (not New Orleans) before moving to St. Louis after graduating from Louisiana State University-Shreveport. When he's not writing about movies or television, Philip can be found being chased by his three kids, telling his dogs to stop barking at the mailman, or yelling about professional wrestling to his wife. If the stars properly align, he will talk about For Love Of The Game being the best baseball movie of all time.