11 Angelina Jolie Movies Available Streaming Right Now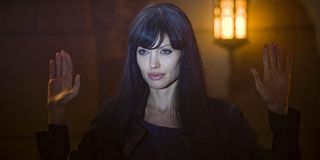 CinemaBlend participates in affiliate programs with various companies. We may earn a commission when you click on or make purchases via links.
What can't Angelina Jolie do? She's an actress, a director, a writer, a producer, a possible future politician, and a humanitarian. I mean, Jeez Joliez, the woman never stops being amazing. But, my focus today is on her acting career, since Angelina Jolie movies are almost always something special.
With at least 53 acting credits to her name, though, not all of those movies are so easy to come by. That's why I've compiled a list of movies that you can enjoy at your leisure if you happen to have any of these streaming services. Oh, and by the way, who else is looking forward to Angelina Jolie joining the MCU next?
The Tourist – Netflix
Angelina Jolie stars alongside Johnny Depp in this sexy thriller (Or is it a musical...or a comedy?) In it, Angelina Jolie plays a British woman on the run from the French police because they're chasing her husband…or does she? Johnny Depp plays an unwitting accomplice to Jolie's character who falls in love with her…or does he?
There are a lot of twists and turns in this Golden Globe nominated movie, with some of them being good, and some of them being not so good. But, in the end, Angelina Jolie is ravishing (Or is it ravenous?) in it. Plus, The Tourist is a very pretty film, so it has that going for it as well.
Stream it on Netflix
Salt - Netflix
Angelina Jolie has had a very interesting career as an actress. You have Angelina Jolie the thespian, like in A Mighty Heart where she plays the wife of a slain journalist, and then you have Angelina Jolie the action star, like in Wanted where she's curving bullets and shooting out of cars. If you asked me which I preferred, I'd say the latter, because hot damn, nobody can do it better than Angelina Jolie. And that's why Salt is such a favorite of mine.
Salt, which was originally written for Tom Cruise (!) but was rewritten for Angelina Jolie, is about a CIA agent (Jolie) who is on the run (Wait, she's on the run again?) because she's suspected of being a Russian spy who is going to kill the Russian President. The action scenes in this one are intense and Angelina Jolie is a total badass. The story is a little all over the place, but Jolie is, as always, top notch in this action thriller.
Stream it on Netflix
Sky Captain And The World Of Tomorrow - Max Go
Now, here's an underappreciated gem. Sky Captain and the World of Tomorrow nails the old time vibe that it has going for it and knocks it out of the park. It's a story about giant robots terrorizing our planet, and the brave men and women who risk their lives to stop them. But, the plot is really not all that important, as this is a film where the visuals are the star attraction.
Oh, AND Angelina Jolie, who plays Commander Francesca "Franky" Cook. She's in charge of an aircraft carrier and gets to wear a boss eyepatch. She also gets to talk tough and chew scenery, which is just one of the many reasons why I love this movie.
Stream it on Max Go
Mr. And Mrs. Smith - HBO
As I mentioned earlier, my favorite Angelina Jolie movies are the ones where she's kicking ass and taking names, and that's just what she's doing in this action comedy from director Doug Liman, which also stars Brad Pitt. The story is about a husband and wife who live mundane lives at home, but have the most exciting jobs in the world, since they're really assassins. Eventually, the two assassins have assignments to kill each other, because of course they do. That's where all the fun lies.
Jolie is channeling her inner Lara Croft in this picture and often overshadows her costar with her awesomeness. She's is probably both at her sexiest and her deadliest in Mr. and Mrs. Smith, which is a winning combination in my book.
Stream it on HBO
By The Sea - Netflix
This is the other Angelina Jolie/Brad Pitt collaboration. I'd be lying if I said I enjoyed By the Sea, but looking at it now (given Jolie's and Pitt's divorce) it's definitely a fascinating film, because its plot centers around a couple's disintegrating marriage.
Jolie plays a character named Vanessa who pops pills and is often very cold and distant toward her husband. There's some arguing, some nice scenery, and some great acting (at times) from both the leads, but it never really measures up to an "enjoyable" picture. Still, if you're an Angelina Jolie completist like me, then at least you get a measured and sometimes intense performance from both its main characters. Plus, Jolie wrote and directed this movie, so you're getting all Jolie, all the time here, which is a great way to spend a couple of hours, if you ask me.
Stream it on Netflix
Kung-Fu Panda 2 - Netflix
Though it's a stretch to call Kung-Fu Panda 2 an Angelina Jolie movie since Jack Black is the star of the show here, I don't care. Tigress is my favorite character in this franchise, so I'm putting it on this list. The movie is about a panda named Po (Jack Black) who has to face down a peacock marching toward the future who has a canon at his disposal, which is a new technology unseen of at the time.
Jolie's Tigress is ever interesting in this film, and while Po is always trying to live up to her expectations, she's probably the most vulnerable of all the members of the Furious Five, which is the group of warriors that Po likes to roll with. Even though it's just Jolie's voice on display here, it's still super effective at tugging at the heart strings when she opens up about herself.
Stream it on Netflix
Beyond Borders - Showtime
I said up top that Angelina Jolie movies are almost always something special. Well, that word "almost" is important when it comes to Beyond Borders, which I wouldn't consider a bad movie (though Jolie was, unfortunately, nominated for a Golden Raspberry Award for this and Lara Croft: Tomb Raider-The Cradle of Life), but it's definitely not the best. Still, it is probably one of her most personal films since it deals with Jolie's own humanitarian leanings, so it has that going for it.
Jolie plays a woman named Sarah who isn't thinking about the rest of the world's problems at the start of the movie. But then, a humanitarian (Clive Owen) inspires Sarah to travel to some of the harshest places on the planet with the mindset of helping those in need. It's not the best picture in the world, but its heart is in the right place, and you can tell that Jolie is passionate about the project. And, sometimes, that's enough.
Stream it on Showtime
Gia - HBO And Amazon Prime
Gia is a sexy movie, plain and simple. In it, Jolie plays real-life supermodel, Gia Marie Carangi, and the film chronicles her unfortunate downward spiral. By the end of the movie, you're shaking your head at what a tragic life it all was.
Jolie's acting is exceptional in this picture, and she disappears in the role, which is a wonderful thing to watch in spite of the difficult material.
Stream it on HBO
Stream it on Amazon Prime
Girl, Interrupted - Showtime
The movie that won Angelina Jolie her first (and only so far) Academy Award for acting, Girl, Interrupted is meant to be a star vehicle for Winona Rider, but Angelina Jolie steals the show as a charismatic sociopath.
The film takes place in a mental institution, and the bond Jolie's character forms with Winona Rider's is both icky and somewhat sweet at the same time. If you watch this movie, just try to look away from Jolie's performance. You can't! And, that's why Girl, Interrupted is such an amazing movie.
Stream it on Showtime
Gone In 60 Seconds - VUDU
The Nic Cage vehicle (pun not intended) Gone in 60 Seconds is a competent enough remake about a car thief who needs to rescue his kid brother. It's more of a heist movie than a high-octane thriller, but if you like cars, then this is the film for you since it really focuses more on the makes and models than the actual performances themselves.
That said, Jolie is pretty good in it as a mechanic who once had a thing with Nic Cage's character. Their onscreen chemistry is actually quite good, and the movie is kind of saved by their performances.
Stream it on VUDU
Angelina Jolie Changing The World - Amazon Prime
And lastly, why not end on a high note? I know I said earlier that this was a list of movies that Angelina Jolie has acted in, but I wanted to close on a 48-minute long documentary of all the humanitarian work that Jolie has done and how she donates her own money to causes that are meaningful to her.
If you didn't love Jolie already (and you must if you got all the way to the end of this list), then you certainly will after watching this touching documentary about all the good that Angelina Jolie is doing for the world outside of entertaining us as an actress.
Stream it on Amazon Prime
There are other great Angelina Jolie movies out there to watch, of course, but these are the ones that are currently streaming. Enjoy.
Your Daily Blend of Entertainment News
Rich is a Jersey boy, through and through. He graduated from Rutgers University (Go, R.U.!), and thinks the Garden State is the best state in the country. That said, he'll take Chicago Deep Dish pizza over a New York slice any day of the week. Don't hate. When he's not watching his two kids, he's usually working on a novel, watching vintage movies, or reading some obscure book.