Extremely Busy Actor Hugh Jackman Reveals Why Newfound Free Time Is So 'Challenging'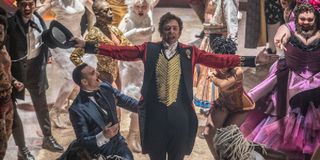 During his long acting career, Hugh Jackman has been a workhorse, starring in movies, performing in live shows and musicals, among other gigs. But with lots of free time on his hands now, he's trying to find ways to stay busy.
It must be difficult going non-stop to suddenly halting all your projects and not having much to do at all, especially when you've got a strong work ethic like Hugh Jackman. He expressed some of these new challenges of being home in an interview on The Late Late Show with James Corden. Here's what he had to say:
Even though taking a break is challenging for Hugh Jackman, he also seems to be embracing some of it and finding new ways to stay on top of his game. Later in the interview, James Corden asked him what he does to stay creative. Hugh Jackman leaned in on the benefits that boredom and taking the time to enjoy art can bring. Here's what he said:
Hugh Jackman, of course, is most known for his role as Wolverine in several X-Men movies as well as his own spin-off trilogy. He started the role well before cinematic universes were a thing and had carried the torch for about 17 years. Fortunately, he was able to say goodbye to the role in the swan song film, Logan.
Even though Hugh Jackman is synonymous with Wolverine, it wasn't always that way. On the first X-Men movie, he had a rocky start and originally thought he was going to be fired from the role. Fortunately him and everyone else, he wasn't.
Later on in the interview, James Corden brought up the feud between Hugh Jackman and Ryan Reynolds, wondering how it started and who started it. Hugh Jackman claimed it was Ryan Reynolds' need for attention that started it.
But, in an earlier interview with The Daily Beast, Hugh Jackman claimed it got started when Ryan Reynolds got married to Scarlett Johannsson and Hugh Jackman jokingly told Ryan Reynolds, "Hey, you better be on your best behavior here, pal, because I'm watching."
For a short time, the long-time feud between the two actors has been put on a temporary cease fire for a noble cause to raise money for charity. But, you better believe that won't last very long.
Your Daily Blend of Entertainment News