16 Awesome Iron Man Facts If You're Doing Your Own Watch Party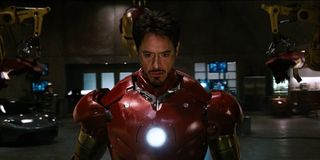 CinemaBlend participates in affiliate programs with various companies. We may earn a commission when you click on or make purchases via links.
Everyone seems to be doing watch parties in the age of isolation, and who can blame them? Being cooped up, without a movie theater to go to and too few drive-ins open to provide an alternative, watching movies with commentary and trivia to accompany is a big hit. Especially when it's a time tested favorite like director Jon Favreau's Iron Man.
In the wake of the big watch along events for both Avengers: Infinity War and Avengers: Endgame, what better time is there to go back to the start of the MCU? So if you're going to do your own watch party for Iron Man, you're going to need a couple of very important things.
First, you're going to need a copy of the movie, which you can purchase, rent,or check out on Disney+. (And if you need a subscription to that last option, check out a 7-day free trial to easily cover your bases.) Second, and definitely crucial to the watch party experience, is a smattering of trivia facts that will help tell the story behind the story.
Cue up your copy of Iron Man, mind the timecode groupings below, and get ready to watch Iron Man with some CinemaBlend provided commentary. Popcorn is optional, but highly suggested.
00:00 – 30:00 – The Rise of Tony Stark: Tom Cruise Almost Played Iron Man, Favreau Went To Bat For Downey
It might surprise you to learn that Robert Downey Jr. wasn't the Marvel Cinematic Universe moneymaker that he became over time. But even in the Iron Man pecking order, he wasn't the top of the salary food chain, due to having a bit of a rough reputation at the time. Strangely enough, the highest paid actor on Iron Man was none other than Empire's Terrence Howard, in his turn as Col. James Rhodes. Remember that one, folks; it might pop up later.
There was a party that thought they could see someone else as Tony Stark. As a result, Marvel Studios director/co-star Jon Favreau had to fight Marvel Studios brass) to get Downey into the role of Tony Stark. As time has shown us, Favreau won out, and Downey's star would ascend to superstardom yet again.
Another piece of alternate history is the fact that we almost saw a very different Tony Stark on the big screen. Originally, Tom Cruise was courted to play the role, but eventually he turned the post down. It's hard to see anyone but Robert Downey Jr. in Iron Man's lead role, and even Cruise himself has admitted he feels the same way.
Is it just me, or is it still kinda weird seeing the Paramount logo at the beginning of Iron Man? As the initial stewards of the MCU from 2008's Iron Man until 2013's Iron Man 3, this was the logo that was the face of Phase 1. Eventually, after Disney acquired the studio in 2009, the Marvel Studios logo would be front and center for most of the MCU – starting with 2013's Thor: The Dark World.
31:00 – 60:00 – Tony Stark Has A Change Of Heart: Improv, Billie Eilish's Dad Make History
It was probably a good idea that Robert Downey Jr. had such agency over his character, as according to Jeff Bridges, there wasn't really a script when it came to starting up Iron Man's production. Instead, a lot of improv glued everything together… or as Bridges' Tron: Legacy character Kevin Flynn might call it, "bio-digital jazz, man."
While we're on the subject of that Burger King scene, it was inspired by Robert Downey Jr's personal rock bottom moment during his battle with substance abuse. Much like he's done with a lot of his MCU output, Downey's touches really helped shape who Tony Stark become in the Iron Man series, and the Marvel Cinematic Universe at large.
Here's something fun and new that's hit the internet as of late: Billie Eilish's dad is actually in Iron Man! During Tony's big press conference where he sits on the floor with reporters, eating some Burger King, actor Patrick O'Connell is prominently featured in the second row. Right after Tony says he never got to say goodbye to his father, look for the man holding the silver tape recorder.
61:00 – 90:00 – The Genius Behind Tony Stark: Stan Lee and Howard Hughes Help Create Iron Man
While Howard Hughes was an inspiration to the creation of Iron Man, there was also a direct connection between the eccentric billionaire and Tony Stark during the film's production. The Mark III creation scenes, among others, were filmed at the Playa Vista Stages, also known as the very hanger where Hughes would build the Spruce Goose aircraft.
Then there's our first Stan Lee cameo in the Marvel Cinematic Universe proper, and the first of two cases of mistaken identity in the Iron Man franchise. Tony mistakes Stan "The Man" Lee for Hugh Hefner this time out, and in Iron Man 2, he thinks he's Larry King.
Seeing the now legendary "Proof That Tony Stark Has A Heart" keepsake means so much more after the Avengers: Endgame callback. In both his first and final MCU appearance, Tony Stark's live and legacy were best preserved by Pepper Potts herself.
91:00 - 120:00 - The Friends And Enemies Of Stark Industries: How A Christmas Story's Star And Rhodey Shaped The Future Of The MCU
That Terrence Howard "Next time, baby" line always stings when you remember that Don Cheadle would eventually take that over as James Rhodes. Howard would be rather upset about the matter in the long run and is still quite salty about it. To be honest, I kind of can't blame him, as he was paid $4.5 mil for Iron Man, with a contract suggesting he be paid $8 million for Iron Man 2. Of course, those terms weren't carried into negotiations, as the offer that sent Terrence Howard packing was a paltry $1 million.
The Stark Industries Logo is an amalgamation of two defense contractor's logos: the star swoosh is from Lockheed Martin, with the font directly resembling that of Northrop Grumman.
Peter Billingsley, from A Christmas Story and Elf, had previously popped up in several films with/for Jon Favreau and Vince Vaughn. So it should be no surprise that the supporting role of William Ginter Riva was, at first, a one-off supporting role. However, over a decade later, Riva became the man who helped Mysterio wage a campaign of terror on the world in Spider-Man: Far From Home, which framed Peter Parker in the process.
121:00 – 126:00 – The Avenger Initiative: Changes And Revelations Put Marvel Studios On The Map
The now legendary post-credits tag with Samuel L. Jackson's Nick Fury was supposed to originally mention setups for the X-Men and Spider-Man franchises to become part of the MCU.
With our introduction to Agent Coulson of S.H.I.E.L.D., we finally have the last brick in place to start up The Avengers bandwagon. Clark Gregg would go on to reprise this role in the MCU through 2012's The Avengers (and played a younger version of Coulson in Captain Marvel), and eventually became a TV fixture with the soon-to-conclude seven season run of Marvel's Agents of S.H.I.E.L.D.
When there was a script for Iron Man, one version of the film had Obadiah Stane escaping the Iron Monger suit and living to fight another day. Until one day, Jeff Bridges read his pages for the finale, and he was killed off.
A trip to memory lane with the Marvel Cinematic Universe is one always worth taking. So if you've enjoyed this rundown of Iron Man trivia, let us know in the comments. Even better, tell us if there are any other movies, MCU or otherwise, you'd like to see watch party commentaries on! Until next time, stay safe and stream wisely.
Your Daily Blend of Entertainment News
Senior Movies Contributor
CinemaBlend's James Bond (expert). Also versed in Large Scale Aggressors, time travel, and Guillermo del Toro. He fights for The User.
Your Daily Blend of Entertainment News
Thank you for signing up to CinemaBlend. You will receive a verification email shortly.
There was a problem. Please refresh the page and try again.