Marvel Fans Are Hoping Venom Joins Into The Spider-Verse 2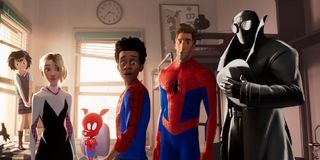 Marvel fans love it when Venom and Spider-Man get together in any medium, be it comic, TV, or movie. With Venom: Let There Be Carnage in production, many fans have hoped that Tom Holland's Spider-Man will make an appearance. And now, it looks like fans of the animated smash hit Spider-Man: Into the Spider-Verse are hoping Venom will be in its animated sequel.
Of course, Venom never appeared in Spider-Man: Into the Spider-Verse. There seemed to be enough going on in the story, highlighting the origins of Miles Morales. However, fans think it might be time to put Venom in the sequel. One fan recently went to social media to post some graphic art, depicting Miles Morales in a symbiote costume. Check it out:
The idea of putting in Venom in Spider-Man: Into the Spider-Verse 2 would be pretty awesome, especially after viewing this fan art. On the other hand, there's so many great villains in Spidey's neighborhood that throwing in Venom might be premature.
Spider-Man: Into the Spider-Verse released with a huge bang back in 2018, becoming a critical and box office success, and winning the Academy Award for Best Animated Feature Film. With so much success, a sequel is practically a given, but there's also talks of doing a spin-off as well.
We know a little already of what's happening with said sequel. Alternate realities are a huge theme in the story, and Phil Lord said in an interview that would have a part to play in the sequel again and they would focus on the romantic relationship between Miles Morales and Gwen Stacy.
In a surprise twist announcement, it was revealed late last year by Sony that Takuya Yamashiro, the Japanese protagonist from the 1970s live-action Japanese Spider-Man TV show will be in Spider-Man: Into the Spider-Verse 2. Perhaps one of the best parts about this series if finding out the different Spider-Man characters that will appear.
As for the spin-off movie, it's been reported that it will be female-centric. The movie will be helmed by Lauren Montgomery, who also directed Voltron and Superman/Batman: Apocalypse, and will include a handful of female superheroes. It's likely that Spider-Gwen will take the lead in this film.
Spidey fans eager to see the new installment will have to wait a little bit longer. Back in November, the Spider-Man: Into the Spider-Verse Twitter page announced the release date will be on April 8, 2022.
With such a long time to wait, I suppose fans will have to get to work creating more awesome art work of what they'd love to see in the sequel and spin-off. As always, we'll keep you updated on all breaking Spidey news.
Your Daily Blend of Entertainment News