What To Stream If You're A Fan Of Taika Waititi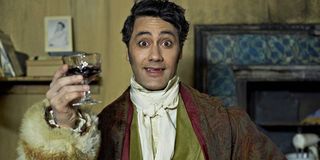 CinemaBlend participates in affiliate programs with various companies. We may earn a commission when you click on or make purchases via links.
Over the course of the past five years, Taika Waititi went from an acclaimed New Zealand indie filmmaker to a hot-shot Hollywood director with an Oscar to his name and helming Marvel movies like Thor: Ragnarok, as well as the season finale of Disney+'s Star Wars series, The Mandalorian. This transition didn't occur overnight, but it happened quickly. And it's not hard to see why Waititi's career progressed so swiftly. The charming actor-writer-director makes appealing, enjoyable movies both big and small, and his creative stamp and influence can be seen on budgets both tiny and enormous.
Whether you've been a fan for years or you're just discovering the Jojo Rabbit director, he's got a wealth of content out there that's available at the click of a button. Here's where you can stream many of Taika Waititi's movies and TV shows, including some of his earliest projects.
Hunt For The Wilderpeople (Hulu)
Before he helmed one of 2017's biggest blockbusters, Thor: Ragnarok, Taika Waititi co-wrote, produced, and directed the notably much-smaller indie New Zealand adventure comedy-drama, 2016's Hunt for the Wilderpeople. Starring Julian Dennison (Deadpool 2) and Sam Neill (Jurassic Park), this adorable low-budget Sundance charmer follows a foster son and his father figure as they become the targets of a manhunt. Riding on the enormous, enjoyable sweetness of this oddball screen duo, Waititi's recognizable balance of dry comedy and warm characters is well-displayed, producing a fun, rewarding, and massively heartfelt sleeper hit. Made and released between What We Do in the Shadows and Thor: Ragnarok, this one might've slipped through the cracks for some moviegoers, but it's not hard to find. It's currently available to stream on Hulu.
Stream It on Hulu.
Boy (Amazon Prime)
Similar to Hunt for the Wilderpeople, Taika Waititi's sophomore feature, Boy, didn't get too much notice outside of film festivals and critic circles. But it's considered another offbeat, winning dramedy from the acclaimed writer/director, one who was only continuing to come into his own and find his stride with this second feature. Inspired by his Oscar-nominated short film, Two Cars, One Night, this 2012 New Zealand film is another coming-of-age tale with a big heart and a gentle look at the perspective of a sensitive, inquisitive young boy — an acute point-of-view that would also carry over into both Jojo Rabbit and the aforementioned Hunt for the Wilderpeople. It's praised as a hopeful, loving little film that serves as an early introduction to many of the reoccurring themes present throughout the grand majority of Waititi's movies, most notably his smaller, more personal titles.
Stream It on Amazon Prime.
Thor: Ragnarok (Disney+)
It's safe to assume that Thor: Ragnarok is Taika Waititi's most popular, well-known movie. The Thor sequel single-handedly turned Waititi from an acclaimed indie filmmaker to the guy involved in some of the biggest movies and shows in Hollywood. While there are several Marvel directors who don't make creative stamps in the ever-growing Marvel Cinematic Universe (MCU), Waititi's influence was apparent throughout this well-liked sequel. Gleefully rejuvenating the Thor franchise by giving the larger-than-life title character a silly, goofier sequel with quips and sight gags galore, it was considered an entertaining, refreshing change-of-pace, and it continued to prove that Chris Hemsworth is typically at his best when playing against his chiseled, handsome demeanor.
This 2017 movie essentially gave Waititi the keys to Hollywood, paving the way for his Oscar-winning comedy, Jojo Rabbit, and his Star Wars contributions, in addition to the next Thor sequel.
Stream It On Disney+.
What We Do In The Shadows (2015) (Kanopy)
For my money, 2015's hilarious What We Do in the Shadows still remains Taika Waititi's finest film. Made in partnership with his regular collaborator, Jemaine Clement, who co-wrote, co-directed and also starred in this cult favorite, this mockumentary vampire-comedy is a screamingly funny delight —a smart, consistently inventive take on vampire lore which imagines a modern-day group of blood-sucking roommates who've been immortal for centuries, yet struggle to adapt into common society.
Released shortly after an era of Twilight blockbusters, What We Do in the Shadows cleverly and successfully bridges the gap between new-age bloodsuckers and the classic vampire traditions of yore. It contemporarily re-adapts these creatures in a way that impressively provides an original, respectful, and remarkably fresh and funny look at this mythical monsters. It's a bloody good time, and one of the funniest movies in years.
Stream It on Kanopy.
Eagle Vs. Shark (Sundance Now)
When Eagle vs. Shark made its world premiere at the Sundance Film Festival in 2007, it was compared endlessly — and rather unfairly — to the off-beat indie comedy likes of Napoleon Dynamite. While that comparison is ultimately understandable, it should also be noted that any stylistic similarities found between these two movies are ultimately shallow beyond the surface. Indeed, Waititi's feature directorial debut is a quaint, dryly funny romantic comedy about a lowly, painfully shy fast food employee (Loren Horsley) who fosters romantic feelings for an arrogant, self-involved video game store employee (Jemaine Clement), before they eventually develop an awkward fling.
The comedy is slightly cruder and more bitter than future Waititi movies, but it contains his sweet sentimentality — notably for its down-on-her-luck protagonist. While it doesn't result in his finest film, it's a worthwhile debut.
Stream It on Sundance Now.
Flight of the Conchords (HBO Go)
A musical sitcom about a pair of struggling New Zealand folk musicians who relocate to New York City in search of fame in the music industry, Flight of the Conchords is a hilarious, immensely charming series with a lovely mix of quirky comedy and toe-tapping musical numbers. While Taika Waititi is only on-board for a handful of episodes, including the Season 2 finale (which also became the series finale), his sensibilities match perfectly with the scrappy stylings of these two musicians. While Conchords was more of a cult favorite than a ratings hit, the folks involved went on to bigger things. Notably, bandmate Bret McKenzie won an Oscar for his song "Man or Muppet" in 2011's The Muppets, while Clement continued working with Waititi with What We Do in the Shadows and the FX comedy series of the same name.
Stream It on HBO Go.
The Mandalorian (Disney+)
Once simply a charming, quirky indie filmmaker, Taika Waititi has worked his way into the Disney corporation — rather surprisingly — through Marvel's Thor: Ragnarok. The critical/commercial success of that blockbuster sequel meant Disney wanted to keep Waititi on their side, thus finding a way to get Waititi involved with their ever-evolving Star Wars franchise. Specifically, Waititi provides the voice of IG-11 in The Mandalorian, available on Disney+. In addition to voicing this scene-stealing supporting role, Waititi took over the reigns of the Season 1 finale, "Chapter 8: Redemption." Evidently, Disney was happy with how Waititi directed this episode, because the corporation announced that Waititi will soon be helming an upcoming Star Wars movie.
Stream It on Disney+.
What We Do In The Shadows (2019-Present) (Hulu)
Based on the acclaimed mockumentary comedy of the same name, FX's What We Do in the Shadows is primarily the work of Jemaine Clement, the co-writer, co-director, and co-star of Taika Waititi's film. Waititi doesn't play as big of a hand in this show as he did in the film that inspired it, particularly as he doesn't act in it nor write any episodes, but he did direct a few episodes in the first season. Specifically, Waititi called the shots on the pilot, and he also directed the seventh episode and the Season 1 finale. Unfortunately, Waititi didn't direct any episodes in Season 2, which is currently airing on FX, but that's certainly understandable. After all, Waititi has been very, very busy with a variety of different projects lately — as you can see from this piece.
Stream It on Hulu.
Green Lantern (HBO Go)
There is a lot to be said about 2011's Green Lantern — not much of which is flattering. Even Ryan Reynolds is prone to making fun of the movie at any given moment. Indeed, Warner Bros.' misfired attempt to bring this familiar comic book character to the screen didn't bring a lot of green for the studio — ironically enough — but it did give Taika Waititi one of his biggest on-screen roles to date. As Tom Kalmaku, Waititi is ultimately stuck in "best friend character" mode in Martin Campbell's 2011 adaptation, but he provides little bits of wit and humor to an otherwise drab, cynical blockbuster. It also fostered a fine working friendship with Waititi and Reynolds. They've since reunited for Free Guy, an action-comedy that's now expected to hit theaters on December 11th. Hopefully, this upcoming team-up turns out better.
Stream It on HBO Go.
What's your favorite Taika Waititi movie or TV show? Let us know in the comments below!
Your Daily Blend of Entertainment News
Will is an entertainment writer based in Pittsburgh, PA. His writing can also be found in The Playlist, Cut Print Film, We Got This Covered, The Young Folks, Slate and other outlets. He also co-hosts the weekly film/TV podcast Cinemaholics with Jon Negroni and he likes to think he's a professional Garfield enthusiast.