Thor: Ragnarok Concept Art Highlights Some Cool Characters You May Have Missed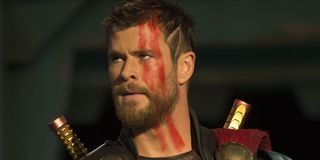 Thor: Ragnarok became a smash hit with audiences for a number of reasons, but one of the elements fans enjoyed most was the inclusion of the Contest of Champions. The Grandmaster's galactic tournament of gladiators was something fans had been pining for, and Taika Waititi's film delivered in a big way. Thor and Avengers teammate Hulk were, of course, the star attractions, but there were also plenty of other competitors who were prepared to duke it out in the arena. Now, thanks to one Marvel Studios artist, we have a better look at some fighters that you may have missed.
Marvel Studios visual artist Andy Park has dropped a new piece of concept art that reveals the entire roster for the Contest of Champions. Thor and Hulk are probably the two that stand out the most, along with Korg and Miek, but the image also features other characters who appeared at some point throughout the movie. Check out the murderer's row of fighters for yourself down below:
Andy Park has delivered some impressive art before, but this piece may be one of his best, especially when you consider just how extensive the entire image is. It also gives a better idea of just how "out there" Taika Waititi wanted the film to be.
Although this art is sure to please more than a few fans, many are probably still disappointed that fan-favorite character Beta Ray Bill is not among the champions. Though the alien hero did appear briefly via an Easter egg, actually seeing him would've been even better.
Fans also get a better sense of the cosmic turn that Thor trilogy took with its third installment. Before Ragnarok, the Thor series only danced on the line of the cosmic side of the Marvel Cinematic Universe. But when Taika Waititi boarded the project, he sought to dive head-first into the galactic elements of the MCU. This included weirder creatures and direct references to comic book legend Jack Kirby's zany artwork.
Because this direction ultimately paid off for Marvel Studios, the company, along with Taika Waititi, seems to be sticking with this direction for the upcoming sequel Thor: Love and Thunder. Waititi is already touting the movie as an adventure story in the vein of Ragnarok and has teased some crazy concepts that may even rival those of the third film. And if Vin Diesel is to be believed, the Guardians may be joining in on this outing as well.
The lineup for the Contest of Champions is definitely cool to see, especially the characters that may not have caught our eyes immediately while watching the film. Despite the rebellion on Sakaar, there are still things that could be done with the event. So let's hope Marvel isn't finished with the dangerous contest just yet.
Thor: Ragnarok can now be streamed on Disney+.
Covering superheroes, sci-fi, comedy, and almost anything else in film and TV. I eat more pizza than the Teenage Mutant Ninja Turtles.
Your Daily Blend of Entertainment News
Thank you for signing up to CinemaBlend. You will receive a verification email shortly.
There was a problem. Please refresh the page and try again.