Porn Star Arrested After Man Dies In Toad Venom Ritual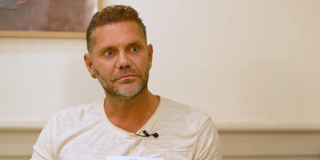 My assumption has been that porn stars are actually a lot like you and me, with the very obvious exception of what they do for a living. I've never done any kind of official survey, but it would seem like these folks still need to take their kids to school and help out their aging parents, or at least pay someone to make sure all this regular life stuff gets done so that they can relax when they're not having S.E.X. on camera. Well, Spanish porn star Nacho Vidal was recently arrested after a man died during a toad venom ritual which took place at Vidal's home, and now I'm pretty sure my previous assumption was wrong.
Alright, stick with me here, because this unfortunate story is also wild. According to the BBC, Nacho Vidal and two other suspects were arrested on suspicion of manslaughter and violating public health laws in Spain recently, for the July 2019 death of photographer Jose Luis Abad. Apparently, Abad and the others took part in a "mystic ritual" which involved inhaling the poison of an endangered North American toad. The photographer used some sort of pipe to inhale the substance, which is secreted from glands on said bufo alvarius.
And, this poison is no joke. The toxin is used by the animal (also known as the Colorado River toad) to protect itself against its many predators in the south western United States and Mexico, and is known by scientists as 5-MeO-DMT. It's a psychedelic said to bring about feelings and hallucinations so intense that it's even been nicknamed "the God molecule." Because of the way it affects people, it is a controlled substance in several countries, even though some studies have shown that it can ease symptoms of depression, anxiety and other mental conditions.
DMT is one of the key, active ingredients of ayahuasca, which is a South American brew traditionally used to aid spiritual practice. The possession, transportation and cultivation of that substance is strictly controlled in Spain, while sale to the public is illegal due to the toxicity of DMT and other ingredients. But, Nacho Vidal has been known to use social media to promote use of the toad venom, so it seems that he's more concerned with the potential positives of it than the harm it might cause.
Vidal, who was released from jail provisionally along with the other suspects, had been under investigation for almost a year because of Abad's death. It's even been suggested that Vidal acted as a shaman during the ritual, which his lawyer denies, noting that Abad had supposedly "previously tried that substance and wanted to try it again" in an environment he felt "comfortable" with.
I am not the person to talk to about experimenting with drugs of any kind. I've literally never done it, and really don't understand the appeal of potentially seeing and / or hearing things that aren't there. Honestly, even if the things people experience while sucking down this toad venom are 100% real, but we just can't usually perceive them because we're not high, I don't want anything to do with that, either. It would seem, to me, that if our bodies aren't designed to notice this stuff, then it's not meant for us and we should just go back to listening to some really trippy music or something.
Having said that, we don't know why Jose Luis Abad wanted to ingest the toxin, and I feel really bad for him, especially if he was looking for relief from mental illness and was taken advantage of. Also, you guys, what about the poor toad? Is it alive and unharmed? I seriously want to know.
Of course, Vidal's lawyer has said that Vidal considers Abad's death to be a horrible accident and believes himself innocent of the charges, but he must have known that he was either providing Abad with the toxin or allowing him to use it on his property, when those things were illegal for those not involved in the pharmaceutical business. And, for all the ails that porn might be said to cure, it is decidedly not that.
Be sure to stay tuned to CinemaBlend for the latest in TV, movies and pop culture.
Yennefer's apprentice, Gilmore Girl; will Vulcan nerve pinch pretty much anyone if prompted with cheese...Yes, even Jamie Fraser.
Your Daily Blend of Entertainment News
Thank you for signing up to CinemaBlend. You will receive a verification email shortly.
There was a problem. Please refresh the page and try again.