Cloverfield Is Leaving Netflix, Highlighting How Complicated It Can Be For Fans To Stream Movies They Love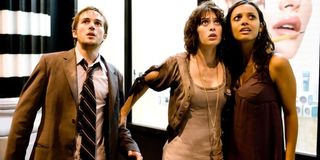 If you're a fan of the Cloverfield franchise, then the end of June is about to bring you some bad news. Netflix is actually pulling the 2008 film that started it all from its lineup pretty soon. Which, to be fair, isn't much of a problem if you're a fan who owns all three films on physical discs. But if you're someone who relies on digital streaming services to get a regular fix of monster mania, things are about to get more complicated.
While we won't be talking about the various threats that inhabit the world of Cloverfield and its two sequels, we'll be talking about a pretty big adversary to the series at the moment: streaming rights. It may not be as exciting as a several stories-tall Large Scale Aggressor, but it's certainly a subject that affects fans on a much closer level. Let's begin with the bad news first.
When Is Cloverfield Leaving Netflix?
Matt Reeves' 2008 monster film Cloverfield will be vacating the Netflix library on June 30. A frequent addition and subtraction to the company's streaming output, the blockbuster movie that spawned two sequels is about to depart yet again. Where it will go from this point, we don't know. However, we do know that some other movies Cloverfield fans might be interested in are leaving around that same time.
June will see other sci-fi franchise hits like The Matrix trilogy, the entire Tremors lineup and even Avengers: Infinity War all getting the boot from big red alphabet. However, unlike those properties, respectively owned by Warner Bros and Universal, there's still a piece of the Cloverfield anthology that'll be sticking around the Netflix library.
Where Can You Find The Other Two Cloverfield Movies
In terms of Netflix's Cloverfield output, the streaming service actually counts one of the three films in the anthology as one of its own originals. 2018's Super Bowl surprise, The Cloverfield Paradox, will obviously remain where it stands on Netflix, as it was distributed as a Netflix Original, while being produced by Paramount Pictures.
As for 2016's entry into the canon, 10 Cloverfield Lane, you can find that film streaming for free on Sony's proprietary platform, Crackle. This is where the harder part of being a Cloverfield fan comes into play, as if you want to watch all three films on streaming, you'll need to have to have a Netflix subscription, a Crackle account and a digital purchase/rental of the 2008 original, in order to see the whole series.
Cloverfield Isn't The First Franchise To Be Scattered By Streaming Rights
The situation that sees the Cloverfield anthology scattered to the winds isn't a new one, nor is it something we'll stop seeing anytime soon. An even bigger scenario alluded to above is the big divide between former streaming partners Disney and Netflix. While Disney movies like Avengers: Infinity War would head to Netflix roughly seven months after their theatrical release, once Disney+ opened up, that started to die down.
Slowly, titles from the Disney library have either gone outright to Disney+ or have lost their exclusive presence on Netflix. Though the company has a proprietary home for their titles to head to in the future, previous agreements prevent certain films from being available, or sticking around for too long. Just ask anyone who wants to stream Tomorrowland on Disney+ how they feel about this matter, and you'll probably get some feedback similar to what Cloverfield fans will be providing come July 1.
Streaming Services Now Seem To Hold Onto Movies For Smaller Periods Of Time
Agreements between companies like Netflix and Paramount that made Cloverfield and movies of its ilk streaming mainstays seem to have scaled back in recent months. If you follow the periodic updates to the monthly additions and subtractions to any streaming library, especially Netflix, you'll see that movies seem to be popping in and out at greater frequencies.
Earlier this year, Warner Bros titles like Christopher Nolan's Dark Knight trilogy and The Matrix trilogy have been removed from Netflix's streaming apparatus rather quickly after being added. This is something else we might see happening quite often in the shadow of proprietary streaming services rising in prominence, as both of these trilogies are obviously bound to head to the HBO Max family at some point this year. With Paramount/Viacom developing a home for their owned library of film assets, that's probably the safest bet any Cloverfield fan can make in the future of streaming their favorite franchise.
Franchises Should Be Bought/Sold As Package Deals For Streaming Services
It honestly doesn't need to be this hard when it comes to finding a streaming home for a franchise like Cloverfield. Three different subscriptions shouldn't be required to see one whole collection of stories that are connected, be it tangentially or directly. If Netflix can add Back to the Future Part III to its library in February, why should subscribers have to wait until May to see parts I and II again?
Oh, and don't expect those movies to stick around past July, as NBCUniversal's launch of Peacock will probably snag those three movies for its own library. At least, that's exactly how it should happen. Cloverfield, and any other franchise that finds its movies on a streaming service, should be bought and sold as package deals that allow fans to catch everything in one place, at the same time.
Movies come and go from streaming services all the time, but in a modern world of convenience, it's not a good look to offer only pieces of a series people are interested in. Too often has a sequel or two been available on one platform, with others entries absent from the picture. As more proprietary services start to come online, it's more important than ever to keep movie families together.
For now, Cloverfield will have one crucial piece of its anthology harder to find than the others. But who knows what the crazy future of streaming will bring, especially with Paramount getting into the game at some point. So if you want to enjoy [the Cloverfield anthology](https://en.wikipedia.org/wiki/Cloverfield(franchise) as easily as possible, you can watch _Cloverfield and The Cloverfield Paradox on Netflix, and 10 Cloverfield Lane on Crackle.
Your Daily Blend of Entertainment News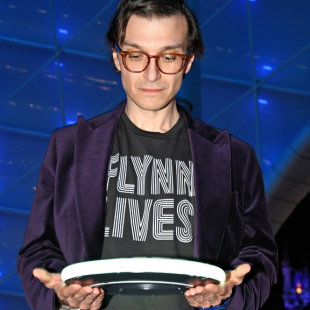 Senior Movies Contributor
CinemaBlend's James Bond (expert). Also versed in Large Scale Aggressors, time travel, and Guillermo del Toro. He fights for The User.