Jeffrey Dean Morgan: 7 Movie And TV Appearances You May Have Forgotten About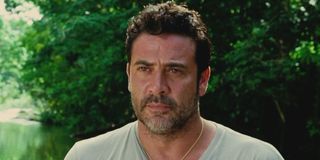 From winning the hearts of Grey's Anatomy fans (and Katherine Heigl) as Denny Duquette to striking fear in the hearts of characters from (and viewers of) The Walking Dead as Negan, it seems that Jeffrey Dean Morgan has reached a point at which he can do it all. What some may not have realized is that he pretty much already has.
For every performance of his you may remember, such as The Comedian in Zack Snyder's Watchmen or a red-blooded, but rebellious, government agent in Rampage, there are several more that may have fallen under your radar. Did you ever see catch his role as an opposer to a 1969 concert that would become legendary in Ang Lee's Taking Woodstock or as the father of a cursed teen in The Possession (both of which are inspired by fact, by the way)? I would not hold it against you, however, if you forgot that he was in the 2012 remake of Red Dawn.
That being said, Jeffrey Dean Morgan has made appearances that you may or may not remember in many big screen and small screen titles that you certainly should be able recognize. The following is a crash course of just seven notable performances that are worth revisiting.
Jake Hobart (Walker, Texas Ranger)
For one of the first of many villainous roles on his resume, Jeffrey Dean Morgan took on none other than Chuck Norris in the final season of Walker, Texas Ranger. In the 2000 episode titled "Child of Hope," he plays Jake Horbart, the coldhearted leader of a gang of burglars who kills his getaway driver after he flees a job gone wrong, putting the desperate man's wife and infant child on the run. Coincidentally, Jared Padalecki, Morgan's onscreen son from the hit series Supernatural, has been cast as the lead of an upcoming reboot of the hit CBS crime procedural, simply titled Walker.
Older Man Getting Parking Ticket (Fred Claus)
Although not a villain, you are not meant to like Jeffrey Dean Morgan's uncredited cameo in the 2007 holiday family comedy Fred Claus, in which Rachel Weisz, as parking enforcement officer Wanda, seems unable to resist his charm. She even chooses to say no when "Older Man Getting Parking Ticket" asks if she has a boyfriend, not realizing her beau (Vince Vaughn in the title role of Santa's older brother) is watching this exchange from the North Pole's magic surveillance globe, heartbroken at the sight. It is easy to understand why, given her rocky history with the aimless, unreliable Fred and Morgan's tendency to make women fall for him even in unlikely situations (see Grey's Anatomy).
Sam Ryan (Angel)
Jeffrey Dean Morgan's appearance on the Buffy the Vampire Slayer spin-off Angel is an example of someone with a particularly heinous agenda, but is still easy to empathize with. In the Season 3 episode "Provider," he plays Sam Ryan, who assumes the identity of his employer in order to hire Angel (David Boreanaz) to destroy a nest of vampires who killed his friend over a wristwatch. Unwittingly, this would serve as the perfect venue for Morgan to prepare for future his role as Sam and Dean Winchester's father John, a hunter of vampires and all other things that go bump in the night, in Supernatural.
Jeb Turnbull (Jonah Hex)
As previously established, Jeffrey Dean Morgan is best known for his many, many roles in comic book adaptations, but one that has fallen deep into obscurity is 2010's Jonah Hex: a fate that even its star, Josh Brolin, is more than accepting of. However, those who have watched the cinematic adaptation of DC's damned, 19th-century bounty hunter at least have praise for Morgan's sole, uncredited appearance as Jeb Turnbull, a slain confederate soldier whose father Quentin (John Malkovich) has it out for Jonah for killing his son years earlier. Jonah's discussion of morals with his friend from beyond the grave, enhanced by Morgan's performance, is an intriguing and wholly entertaining scenario that one only wishes the rest of the film could have been more like.
Judah Botwin (Weeds)
Speaking of appearances from beyond the grave, another one of Jeffrey Dean Morgan's more heartbreaking TV deaths actually takes place offscreen. In Jenji Kohan's Golden Globe-winning comedy Weeds, he plays Judah Botwin, whose fatal heart attack forces his widow, Nancy, (Mary-Louise Parker) to support her family through selling marijuana in her scandalous neighborhood. Morgan only makes two brief appearances in the first season as the late husband and father (one via home video and one via flashback), yet they remain some of the more memorable tear jerker moments of the entire series.
Frank (They Came Together)
His appearance in 2014's They Came Together, an uproarious spoof of romantic comedy tropes, is even more brief, but just as memorable for how simple, yet effectively hilarious it is. During the obligatory rom-com climax in which Joel (Paul Rudd) is about to ask Molly (Amy Poehler) to marry her in front of a crowd of witnesses, suddenly, Molly's never-before-seen ex-boyfriend, Frank (Jeffrey Dean Morgan), appears to ask the same question before nonchalantly accepting her refusal. However, Morgan's cameo is, arguably, upstaged soon after by the appearance of Michael Shannon as Molly's samurai sword-wielding, ex-con husband in a brilliant riff on how often tender moments tend to get interrupted in these films.
Charlie Peters (Shameless)
Yet another role that was ultimately brief, yet otherwise pivotal to the overall story, is Charlie Peters, played Jeffrey Dean Morgan in the Season 4 finale of Shameless. As the owner of Golden House Restaurant, Peters is known for hiring recovering drug addicts like himself, which is how Fiona Gallagher (Emmy Rossum) gets hired as a waitress, with help from her parole officer (Regina King), shortly after she is released from jail. We never see Peters again, but Morgan shows stunning authenticity in his portrayal that, once again, ensures a lasting memory.
Be sure to check back for more information and updates on Jeffrey Dean Morgan, as well as even more lesser-known performances from your favorite celebrities, here on CinemaBlend.
Jason has been writing since he was able to pick up a washable marker, with which he wrote his debut illustrated children's story, later transitioning to a short-lived comic book series and (very) amateur filmmaking before finally settling on pursuing a career in writing about movies in lieu of making them. Look for his name in just about any article related to Batman.