Weeds Is Getting A Sequel In The Era Of Legal Marijuana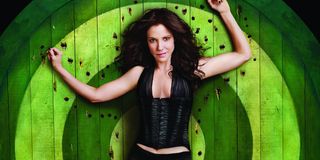 Weeds literally went off the air less than a decade ago, but now it's being rebooted with a decade of change in mind. It looks like Starz is bringing Mary-Louise Parker back for more Weeds, this time an upgraded version set in the era of legalized marijuana.
Here's what's happening. The show is getting what Starz is dubbing "a sequel" which will follow the Botwin family. The show will be pushed 10 years out from the events in the original series and will look into what the Botwin business looks like given that pot has been legalized in a handful of states.
Mary-Louise Parker will definitely be back for the project and will also be executive producing. Since the end of Weeds, Mary-Louise Parker has kept busy with both TV and movie roles, but the notable stuff she has done like When We Rise or Mr. Mercedes either didn't get a ton of traction or wasn't a role with longevity. I'm sure there is an allure to leading your own series, particularly when it's a character you can really dig into like Nancy Botwin. Whatever the reason, she's in.
Victoria Morrow, a writer and co-executive producer on the original series, is responsible for this new iteration. Jenji Kohan is not involved.
The news came from Lionsgate CEO Jon Feltheimer, who enthusiastically is referring to the Weeds sequel as "Weeds 4.20" (via Variety). News broke as part of Lionsgate's earnings call this week, where we also learned the project will be a half-hour program for the subscription cabler if it goes to series.
Weirdly, the original run of Weeds happened on Showtime, which is a part of the media conglomerate CBS Corporation. Starz is actually owned by Lionsgate, which also produced the original Weeds series, so this sequel will be in house. So, the change makes sense. Still, it might be jarring for fans who watched it originally on another subscription cabler.
Ultimately, in this time of reboots, remakes, sequels, revitalizations and more properties coming back to life given they already have brand awareness, it is becoming harder and harder to be a property that "makes a comeback." Look no further than the recent release of Terminater: Dark Fate, which by all accounts is a fine movie, but isn't getting a ton of box office traction. Not that it is an impossible task or anything.
For me, the biggest potential problem with this idea is that Weeds was a great show that fell off of a steep cliff partway through its run. Given the original series some time and distance could work, but the writing really needs to be there. Why should we care about Nancy Botwin when she put her family – and the audience – through so much shit?
Also is Kevin Nealon involved in this version at all? These are questions that need answers.
I'm sure we'll hear more as Weeds 4.20 moves forward. In the meantime, check out what's currently heading to TV with our full schedule.
Reality TV fan with a pinch of Disney fairy dust thrown in. Theme park junkie. If you've created a rom-com I've probably watched it.
Your Daily Blend of Entertainment News
Thank you for signing up to CinemaBlend. You will receive a verification email shortly.
There was a problem. Please refresh the page and try again.