Christina Hendricks: 7 TV Appearances Before Mad Men That You May Have Forgotten About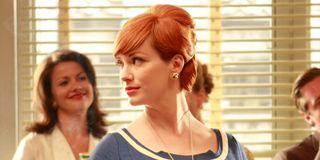 CinemaBlend is partnering with PIA VPN to bring you fresh content to stay in and stream with each day. We're also offering a special 76% discounted rate for a limited time only. You can sign up for the package with PIA here. (opens in new tab)
Many remember the first time they laid eyes on Christina Hendricks as the 2007 the debut of Mad Men, on which she starred as Joan Holloway (later Harris). However, if you ask any fan of Firefly the same question and Joss Whedon's cult sci-fi western might be their answer.
Excluding a select few, including the aforementioned fans of Firefly, most people seem to have forgotten about the decade-long career that Christina Hendricks led prior to landing her six-time Emmy-nominated role on AMC's acclaimed period drama exploring the inside world of 1960s-era advertising. As Joan Holloway Harris is often considered the Good Girls star's breakout role, it is easily forgivable as it also bears an opportunity for a deeper dive into the earlier moments of her career.
The following are seven notable TV appearances of the stunning, talented redhead before she broke out on Mad Men. Let us start by taking a trip back to a time when music videos were still played on television.
Bar Maid - Angel
In 2000, Christina Hendricks made her debut in a creation by super-producer Joss Whedon, in this case Angel, starring future Bones star David Boreanaz as the vampiric title character. In a 2000 episode from the first season of the Buffy the Vampire Slayer spin-off titled "The Prodigal," we get a glimpse of Angel's past as a reckless, drunken mortal in the 18th Century. In one flashback, we also catch a glimpse of Hendricks as an unnamed bar maid with an Irish accent who gives a very intrigued Darla a poetic explanation as to why his "charm" is not worth falling for.
Joyce Westlake - ER
Christina Hendricks' character from the eighth season of ER probably could have used some similar advice. The actress appeared in four episodes of the hit NBC medical drama as Joyce Westlake, a young, friendly, recently moved-in neighbor of Dr. Abby Lockhart, played by series regular Maura Tierney, who discovers that her new friend is a victim of violent domestic abuse at the hands of her husband, Brian (future Gossip Girl star Matthew Settle). When Joyce refuses to report him, Abby goes to dangerous lengths to help her escape any further attacks.
Saffron - Firefly
In her second collaboration with Joss Whedon, the producer decided to give Christina Hendricks a character with screen time that lasts longer than 30 seconds and a name... well, more than one name, in fact. While primarily referred to as "Saffron," Hendricks' recurring role on the cult sci-fi western TV series Firefly assumes multiple identities (including known aliases "Bridget" and "Yolanda Haymer") to con unsuspecting men out of their own riches by seducing and feigning matrimony with them. However, Saffron managed to fool Serenity captain Malcolm "Mal" Reynolds, played by Nathan Fillion, after drunkenly participating in a real marriage ceremony with him and taking advantage of the "relationship" to infiltrate the spacecraft and cause trouble.
Esther Davis - Cold Case
Before Christina Hendricks played a bombshell in the 1960s, she played a bombshell in the 1940s. In "Colors," from the fourth season of the CBS retrospective crime procedural Cold Case, Lilly Rush (Kathryn Morris) takes the case of Clyde Taylor (Arlen Escarpeta), a black baseball player beaten to death with his own bat in August of 1945. The investigation leads to the discovery of Clyde's forbidden romance with a white woman named Esther Davis (also given the nickname "Legs") played in modern day by Elinor Donahue and in flashbacks by Hendricks.
Connie - Las Vegas
Vegas sounds like just the place that Don Draper would have a field day at, but it was a different Mad Men regular who got to pay Sin City a visit on the hit NBC drama named after the beloved city. In "Chaos Theory," a Season 3 episode of Las Vegas, Christina Hendricks plays Connie, who finds herself to be a subject of interrogation at the Montecito Resort and Casino by Danny McCoy (Josh Duhamel) and Mike Cannon (James Lesure), who believe she is linked to a gambler making the suspicious request to play a game of Blackjack at $1 million dollars per hand.
Loopy - Everclear: One Hit Wonder
Going back to the earlier days of her on-screen career, this 1998 music video for the song "One Hit Wonder" by Everclear, which is directed by music video veteran and future blockbuster helmer McG, Christina Hendricks plays Loopy. The young woman is a hopeful contestant on a The Price is Right-esque competition program hosted by game show veteran Wink Martindale (opens in new tab), the object of which is ambiguous, to say the least. When Loopy is selected to move onto the next round of the game by correctly guessing the winning lyrics to the titular song, apparently, she eventually comes out on top and goes home with the grand prizes: a brand new, shining mobile home and the alternative rock trio themselves, dressed in equally shiny golden tuxedos.
Tanya - Jake in Progress
As Full House was reaching the peak of its popularity (in syndication, that is), Uncle Jesse actor John Stamos returned to ABC for a whole different kind of a role in the short-lived mid-2000s dramedy Jake in Progress, in which he played the titular aging womanizer seeking a change to his romantic lifestyle. Before you ask - no, Christina Hendricks' character Tanya is not a love interest for Stamos, but instead plays the unwitting temptress of Jake's married friend, Adrian, (Ian Gomez), who has just been hired as his new dental assistant. She continues to be a distracting presence for the dentist for four episodes of the second season until Adrian makes the official decision to break the awkward by firing her.
Be sure to check back for more information and updates on the Mad Men and Toy Story 4 actress, as well as other retrospectives on your favorite celebrities' pre-fame acting roles, here on CinemaBlend.
Jason has been writing since he was able to pick up a washable marker, with which he wrote his debut illustrated children's story, later transitioning to a short-lived comic book series and (very) amateur filmmaking before finally settling on pursuing a career in writing about movies in lieu of making them. Look for his name in just about any article related to Batman.
Your Daily Blend of Entertainment News
Thank you for signing up to CinemaBlend. You will receive a verification email shortly.
There was a problem. Please refresh the page and try again.