Netflix's Feel The Beat Cast Share Feelings After Hitting Netflix's Top Movies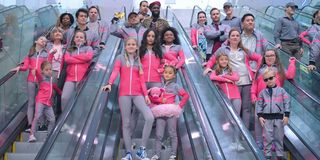 Nowadays if your movie lands on Netflix's Top 10 chart, it's a pretty exciting moment. Netflix's rankings have become a new barometer for movie success. So, you can imagine how exciting Netflix's Feel the Beat cast was when they heard they hit the subscription streamer's charts.
Of course, when you've hit such a milestone, you excitedly head on over to social media and share your feelings about it. First up is actor Wolfgang Novogratz, who plays Nick in Feel the Beat. He took to social media to express his thanks to the world for watching the movie. He said he feels so lucky to have been part of a sweet story. Check it out:
I should mention that as of right now, Feel the Beat is ranking #5 on Netflix's Top 10, right behind the steamy romance 365 Days and the animated movie The Nut Job. Though Feel the Beat has slipped a little bit since hitting the streamer, it's still an impressive feat nonetheless.
Feel the Beat stars Sofia Carson, known for her work on Disney's The Descendants and the Adventures in Babysitting remake, as a self-centered Broadway dancer who accidentally pushes a prominent Broadway name off the stage during an audition. She returns home with no idea what will be her next move. Once there, she reluctantly agrees to help coach a group of young dancers for a competition.
For her part, Sofia Carson is anything but reluctant to share how she feels about Feel the Beat's success on social media. Check it out:
And, finally, the one who orchestrated the movie, director Elissa Down, shared a few thoughts about Feel the Beat's rise to the top of Netflix's charts. Here's what she said:
Since Netflix originals rarely see the light of day in a theater, the Netflix Top 10 has become the go-to bar to measure a movie's success. It's difficult to know, though, exactly how the ranking system works, as it's a fickle beast and a movie's status can quickly change.
The Netflix ranking system also might not be the best gauge for quality. We've written in the past how Netflix Originals with a Rotten Tomatoes score of 0% still found its way on the Netflix Top 10, like the panned John Henry movie starring Terry Crews and Ludacris.
Still, hats off to Feel the Beat for hitting the charts. It sounds like a fun, warm and feel-good movie for the whole family. That's something, I think it's safe to say, we could all use more of this type of content. Going forward, be sure to keep it here at CinemaBlend for all the latest and greatest in movie news.
Your Daily Blend of Entertainment News
Thank you for signing up to CinemaBlend. You will receive a verification email shortly.
There was a problem. Please refresh the page and try again.