25 Current Favorite Candidates For The New James Bond Include Idris Elba, Female 007s And More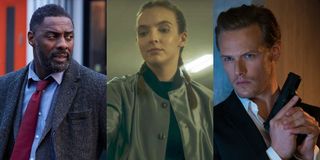 Anticipation for the release of No Time To Die is pretty high, as the film's delay into November has only given James Bond fans more time to ponder just what sort of mysteries are waiting past the title song. But another, greater mystery that awaits for 007 loyalists is who exactly will take over the post of the franchise lead once Daniel Craig turns in his Walther PPK for the last time. In uncertain times like these, there's only one place we can turn to get a hint as to what the answer to that question might be: the oddsmakers!
James Bond is known to be a gambler from time to time, so why wouldn't we consult the data from oddsmakers like US-Bookies to see where the smart money is supposedly going? And believe it or not, fans aren't over the concept of a female Bond, despite official statements basically writing this concept off. We'll start with going over the top 10 placings in terms of the odds-on favorites, after which we'll be running through the long shots that have some interesting names attached to their standings. It all adds up to a pretty exciting pack, mixing the expected with the shocking!
Damian Lewis (25/1)
Currently known for his leading role on the Showtime drama Billions, Damian Lewis' past history with both Homeland and Band of Brothers also could have put the English drama star in the running for James Bond. The one factor that might keep him from landing the gig is age, as Lewis is currently 49, which is around the time a 007 actor would see themselves on their way out. For reference, Roger Moore was 58 when he left the franchise, and Daniel Craig is currently 52.
Chris Hemsworth/Paul Mescal (20/1)
On the other end of the spectrum, the 36-year-old Extraction star Chris Hemsworth and 24-year-old Paul Mescal, known for his role in Hulu's Normal People, are both younger candidates tied for 9th place. Were the producers running the franchise, Barbara Broccoli and Michael G. Wilson, hoping to go with a popular, yet relative unknown, Mescal is the way to go, especially as the youngest candidate in the field. Hemsworth, on the other hand, almost feels like an instant disqualification in this pair, as his Marvel experience has probably driven up his salary demands, and the potential Extraction franchise is probably his Bond gig for the time being.
Henry Cavill (16/1)
A past favorite of fans and oddsmakers alike, Henry Cavill was previously touted as a strong candidate back in the days that saw Daniel Craig take the crown for Casino Royale. Those who saw and enjoyed The Man From U.N.C.L.E. are probably still holding out hope for this prospect, and to be certain, it could still happen if Justice League's Superman willed it so. Those of you looking for an age check, Cavill is currently 37, which keeps him in the game.
Jamie Bell (12/1)
Rocketman's Jamie Bell would be a fine pick for James Bond, as he has the cred from both TV projects like Turn: Washington's Spies, as well as his extensive film career stemming back to his debut as young Billy Elliot. His relative youth among these 007 candidates also plays rather well. However, there's just one potentially big catch: he's already signed on to be a potentially important part of Paramount's budding franchise stemming from Michael B. Jordan's Without Remorse. Bell may already have a pre-emptive clause in his contract from that Tom Clancy adaptation that'll keep him in that particular wheelhouse, which would be less than ideal for his potential tuxedo fitting.
Idris Elba/Cillian Murphy (10/1)
If Idris Elba and Cillian Murphy aren't perfect examples of actors who have been suggested to play James Bond for quite some time, then such a concept doesn't exist. The 47-year-old Elba and 44-year-old Murphy are mainstays, Elba particularly, in the race to find the next Bond. But as an expert has written the Thor actor out of the part due to his age, and Cillian Murphy isn't too far from that mark himself, their potential casting may sadly be too late.
Aidan Turner (9/1)
Best known for his role on the TV series Poldark, Aidan Turner has had experience playing a lovelorn warrior of great speed himself in Peter Jackson's Hobbit trilogy. Perhaps this, along with his handsome looks, is what has landed Turner in the fifth place showing amongst these other potential James Bond actors. He can be seen next in the TV series Leonardo, in which Aidan Turner will be playing Da Vinci himself; but if that doesn't pan out, this could mean some good things for a potential opening on her majesty's secret service.
Tom Hardy/Michael Fassbender (8/1)
At 42 and 43, respectively, Tom Hardy and Michael Fassbender are two more people that, while being familiar and bankable names, are a little on the older side of the James Bond dream casting spectrum. Their familiarity and potential franchise gigs probably put them further out of the realm of possibility, but fans seem to be willing to bet they'll get the gig. So if I had to choose, Fassbender would have the advantage, as not only is the Alien franchise's future in question, he basically played the role as Magneto in X-Men: First Class.
Tom Hiddleston/Richard Madden (6/1)
Having a familiar face certainly helps when it comes to James Bond fans looking into potential hires. While a producer might be motivated to avoid Tom Hiddleston and Richard Madden in the casting game, both occupy a sweet spot where they're still in their 30s and are recognizable enough to draw a crowd, but still primed to take their stars further. The edge goes to Madden in this case, as he's 33 to Hiddleston's 39, and the latter actor's commitment to Disney+'s Loki series will probably get in the way of any more immediate talks.
Sam Heughan (5/1)
As fast as you can say the word Outlander, Sam Heughan's name seems to come up in any sort of talk surrounding any potential future 007 action. Part of that is because the man himself has been pushing for the throne himself, but honestly, it's hard to not see him as a high ranking contender. Even in the higher age range at 40 years old, the man has the looks and the attitude needed to play James Bond, and he is very comfortable with action and emotion as Scottish heartthrob Jamie Fraser. Plus, it helps that the idea kind of took shape in people's heads after his tuxedoed appearance in The Spy Who Dumped Me, so this isn't a total surprise.
James Norton (2/1)
At 34 years old, with a resume that includes parts in TV shows like Doctor Who and McMafia, as well as films such as Rush and Little Women, James Norton has an interesting balance of anonymity and familiarity. All of those facors have probably led to him being the odds-on favorite for James Bond at this particular moment in time. While this could change drastically between now and the time of a formal announcement, it's probably still a good idea to keep an eye on where Mr. Norton's career takes him in the near future.
Other Notable Candidates
Towards the back of the James Bond candidate pack is a rather interesting assortment of players. With some pretty wild picks, a couple of veterans to the Bond franchise and a previous contender who got pretty close to the job in the running up to Daniel Craig's hiring, all of these actors are too good to leave out. So let's get started, moving through three distinct groupings:
The 50/1 Gang
There are six candidates who sit just outside of the top 10 standings, with 50/1 odds tipping them as the next 007:
This is where those Bond franchise veterans we discussed earlier lie, as both Spectre's Andrew Scott and No Time To Die's Rami Malek are both suggested as sitting in this category. Should either of them be cast, it'd be the first time a Bond villain would go on to play the lead role in film. Though it should be noted that Die Another Day villain Toby Stephens eventually went on to play James Bond in a series of BBC radio adaptations. So never say never on this concept!
In the younger end of the pack, both John Boyega and Timothee Chalamet are in the 50/1 range of landing the role. If I to pick a favorite in this subsection, I would say that Boyega would be the victor, as his Star Wars franchise experience gives him the functional advantage. Rounding out this group are Ewan McGregor and Benedict Cumberbatch, with McGregor returning to potential contention and Cumberbatch riding the wave he's recently become accustomed to. McGregor is the clear favorite out of these two.
The 00-Women Gang
Betting fans of the James Bond franchise haven't given up hope on a female Bond being cast in the future. Though as you can see, most have heeded the words of Barbara Broccoli, by not putting too much stock into this prospect. Still, with candidates like these, it's hard not to get excited about this big "what if":
Now, if anyone in this pack was going to get the gig, I side with the betters in Killing Eve's Jodie Comer landing the post. Between the cultural success of that show, as well as her upcoming appearance in the Ryan Reynolds film Free Guy, it's a potent martini of qualifications that would make history in its own right. Provided, of course, there's some sort of in-house reversal over at EON Productions.
The Long Shot Gang
Last, but not least, are two contenders that, while being qualified in their own ways, are less than likely to become the next Bond:
Even in such an unlikely grouping, the favorite is clear as Harry Styles is an acting talent tested enough to be considered a possibility, and he's young enough to do a longer stint in the franchise than Will Smith could potentially. Also, Smith's an American, so that probably docks some additional points off the top.
Again, all of these odds could change at the drop of a hat, and fans shouldn't count any of those top candidates out too early on in the race to become the next James Bond. Until that would-be successor has been named, Daniel Craig is still our 007 for the moment, and we'll get to see him in his final franchise outing on November 20, when No Time To Die sets its sights on the box office.
CinemaBlend's James Bond (expert). Also versed in Large Scale Aggressors, time travel, and Guillermo del Toro. He fights for The User.
Your Daily Blend of Entertainment News
Thank you for signing up to CinemaBlend. You will receive a verification email shortly.
There was a problem. Please refresh the page and try again.