Sam Neill Talks Reuniting With Original Jurassic Park Cast As Dominion Heads Back Into Production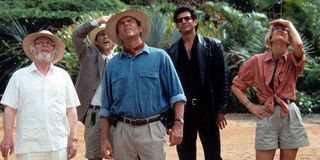 If you haven't heard yet, Jurassic World: Dominion, the third movie in the Jurassic World trilogy, will be bringing back a ton of the original Jurassic Park cast. It's exciting to even think about seeing the whole crew together again. And that reality is coming even closer for Sam Neill, as Dominion heads back into production.
While the cast and crew of Jurassic World: Dominion have had to take an extended hiatus due to current events, they are now getting back into the swing of things. During a recent interview on ITV's This Morning (via Daily Mail), Sam Neill spoke a bit about how he'll be traveling to Pinewood Studios soon and meeting up with old castmates Laura Dern and Jeff Goldblum. Here's what he had to say:
This is great news, and it's exciting to hear Sam Neill's enthusiasm for returning to the world of Jurassic Park. The last time we saw Sam Neill play Alan Grant was almost 20 years ago in Jurassic Park III. What his character has been doing all this time is unknown, but Sam Neill thinks he's long since retired from paleontology.
Returning to production hasn't been without its challenges for many movie studios. In fact, one movie production has already been shut down for violating COVID-19 rules. So Sam Neill isn't joking when he says they'll be under very strict protocols. Clearly, this is all new territory for everyone involved. Before Sam Neill and Jeff Goldblum travel to Pinewood Studios, Neill also joked:
While Jurassic World: Dominion is one of the first big productions to start again, there have been several other big productions that have also restarted filming. It was reported in early June that Avatar 2 had started filming in New Zealand. Also, photos of Keanu Reeves on the set of The Matrix 4 in Berlin have surfaced online, indicating they may have already started filming again.
Jurassic World: Dominion initially shut down production in mid-March. Back then, many thought it might only be shut down for a couple of weeks but, months later, that certainly hasn't proven to be the case. Thankfully, they are now easing back into things.
Of course, it'll be a bit before we get to see the original crew going toe-to-toe with dinosaurs again. Jurassic World: Dominion is slated for release on June 11, 2021 release date, but, considering the ever-fluctuating Hollywood release schedule, anything could change.
Your Daily Blend of Entertainment News
Thank you for signing up to CinemaBlend. You will receive a verification email shortly.
There was a problem. Please refresh the page and try again.