Looks Like Tom Holland's Uncharted Is Kicking Back Up Again As He Shares Coronavirus Testing Experience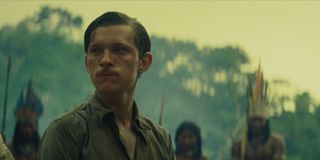 The up and down rollercoaster ride that the Uncharted movie seems to be heading back up. Earlier this year, the production was set to start filming before getting shut down due to the coronavirus. Now it looks like Uncharted is kicking back up again as Tom Holland shares his coronavirus testing experience before playing Nathan Drake.
Originally, Tom Holland was ready to go for Uncharted's principal photography in Germany, but was sent back to England when it all shut down. Now, he went to his Instagram to share that he started his first day back on the Uncharted production by getting tested for coronavirus. Here's a video of his Instagram story via Twitter:
That test does not look fun at all. But considering all the safety protocols and procedures movie productions have to put in place so that the cast and crew are safe, it makes sense Tom Holland and company are getting tested. I'm sure he's just glad he doesn't have to head back home after just arriving on set, and can finally get to work.
Uncharted is based on the popular video game by Naughty Dog. And as far as roads to production go, its had a tough ride so far with drastic screenplay changes, multiple directors dropping out, and delays that go back over ten years. In fact, Tom Holland wasn't originally attached and didn't come on until May 2017.
For a while, it looked like the movie might not happen at all with how turbulent things had been. But now with Tom Holland's latest video, it looks like production is finally starting up. And if you were wondering, the final director that's teaming with Tom Holland is Venom's Ruben Fleischer.
From what we know of the story, Uncharted will focus on a younger Nathan Drake (Tom Holland) meeting his long-time mentor and close friend Victor "Sully" Sullivan, played by Mark Wahlberg. This seemed like an odd choice at first, but Uncharted 3: Drake's Deception and Uncharted 4: A Thief's End does include flashbacks of Nathan Drake's childhood. So they must have decided that was the best approach to introduce his character to a wider audience.
It's exciting Uncharted is finally taking off and heading into principal photography. At the same time, it's pretty well known that video game movies have an ugly track record critically and at the box office. There have been several exceptions to this, of course. Still, as a big fan of the video games, I can't wait to see what they do with this story. And at the same time I'm nervous they might potentially make the same mistakes of past video game adaptations.
But what do you think? Are you excited Tom Holland's Uncharted is finally filming? Let us know in the comments!
Your Daily Blend of Entertainment News