Marvel's Robert Downey Jr. And Tom Holland Send Heartwarming Messages To Young Fan Who Braved Dog Attack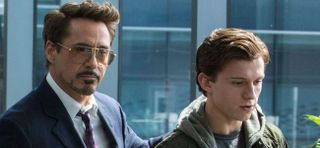 Fans of the Avengers franchise know a hero when they see one. So, it seems, do the actors that have brought our favorite superheroes to life, as Robert Downey Jr. and Tom Holland are the latest Marvel stars to send well wishes and support to a young boy who saved his sister from being attacked by a dog.
At just six years old, Bridger Walker became an internationally renowned hero after he stepped in front of his younger sister when he saw a dog charging after her. In the midst of protecting her, he was bit several times on the head and face. His injuries required plastic surgery and approximately 90 stitches -- and when social media learned of his heroism, word spread quickly.
Chris Evans, a.k.a. Captain America, was so inspired when he heard about Bridger's bravery that he personally reached out to him via a video call, which the boy's aunt shared on social media. After praising him, he offered to send him his very own Captain America-style shield.
His fellow Avengers quickly followed suit. Robert Downey Jr., a.k.a. Iron Man, sent his own video to Bridger. His aunt shared both the video and Bridger's reaction on Instagram:
In his message, he played up his on-screen rivalry with Chris Evans, insinuating that he would be happy to one-up his incoming gift to Bridger:
Tom Holland also took the time to connect with Bridger in another video chat. This one, it seems, was especially exciting for the boy, because Spider-Man is his favorite Avenger. Here's a video of their sweet conversation, courtesy of Bridger's aunt:
During their conversation, Tom Holland helped put Bridger, who was understandably starstruck, at ease by asking him about his favorite Spider-Man movies. He then offered him the chance of a lifetime -- to come out to the Spider-Man 3 set as his special guest.
It has to be a little overwhelming, in a good way, to suddenly be treated like a VIP by your heroes. Bridger has received other supportive messages from the Avengers crew, including Mark Ruffalo and even the Russo Brothers. He's also heard from other non-MCU heroes, including Shazam's Zachary Levi and Wolverine himself, Hugh Jackman.
There's no official word yet on when Bridger will be able to meet up with Tom Holland or what exactly RDJ has up his sleeve -- but we can safely assume we'll continue to get updates, both on his recovery and on what his newfound admirers are doing to make it a little easier on him.
Your Daily Blend of Entertainment News