Blake Lively May Have Had Her Baby, And Taylor Swift May Have Already Met It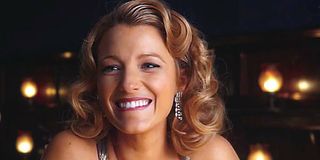 (Image credit: Café Society)
It sounds like Taylor Swift has a brand new squad member. Blake Lively has reportedly given birth to her second child with husband Ryan Reynold very recently, and the 1989 singer was one of the first people to meet the newborn. At least, that's the current gossip, girl.
A source has confirmed to Page Six that Blake Lively gave birth to her child in a Manhattan hospital, and that her BFF Taylor Swift headed to the hospital right away on Friday morning to meet the new little baby. The newborn is Lively's second child with her husband Ryan Reynolds --- their firstborn daughter James was born at the end of 2014. There's been no official word yet on the new baby's gender or name.
Blake Lively and Taylor Swift have been close friends throughout 2016 since Lively revealed how "obsessed" she was with the singer in an Instagram post last year. Since then, Lively and Swift seemed to hang out at every chance they got, including jumping for joy in Australian theme parks, celebrating Thanksgiving with cat-themed pumpkin pies, and of course snuggling up with their loved ones at Swift's Fourth of July party (or, make that ex-loved ones/possible PR stunt in Swift's case, as she and Tom Hiddleston have since split up).
Blake Lively announced her pregnancy with baby number two in April. Lively and Ryan Reynolds just celebrated their four-year anniversary earlier this month, after getting married in 2012. The actors met on the set of 2011's Green Lantern, in which they played love interests, but didn't begin dating until shortly after the film's release.
The year of their marriage was also the year that Blake Lively ended her long-running role as the lead on CW's teen drama Gossip Girl. She's since moved on to taking more film roles, such as last year's romantic fantasy The Age of Adaline (which Jaden Smith loved by the way, in case you were wondering about Jaden Smith's review), and this year's Woody Allen flick Café Society and the shark-infested thriller The Shallows.
As for her hubby Ryan Reynolds, he's pulled a total Chris Pratt by going from one of comedy's leading men to a bona fide action star in the Marvel Universe thanks to his lead role in Deadpool. Among a few more dramas next year, Reynolds is set to reprise the iconic comic book role of the Merc with a Mouth in Deadpool 2.
But until then, Ryan Reynolds will be expanding on his role as a father. Who knows, maybe this lucky little kid will even get to have Taylor Swift as his or her godmother!
Your Daily Blend of Entertainment News