This Bill And Ted Fan Has An Excellent Solution To The COVID-19 Era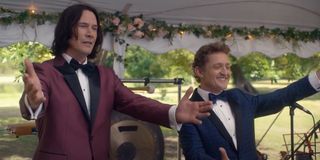 These are troubling times we live in, particularly because the COVID-19 pandemic is still looming large. It's easy to get discouraged and lose hope, making those moments were positivity manages to shine through the proverbial cracks all the more welcome. Case in point, with Bill and Ted Face the Music coming up, one fan of Alex Winter and Keanu Reeves' beloved characters came up with a unique way to spread an upbeat message on how to get through this era of coronavirus.
Check out the cool face mask that Twitter user @elvissa made to show off their love for Bill and Ted, which Alex Winter clearly liked, judging by the accompanying emoji.
On one side, we have Wyld Stallyns, the name of Bill and Ted's band, and on the other, we have one of the duo's main catchphrases: "Be excellent to one another." Those are definitely to words to live by, both in the midst of the COVID-19 pandemic and in regular, less stressful times. There's only so much room to stitch words onto a face mask, but it would have been amazing if Bill and Ted's other iconic catchphrase could have been included on there: "Party on, dudes." Cue air guitar.
Of course, nowadays, with face masks being an integral part of going outside, one certainly has no shortage of cool, pop culture-themed masks to choose from. From masks modeled off of The Dark Knight Rises' Bane's breathing apparatus to Baby Yoda-themed masks, there are plenty of ways to show off your love for your favorite franchise, property, etc during the times when you're not isolating.
The Bill and Ted film series launched in 1989 with Bill and Ted's Excellent Adventure, which saw Alex Winter's Bill Preston and Keanu Reeves' Ted Logan traveling through time to learn about historical events, as if they fail their history test, that'll initiate a chain of events that results in the utopian future Bill and Ted's music is modeled off of never coming into existence. Two years later, Bill and Ted's Bogus Journey saw the eponymous duo being killed by a rogue time traveler, requiring them to team up with the Grim Reaper and make it back to the land of the living to stop the menace.
A little under three decades later, Alex Winter and Keanu Reeves are reprising their characters for Bill and Ted Face the Music. While the threequel entered development at the beginning of last decade, it wasn't until early 2018 that it finally started to take significant steps forward, with the movie officially getting the green light by May of that year and filming taking place from mid-June to late-August of 2019.
With Bill and Ted now middle-aged and no closer to reaching their destiny, Bill and Ted Face the Music revolves around the men being warned by a visitor from the future that they have less than two hours to write their universe-saving song, leading to go on yet another time travel adventure, as well as team up with family and old allies, to complete their task. The film's cast also includes Samara Waving, Brigette Lundy-Paine, William Sadler, Kristen Schaal, Anthony Carrigan, Jayma Mays, Erinn Hayes, Holland Taylor and Kid Cudi.
Bill and Ted Face the Music will both play in theaters and be available on VOD starting September 1. You can learn what other movies are supposed to come out later this year in our 2020 release schedule.
Your Daily Blend of Entertainment News
Connoisseur of Marvel, DC, Star Wars, John Wick, MonsterVerse and Doctor Who lore. He's aware he looks like Harry Potter and Clark Kent.
Your Daily Blend of Entertainment News
Thank you for signing up to CinemaBlend. You will receive a verification email shortly.
There was a problem. Please refresh the page and try again.