Key Tenet Crew Member Explains How Time Inversion Changes Everything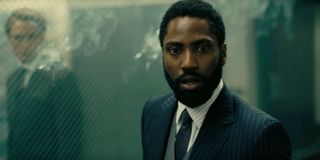 Tenet may not include time travel like some people thought, but the latest Christopher Nolan movie is nonetheless playing around with time. In the last full-length Tenet trailer, we learned of the phenomenon known as time inversion, in which objects and vehicles move in reverse. For example, you fire a gun, but the bullet instead exits its final target and instantly makes its way back into the weapon.
Just thinking about time inversion as a fictional construct is enough to cause a headache, but just imagine how those who were working on Tenet felt about it. Here's what production designer Nathan Crowley recently had to say about his team's efforts with bringing time inversion to "life":
Nathan Crowley didn't specify what practical effects Tenet's production team used to show time inversion, but it sounds like it was a complicated endeavor. While I imagine that editing during those postproduction process also came into play with certain time inversion sequences, hopefully Crowley, Christopher Nolan or someone else on the Tenet crew will later spill the beans on the specific practical effects and stunt work that was used for those temporal aspects of the movie.
Tenet marks Nathan Crowley's eighth time collaborating with Christopher Nolan, with the two of them having previously worked together on Insomnia, Batman Begins, The Prestige, The Dark Knight, The Dark Knight Rises, Interstellar and Dunkirk. His non-Nolan work includes John Carter, The Greatest Showman and First Man.
During his interview with Collider, Crowley also mentioned that he had to read the Tenet script five times in order to understand the script's intricacies, and that he and Christopher Nolan wanted to top themselves by traveling to seven countries to film Tenet, having previously gone to two countries and five countries for Interstellar and The Dark Knight Rises, respectively. As far as leaning on practical effects for time inversion goes, that's not surprising given Nolan's love for the tangible over digital wizardry, which is also evidenced by how he blew up a plane for Tenet.
While specific plot details for Tenet are still being kept close to the chest, the movie revolves around a secret agent being tasked by a clandestine organization to stop World War III from happening. The main cast members include John David Washington, Robert Pattinson, Kenneth Branagh, Elizabeth Debicki, Aaron Taylor-Johnson and Dimple Kapadia.
Having been originally dated for July 17 and then pushed back to July 31 and August 14, Tenet is now expected to open internationally in 70 countries on August 26, followed by a limited theatrical U.S. theatrical release on September 3. Don't forget to browse through our 2020 release schedule to learn what other movies are supposed to come out later this year.
Your Daily Blend of Entertainment News
Connoisseur of Marvel, DC, Star Wars, John Wick, MonsterVerse and Doctor Who lore. He's aware he looks like Harry Potter and Clark Kent.
Your Daily Blend of Entertainment News
Thank you for signing up to CinemaBlend. You will receive a verification email shortly.
There was a problem. Please refresh the page and try again.