Amy Adams: What Fans Should Know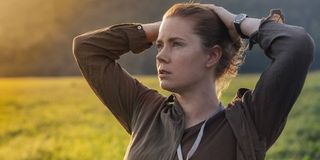 In the current world of notable actors, Amy Adams stands above many of her peers. Thanks to a blend of a risk-taking attitude and the hard won history of her acting career, Adams has been active for a little over 20 years and hasn't missed a step.
With a wide assortment of roles she's famous for, Amy Adams also has an amazing story that lead up to her superstar career as a modern actor of great distinction. And even in her current heights, there's some interesting stuff to know about the award nominated powerhouse that is Ms. Adams.
Here are the most important facts and trivia that fans of Amy Adams should know about. Some are run of the mill, others are pretty deep cuts, but all are vital to painting a portrait of Adams that the world should see.
She Was Actually Born In Italy
One of her favorite places to visit in the world, Amy Adams was born in Italy on August 20, 1974. Parents Richard and Kathryn Adams were living in country, as part of Richard's assigned post in the United States Army.
The Adams family would eventually move to Castle Rock, Colorado, after Richard's time with the Army came to an end in 1982. Both of her parents would venture forward into fields of interest that would take them different places, as the couple would divorce in 1985; with Amy and her siblings staying with their mother in Colorado.
Her Father Was A Singer, And Her Mother Became A Bodybuilder
Once out of the army, Richard Adams became a professional singer, performing in a nightclub act that Amy would sometimes accompany him on. Meanwhile, after their parents' divorce, the Adams children would accompany their mother, Kathryn, to the gym as she pursued her passion of becoming a semi-professional bodybuilder.
Amy Is The Middle Child Of A Rather Big Family
With four brothers and two sisters as part of her family, Amy Adams had a pretty big group of siblings to grow up among. And as it would turn out, Amy is smack dab in the middle of the birth order. She grew up among brothers Daniel, Scott, Richard Jr. and Eddie, as well as her sisters Julie and Anna.
Is Amy Adams Married?
Amy Adams is indeed married, to actor/painter Darren Le Gallo. The two have a long history together, as they first met in 2001 and eventually found themselves dating after being friends for some time. They would get engaged in 2008, with their marriage taking place in 2015, and they are still together to this day.
Does Amy Adams Have Children?
Amy and her husband have one child together, their daughter, Aviana Olea Le Gallo. She was born in 2010, five years before the two would eventually marry in 2015. A shared hobby between Aviana and her parents is going to the park for outings.
How Many Academy Awards Has Amy Adams Won?
Amy Adams hasn't won an Academy Award just yet, but she has garnered six nominations in the field of acting. Five nominations were for Best Supporting Actress in the films Junebug, Doubt, The Fighter, The Master and most recently for her work as Lynne Cheney in Adam McKay's Vice.
Her sole Best Actress nomination, thus far, was for her role in David O. Russell's American Hustle. This is in spite of most critics and fans believing her work in the film Arrival deserved a nomination, but sadly, that did not happen. Glenn Close is the only actress who surpasses her on this front, with a total of seven Academy Award nominations and no wins.
Amy Adams' Career Started In Dance
When it comes to her career in entertainment, there was another path that Amy Adams had thought of taking. In particular, she started out her career as training to be a ballerina as a child, right up until she decided to switch gears at 18.
With musical theater calling, Adams would keep her love of dance alive, while adding singing and acting onto that pile of attributes. Eventually, her musical gigs landed her a job as a server/performer at a dinner theater, which then lead to her to the world of movies.
Kirstie Alley Inspired Amy Adams To Become A Movie Star
Amy Adams' first film just happened to be a cult classic that no one would have expected: the 1999 dark comedy Drop Dead Gorgeous. While it was her debut, it was impressive enough to make co-star Kirstie Alley recommend that Adams move to Hollywood, in order for her career to take flight.
Doing just that, Amy Adams would make it official in the same year that her feature film debut would be released in theaters. And while it would take a while, Adams did find steady work eventually; albeit in the world of television.
Adams Was Kathryn Merteuil, A Superman Villain, And Jim's Girlfriend, All On TV
If you're one of those people who love to go back to older shows and play spot the rising star, you'd have a hell of a time doing that with Amy Adams, and some of the results might surprise you. In particular, Adams had notable guest spots on famous WB shows like Charmed, Smallville and even Buffy The Vampire Slayer.
Perhaps her most notable TV work was in two particular roles: as Jim's girlfriend/handbag saleswoman Katy on NBC's The Office, and in the role of Kathryn Merteuil for Fox's unaired prequel series to Cruel Intentions, Manchster Prep. Though on the bright side, Amy Adams' time stepping into Sarah Michelle Gellar's shoes for that role would eventually be seen as the direct-to-video movie, Cruel Intentions 2.
Amy Adams Almost Quit Hollywood Early On
With TV playing a big component in her earlier career, one role almost pushed Amy Adams away from acting altogether. After landing a role as a series regular on the short lived CBS drama Dr. Vegas, Adams found herself fired after a couple of episodes. At this point in her career, she was ready to leave acting altogether.
If it wasn't for her sticking with her role in the 2005 film Junebug, Amy Adams would have been ready to call it quits. But after positive notices, and her first round of awards nominations, including her first Academy Award nomination, she stuck with the profession of acting, just as the tide was about to turn.
Steven Spielberg Was Surprised That Amy Adams Wasn't A Bigger Star Sooner
Another milestone role for Amy Adams career was when she was cast in a supporting role in Steven Spielberg's Catch Me If You Can. Playing a young nurse that Leonardo DiCaprio's Frank Abagnale Jr. fell in love with during one of his grifts, the role drew a lot of positive attention to her career.
But it wasn't enough, especially according to Steven Spielberg, who felt that this particular role should have catapulted her to stardom. It would take a couple more years, with work being a bit scarce in the meantime, but Amy Adams would assuredly get there.
She's A Certified Disney Princess
Amy Adams has always felt like a natural candidate for a Disney princess, with a warm, friendly demeanor, and the look of someone who could easily summon birds with a happy tune. And that is an assumption that Disney totally leaned into when casting her as Giselle, the princess at the center of their 2007 musical-comedy Enchanted.
A box office hit, as well as double nominee in the field of Best Original Song at the 2008 Academy Awards, there's been a sequel in development for quite some time. Titled Disenchanted, the sequel has a current draft that Amy Adams and director Adam Shankman like, and it's all down to budgeting and musical numbers before this one gets off the ground.
Adams Was Almost Lois Lane Twice Before Actually Getting The Part
Continuing her connection to the Superman series, Amy Adams almost had the role of reporter/love interest Lois Lane twice before she eventually landed it in Zack Snyder's Man of Steel. Adams not only auditioned for the part in Superman Returns, she also tried out for the role in the eventually cancelled Superman: Flyby project, which gave way to Superman Returns.
After landing the role, Amy Adams has performed as Lois Lane in Man of Steel, as well as in two of its follow-ups Batman v. Superman: Dawn of Justice and Justice League. It's still unclear whether or not Henry Cavill has actually exited as Clark Kent and his superpowered alter ego, but Adams had a feeling that her time as Lois has come to an end, which has still yet to be confirmed.
If American Horror Story Wants A Cameo, Amy Adams Is Game
During an interview for Vogue's 73 Questions, Amy Adams was once asked what her dream opportunity for a cameo would be. Out of all the properties she could dream of, Adams went on record as stating that she'd want a role on FX's American Horror Story. So if anyone in Ryan Murphy or Brad Falchuk's offices are reading this, a meeting is definitely in order.
Amy Adams' life story is an exciting bunch of twists and turns that not only shaped her into the formidable talent she is today, but also make it such an interesting story to read in the first place. With her career continuing to thrive and develop into whatever the next act has in store for her, the story is only going to get more interesting from this point forward.
Amy Adams can next be seen in The Woman In The Window, an adaptation of author A.J. Finn's novel of the same name, which will be released on October 4.
CinemaBlend's James Bond (expert). Also versed in Large Scale Aggressors, time travel, and Guillermo del Toro. He fights for The User.
Your Daily Blend of Entertainment News
Thank you for signing up to CinemaBlend. You will receive a verification email shortly.
There was a problem. Please refresh the page and try again.