Jamie Foxx Responds To The Fans After Project Power Hits #1 On Netflix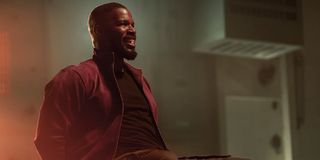 Project Power, a Netflix Original starring Jamie Foxx and Joseph Gordon-Levitt about a drug that gives you superpowers for five minutes, was released last Friday, and it's been sitting high on the Netflix rankings. Now, Jamie Foxx has responded to the fans who have embraced the film.
In these strange times, it's become a new highlight for movies to hit Netflix's coveted #1 spot on the platform's Top Ten list. Now that Project Power has reached the pinnacle, Jamie Foxx seems ecstatic and is letting the fans know about it on his social media. Here's what he had to say:
It's awesome that Project Power continues to flex its muscles on the Netflix rankings, but it's not altogether surprising. With Jamie Foxx's star power and a winning science fiction/superhero concept, it's the kind of fun movie that plenty of people tend to flock to.
Critically, Project Power has been met with mixed reviews, among critics and fans alike. Some called it an unoriginal and cliché movie with plenty of plot holes, while others are more inclined to just tune that out and enjoy the ride. CinemaBlend's own Sean O'Connell thought it was a great idea, but didn't execute it well enough. Still, it looks like reviews did little to dissuade tons of Netflix subscribers from clicking play.
One of the big draws to a movie like Project Power is the, well, powers. It's fun to get lost in a fantasy world where people have special abilities. Marvel movies have certainly proved that time and again. Project Power promises that kind of a thrill ride, with some interesting special effects to boot.
And yet, a good story also has a big part to play in bringing people in and, at least from the trailer, Project Power piqued people's interest with a clever concept and an intriguing story. It's similar to Star Wars, to a degree, as it follows underdogs going up against a powerful system and trying to take it down.
Project Power is about a former soldier (Jamie Foxx) who's looking for his daughter and eventually ends up joining forces with a cop (Joseph Gordon-Levitt) and a young drug dealer of the new controlled substance known as "Power." They work together to put an end to a powerful organization selling the drug.
Could a sequel be coming down the pike? Project Power writer Mattson Tomlin said he hopes they get the opportunity to make one and thinks there's plenty more to explore. With its current popularity, it's not out of the question a sequel could happen, but nothing has been confirmed as of yet. Stay tuned to CinemaBlend for the latest.
Your Daily Blend of Entertainment News
Your Daily Blend of Entertainment News
Thank you for signing up to CinemaBlend. You will receive a verification email shortly.
There was a problem. Please refresh the page and try again.