Wait, Brad Pitt's Rumored New Girlfriend Is Already Married?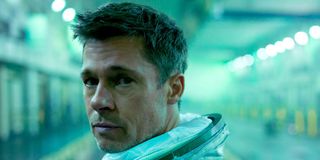 Brad Pitt and Angelina Jolie's high-profile divorce has been back in the news quite a bit lately. While Angelina Jolie has spent this time giving interviews about what her family life has looked like during Covid, Brad Pitt has put some of those divorce headlines on the backburner thanks to traveling and possibly dating. In fact, he may have already officially moved on from Angelina Jolie and has allegedly begun dating German model Nicole Poturalski, who allegedly, in turn, is allegedly already married to someone else. Let's unpack these allegedly's.
Who Is Brad Pitt Rumored To Be Dating?
In a rumored twist, Nicole Poturalsk, iis said to be married to Roland Mary, a German restauranteur. They allegedly wed eight years ago, per the Daily Mail, and even have a son together, Emil. When contacted by that outlet, the restauranteur declined to discuss the status of his marriage or Brad Pitt, but the actor has been seen with Poturalski as recently as a few days ago.
The speculation here is that 68-year-old Roland Mary and 27-year-old Nicole Poturalski are in an open relationship, in which case she would be more than free to gallivant around with the 56-year-old Brad Pitt. Another intriguing thing to note is that Mary actually owns Borchardt, a restaurant in Berlin that Brad Pitt loves to go to whilst in that city.
Roland Mary is described by The Daily Mail as "a very philosophical guy" who has been married multiple times. Meanwhile, what is definitely confirmed is that Brad Pitt and Nicole Poturalski have been seen traveling together in France, perhaps heading to Pitt's retreat Château Miraval. No romance has been confirmed, just the traveling, but the whole situation has certainly piqued peoples' curiosity.
What Do We Know About Nicole Poturalski?
Meanwhile, you may know Nicole Poturalski from her work as a model, where she goes by the name Nico Potur on social media (she has also been known as Nico Mary). Brad Pitt was previously spotted with Nico in November of 2019 at a Kanye West concert. She has spoken about "Missing my strolls with my Love" while posting a photo of Los Angeles and some have taken that as hints about Pitt, though that too is unconfirmed.
Currently, Brad Pitt's been in the news anyway, and not because he has another project coming up with Quentin Tarantino or anything of that ilk, although I WISH. (I also wish this was happening with Pitt.) Instead, it was recently confirmed that while he and Angelina Jolie are technically divorced, that divorce has been bifurcated, meaning they still have some issues to work out.
Those issues went public recently when Angelina Jolie's lawyers shot some statements out about each others' tactics during the still-happening divorce proceedings. Neither side minced words when talking about what the other party was up to. Jolie's team had been trying to have the judge on the case removed around the time these public statements happened.
Brad Pitt and Angelina Jolie actually split all the way back in 2016, so these proceedings have been going on for some time. Brad Pitt said he was "very saddened" at the time and has since come out to admit to drinking problems and more.
So, clearly there's a lot going on in Brad Pitt's private life and whether or not he's dating a married lady who's maybe in an open relationship is only one facet of it. It's also worth noting, this isn't the first time Pitt has been rumored to be dating since his split. As far as what's official, I'm sure he or his partner will let us know as soon as they feel it's something worth remarking on. Yet, as we learned from Keanu Reeves, sometimes that openness comes fairly late in the romance.
Amazing Race & Top Chef superfan with a pinch of Disney fairy dust thrown in. If you've created a rom-com I've probably watched it.
Your Daily Blend of Entertainment News
Thank you for signing up to CinemaBlend. You will receive a verification email shortly.
There was a problem. Please refresh the page and try again.