Brad Pitt Has Finally Addressed His Divorce Scandal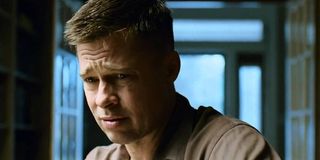 The past year has been a challenging one for actor Brad Pitt at home and away from his movie-star career. His split from actress Angelina Jolie made headlines around the world, and the aftermath of the breakup was filled with rumors about a secret Hollywood affair and abuse allegations that led to an investigation. Now the 53-year-old actor has opened up about the divorce and how he wants to be a better father to his children. It sounds like one of the most painful parts of the divorce process was his uncertainty regarding the visitation of his kids. Check out what he said about it:
The Courtroom is behind him, and when last we checked on Brad Pitt, people were questioning if and when the star of Netflix's War Machine would dive into the dating pool again. Although the GQ profile did not provide a direct answer to that inquiry, it did paint a picture of Pitt's current reality, which includes a lot of time focused on new labor-intensive hobbies, such as pottery and sculpting. Moreover, Pitt shared that he quit drinking because he doesn't "want to live that way anymore." These insights correspond with previous reports that the actor has lost weight and found a renewed sense of contentment. Secondly, they gently suggest Pitt is obtaining brightness in his life, which we love. In fact, Pitt touched on dealing with the formerly shadowy aspects of his life, saying,
In other words, Brad Pitt is a complex, multilayered human being experiencing a mix of emotions, and he seems to be working through aspects of himself that perhaps helped to steer his marriage toward divorce. As difficult as everything has been for Pitt in recent times, it appears things are looking up. Sometimes, out of tragedy can come clarity and growth.
Your Daily Blend of Entertainment News