Ready Or Not: 11 Behind-The-Scenes Facts About The Excellent Horror Movie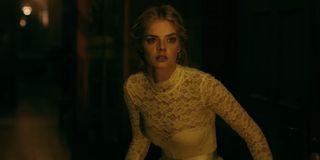 The game of Hide and Seek will never be same again, thanks to a little movie called Ready or Not, in which a young woman falls prey to her new husband's extremely wealthy family as part of a long-honored tradition to hold a post-wedding game night that occasionally turns deadly. In addition to the many ways that Samara Weaving, as Grace, desperately tries to conceal herself throughout the film, there are also quite a few fascinating behind-the-scenes facts hiding about, even some that are hiding in plain sight.
Released in 2019, this sleeper hit immediately earned praise from critics and audiences alike as an instant classic of the horror-comedy crossover genre for its brilliant blend of heart-racing tension and unrestrained blood splatter with a demented dose dysfunctional family humor and some cleverly laced social satire. Ready or Not solidified the Australian actress Samara Weaving as Hollywood's new leading scream queen and would also earn directors Matt Bettinelli-Olpin and Tyler Gillet (collectively known as Radio Silence) the honor of taking over the Scream franchise after the late Wes Craven.
To better understand how Ready or Not has established itself with a well-deserved spot in horror history, it may help to take a deeper look into its development, production, and, perhaps, even take a few moments to reflect on its legacy. We found the following 11 bits of hidden trivia related to the modern cinematic gem so you would not have to seek them out yourself. WARNING: This article is filled with SPOILERS, so we recommend you put this away in its own hiding place until after watching the film if you have not already.
Samara Weaving Channeled Her Own Anxiety Into Her Ready Or Not Performance
The emotional range of playing a newly wedded bride hunted by satanic in-laws sounds challenging, but for Samara Weaving it was like any other day. Appearing on Build with fellow cast and crew members of Ready or Not, the model and actress explained how her own "constant anxiety" helped her achieve those manic expressions more naturally. Weaving would elaborate on how her fears informed her performance in a Vulture interview, commenting on her own struggles with social confrontation and even driving a car, both of which she tackled in one memorable scene involving a failed escape attempt.
The Le Domas' Home In Ready Or Not Is The Same Mansion From Billy Madison
If Le Domas "Dominion's" estate looks particularly familiar, you may be an Adam Sandler fan. One of the three main Canadian locations used in Ready or Not was the Parkwood Estate, which was featured in exterior shots and was home to the man-child title character of Billy Madison in 1995, as well as plenty more films. The producers used the Casa Loma castle, which some may recognize as Wayne Manor from the Titans series or as Charles Xavier's School for Gifted Youngsters in the X-Men movies franchise, for how well its gothic interior matches the luxurious lifestyle of the wealthy antagonistic family.
The 2016 Election Inspired Ready Or Not's Satirical Undertones
Speaking of wealthy antagonists, Ready or Not has been noted for how the orphaned Grace's "conflicting" relationship with the Le Domas family (to put it lightly) alludes to themes of economic class division. At the film's premiere, Radio Silence explained to Variety how entertainment is the directing duo's top creative priority, but modern politics was also a "guiding principle" for the film, especially after the results of the Presidential Election in 2016. Tyler Gillet elaborated on that with the following:
Le Domas' Masks At The Beginning Of Ready Or Not Reference The Twilight Zone
The Le Domas' bizarre behavior is more than a vehicle for satire as they also pay homage to one of the most important science fiction shows in television history. The introductory flashback in Ready or Not sees the family hunting younger Aunt Helene's groom while donning masks of a sinister variety that bear a striking resemblance to masks from a 1965 episode of The Twilight Zone. In the aptly-titled "The Masks," a dying aristocrat forces his greedy adult children to wear masks representing their ugly inner personalities in order to receive their inheritance, which could be another subtle clue to its socioeconomic themes.
Various Dessert Items Were Used For Gore In Ready Or Not
For those who did not pick up on the satirical elements, Ready or Not was still a blast in the figurative sense due to its literal blasts of blood and other gross-out gags, which apparently doubled as an on-set snack for the cast. The crew would substitute foods like bananas and jelly for human innards and the bloody that frequently covered Samara Weaving was actually caramel syrup dyed red, which the actress told Rotten Tomatoes was "delicious."
Samara Weaving Accidentally Struck Ready Or Not Co-Star Andie MacDowell
However, as it turns out, not all injuries on the set of Ready or Not were the result of movie magic. Samara Weaving spoke on Variety's podcast "The Big Ticket" about how she feared would get fired from the production after she hit her onscreen mother-in-law Andie MacDowell in the face while rehearsing their vicious fight scene. Fortunately, according to Weaving, the 62-year-old actress, who plays Becky Le Domas in the film, assured everyone on set that she would "just need some ice" before getting back to the rehearsal.
Andie MacDowell Injured Her Back Right Before Ready Or Not Began Shooting
Speaking of on-set injuries for Andie MacDowell, her little mishap with Samara Weaving might have been nothing compared to the pain she had already been suffering from on set. The Ready or Not co-stars actually brought up the same rehearsal incident while interviewing each other for Entertainment Weekly, at which point MacDowell revealed the following secret about one of the more memorably aspects of her performance:
Indeed, Becky De Lomas' sinister slump was the result of Andie MacDowell's own real-life back injury. I guess we can ironically call this a happy accident of sorts.
The Ready Or Not Writers Cameo In The Crossbow Instruction Video
Speaking of accidents, the hunt for Grace proves to be so problematic for the De Lomas family that, at one point, Fitch (Kristian Bruun) looks up a how-to video on YouTube to better his skills with his weapon of choice: an antique crossbow. What you may not have realized is that the two hillbillies hosting the instructional video are really Guy Busick and Ryan Christopher Murphy, who wrote the script for Ready or Not, in an uncredited appearance. Murphy, not to be confused with American Horror Story co-creator Ryan Murphy, also collaborated on Hulu's Stephen King-inspired series Castle Rock with Busick, who is also reuniting with Radio Silence as a co-screenwriter for Scream 5.
Andie MacDowell Ad-Libbed Her Funniest Line In Ready Or Not
For as much praise as we have to give Guy Busick and Ryan Christopher Murphy for their clever script, some of the credit for Ready or Not's top-notch humor should be given to Andie MacDowell. Becky De Lomas' famous line "Holy dick!" was off the top of the actress' head which, as she revealed on Build, was one of her father's favorite phrases. I we can all be thankful that there was no hesitation to keep that quote in, although not all the dialogue was treated that same way.
Samara Weaving Had Doubts Over Her Final Ready Or Not Quote
My personal favorite line from Ready or Not - with all due respect to "Holy dick!" - are the last words spoken by Samara Weaving before the credits roll. After a police officer asks the battered and bloodied Grace what happened to her, she bluntly replies, "In-laws." This slam dunk of an ending quote was initially feared to be "too cheesy" by Weaving herself, as she revealed to The Hollywood Reporter, before shooting the scene and seeing how well it stuck quelled her skepticism.
Ready Or Not's Explosive Ending Was Not The Originally Planned Conclusion
Also hesitant about the ending of Ready or Not was the film's own directorial duo, Matt Bettinelli-Olpin and Tyler Gillet, who were crucial in helping the horror-comedy stick its landing. Radio Silence spoke to CinemaBlend about how the film's final conclusion came to be and why they requested a rewrite of the original ending, which Bettinelli-Olpin explains here:
From that point, the team would go through "probably 20 drafts" of the script from the directors' first read, swapping countless different ideas of how to stylistically craft the ending. Eventually Ryan Christopher Murphy proposed that the De Lomas family should die in bloody explosions and Samara Weaving suggested Grace's gigglish reaction to it on set, Ready or Not finally received the pitch-perfect cartoonishly macabre conclusion it deserved.
What do you think? Do you love Ready or Not even more now, or would you have preferred that these lesser-known facts remain hidden? Let us know in the comments and be sure to check back for additional information and updates on this wonderful horror-comedy, as well as even more in-depth looks behind the scenes of your favorite movies and TV shows, here on CinemaBlend.
Your Daily Blend of Entertainment News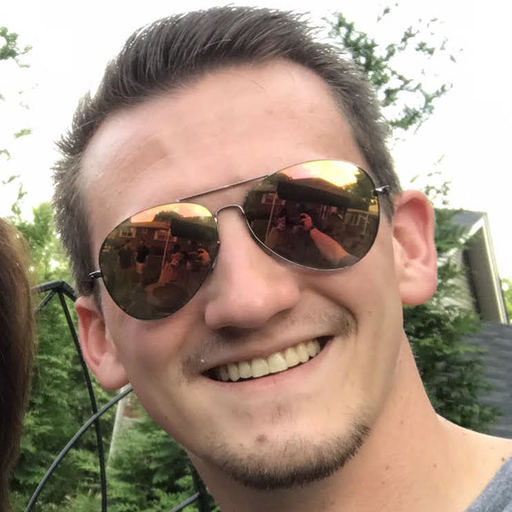 Jason has been writing since he was able to pick up a washable marker, with which he wrote his debut illustrated children's story, later transitioning to a short-lived comic book series and (very) amateur filmmaking before finally settling on pursuing a career in writing about movies in lieu of making them. Look for his name in almost any article about Batman.