5 Marvel Characters Ana de Armas Would Be Perfect To Play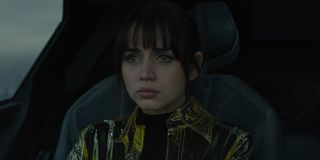 In the short time that she has been a mainstream actress, Ana de Armas has played an impressive variety of roles, out of her own self-proclaimed desire to do it all. I would say that she is already pretty close, but starring in a couple of Marvel movies would really be the thing that could put be the icing on the cake by today's standard of success in Hollywood.
To be clear and fair, the versatility that the Cuban actress has shown in her remarkably unique high-profile roles thus far is astonishing. Her performance as Joi in Blade Runner 2049 made you believe a hologram was capable of human emotion, her role as not a Bond Girl (despite what many may have expected) in the delayed No Time to Die is still highly anticipated, and (speaking of Daniel Craig), she very nearly stole the show from him and everyone else in Knives Out. Furthermore, seeing her play the hero in Rian Johnson's whodunit opposite a post-Captain America Chris Evans as the villain cannot be a coincidence, can it?
Even if it is, that alone sounds like a good enough indication to me that Ana de Armas should be involved in the next generation of the Marvel Cinematic Universe and there are more than enough great characters from the comics that she would the perfect choice to play. However, for the sake of being concise, I have narrowed down the selection to just the top five, starting with this lesser-known version of a classic X-Men character.
Lady Deathstrike
While the Disney-Fox merger means the X-Men movie franchise will most likely be given a clean slate (which they could use) when transitioning into the MCU, there are still a few characters whose original cinematic depictions, I believe, should remain canon, such as Kelly Hu's Yuriko Oyama. Given the events of 2003's X2: X-Men United, we would need a new Lady Deathstrike, and one of the more interesting characters to use the alias, even for a short time, is Ana Cortés. Imbued with the deadly retractable fingernails and conciousness of her predecessor, this villain also has self-healing nanites that make her partially cybernetic, which would be an interesting upgrade from playing a hologram for Ana de Armas.
White Tiger
Before Zoë Kravitz was cast as Catwoman in The Batman, Ana de Armas was considered for the role alongside Robert Pattinson's Bruce Wayne in upcoming reboot from director Matt Reeves. If, by any chance, she still had some interest in playing a feline-esque femme fatale from a comic book, the chance to bring White Tiger, a legacy hero with superhuman abilities that originate from a mystical amulet, to the big screen is still wide open. The alias is currently held by Ava Ayala (the youngest sister of the original White Tiger, who was the Puerto Rican-born Hector Ayala), whose vigilantism sparked from her entire family's murder, which is a type of origin story rarely addressed in the MCU and might make for one intriguing future chapter.
Firebird
While Ana de Armas' best choices for a Marvel movie character are certainly not limited to creatures with large claws, that could still also apply the winged animal from which this Latina heroine gets her name. While Bonita Juarez has gone under a few different aliases since her comic book debut (depending on the timeline), she is best known as Firebird, referring to the giant mass of energy shaped like a bird that she may or may not be able to manifest on her own. Thanks to a ball of fire that literally came out of the sky and struck her during a stroll through the desert near Albuquerque, Juarez also has the power to project energy at various temperatures and propulsive strengths, can fly up to 130 miles per hour, and might be immortal, depending on whose speculations you are basing that off of.
Ms. America
On the other hand, if the limitations of Firebird's abilities do not sound as interesting, there is always America Chavez, a Latina who can do just about all that Bonita Juarez can, but also much more. Contrary to what her superhero alias may be associated with in our reality, Ms. America is far from your typical beauty queen, but an ultra-powerful, independent young woman who is literally comes from out of time and space to be a force for good in our dimension. While she is more typically depicted as a teenager, I can see great in Ana de Armas portraying a slightly iteration of America joining the Avengers.
Elektra
In retrospect, it might have been for the best that Ana de Armas did lose out on the Catwoman role, especially since she is currently dating Robert Pattinson's predecessor for the role of Batman. However, upon word that Ben Affleck will be reprising the character in the upcoming Flash movie, the MCU could try pulling the same idea with having his Daredevil show up in a future movie and, if so, who better to play his most famous love interest than his real life love? While Élodie Yung's performance as anti-heroic assassin Elektra Natchios in Netflix's Daredevil and The Defenders series was a great portrayal is technically MCU canon, seeing de Armas take on the character (especially if next to Affleck) would too amazingly meta to resist if you ask me.
So, what do you think of this list? Do any of these Marvelous roles sound like just the right ticket for Ana de Armas' official entry into the MCU, or, for as much as you would love to see these characters on the big screen for the first time (or first time in a while), you would rather see the actress continue show up in more original work for the future? Let us know in the comments and be sure to check back for additional information and updates on the talented beauty, as well as even more hypothetical comic book movie casting calls, here on CinemaBlend.
Jason has been writing since he was able to pick up a washable marker, with which he wrote his debut illustrated children's story, later transitioning to a short-lived comic book series and (very) amateur filmmaking before finally settling on pursuing a career in writing about movies in lieu of making them. Look for his name in just about any article related to Batman.
Your Daily Blend of Entertainment News
Thank you for signing up to CinemaBlend. You will receive a verification email shortly.
There was a problem. Please refresh the page and try again.