9 Diverse Marvel Heroes We Want To See On The Big Screen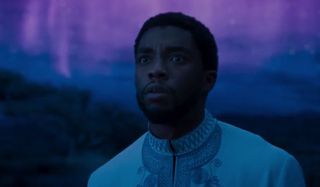 There have been multiple studies showing that diversity helps box office performance, but in recent weeks Ryan Coogler's Black Panther has been bringing that lesson to bold, vibrant life. While still in the early days of its release, the movie is knocking on the door of making more than $1 billion worldwide with a cast that is almost entirely black. While Hollywood has primarily focused on white superheroes to date, we are in the midst of a phenomenon demonstrating that characters of all backgrounds deserve their time in the spotlight. The good news for Marvel is that their universe is full of characters worthy of exploration.
Below and on the next few pages I've picked out a selection of diverse Marvel characters who should be considered for big screen treatment -- be it in their own solo movies, or as part of larger ensembles. Each has a story worthy of inclusion in the Marvel Cinematic Universe, and while some would need some time to be incorporated into the complicated canon, they all offer special new opportunities for the franchise.
Kamala Khan
Carol Danvers -- who will be getting her own movie in 2019 -- graduated from being Ms. Marvel to Captain Marvel in 2012, leaving the name up for grabs. It was not a vacancy that was around for very long, however, as it was less than a year and a half later that Sana Amanat, G. Willow Wilson, and Adrian Alphona introduced Kamala Khan to the world. After first appearing in 2013's Captain Marvel #14, she was headlining her very own title just a few months later, and in doing so became the first Muslim character in Marvel's history to get their own book. Now it's time for her to get her shot on the big screen as well.
In the comics, Kamala Khan takes on the Ms. Marvel mantle because she idolizes Carol Danvers -- and that should really be the only opening that a Marvel Cinematic Universe filmmaker would need. While nothing is official yet, there is already a strong expectation that Marvel Studios will eventually make a Captain Marvel 2, and it's within that film that we can potentially see the creation of an on-screen bond between the two heroes (while also showcasing Kamala's awesome shapeshifting and healing powers).
White Tiger
One might argue that at this point one of the most significant things holding up the idea of a White Tiger movie is the fact that people will endlessly joke about it being another superhero feature with a "Color Big Cat" title. That being said, Hector Ayala and his descendants would be right at home on the big screen. First appearing in December 1975 and created by Bill Mantlo, Yvette Perez, and George Perez, he's one of the few significant Puerto Rican characters in Marvel's canon, and has a cool story to be told on the big screen that is made even stronger by more recent iterations of the hero.
In the comics, Hector Ayala becomes the White Tiger when he unites the three Jade Tiger amulets -- but what's perhaps even more exciting about the character's live-action potential is his lineage. In 2003, Brian Michael Bendis and Alex Maleev introduced Angela del Toro as Hector's niece, and had her inherit the White Tiger mantle as part of her heritage... and that story right there could easily be a film. We haven't really seen that kind of story as part of the Marvel Cinematic Universe just yet, and it could be wonderful in the right hands.
Amadeus Cho
Amadeus Cho is another character who was only introduced to Marvel Comics within the last few years, but his impact has certainly been significant enough to warrant consideration for all of the machinations happening on the big screen. One of the few Asian characters to ever headline a Marvel comic, Amadeus is a Korean American and teenage genius who ranks as one of the smartest people on Earth. After making his debut in 2005 (created by Greg Pak and Takeshi Miyazawa) he was established as a key supporting character in the Marvel Universe, but since 2015 he's actually been The Hulk, which only furthers his case for inclusion in the Cinematic world.
Thanks to both rights issues and a sketchy solo movie past, The Hulk has been a tricky character to approach for Marvel Studios, but as future plans are made and established versions of heroes move on, Amadeus Cho could be a fantastic successor as the big, green monster. The MCU could even make it work so that he is related to Claudia Kim's Dr. Helen Cho from The Avengers: Age of Ultron.
Patriot
While most of the characters on this list haven't really come anywhere close to the Marvel Cinematic Universe just yet, Patriot, a.k.a. Elijah Bradley, is an exception. Just a few weeks ago we learned from writer/director Ryan Coogler that at one point he was considered for inclusion in Black Panther. That didn't wind up happening thanks to the filmmaker's desire to focus on Wakanda -- but if Marvel is serious about a big screen future for the character, it would be amazing to see him come to life in a Young Avengers movie.
Allan Heinberg and Jim Cheung crafted a fantastic comic together in 2004 following Marvel's Avengers Disassembled storyline, and it would be amazing to see the Young Avengers group realized in live-action with Patriot as the established leader. What's more, while the future of the Marvel Cinematic Universe is a mystery beyond the events of 2019's Avengers 4, there is every possibility that it could set the stage perfectly for the teenage successors to Earth's Mightiest Heroes.
Doctor Voodoo
Scott Derrickson's Doctor Strange took Marvel Cinematic Universe fans on a mind-bending tour through the multiverse -- but that isn't the only kind of magic that exists in the world of Marvel. Back in the early 1970s, Stan Lee, Len Wein, and John Romita, Sr. introduced the idea of a voodoo-practicing hero with Brother Voodoo -- a Haiti-born, American-educated psychologist who becomes of a student of the mystic arts keeping a vow to his dead twin brother. He's an immensely cool character unlike any other in the Marvel canon, and could potentially be a great fit for the big screen.
Introducing the audiences to different kinds of magic in the Marvel Cinematic Universe would be a fantastic angle to take for a future Doctor Strange sequel -- particularly given the events featured in the first movie's post-credits sequence. Chiwetel Ejiofor's Mordo has a new life mission dedicated to ridding the world of sorcerers, and that could easily put him in direct conflict with Doctor Voodoo (as Brother Voodoo has been called since he become the Sorcerer Supreme back in 2009). A Doctor Strange/Doctor Voodoo team-up would be a fantastic thing to see, and one of those things that no Marvel fan could have ever dreamed they'd see in a movie theater one day.
Silk
Thanks to the fact that Spider-Man's origin story has been adapted multiple times, the Marvel Cinematic Universe forwent that tale in the introduction of Tom Holland's Peter Parker -- but that interestingly keeps the door wide open for the introduction of Silk into the big screen franchise. In 2014 it was revealed by Dan Slott and Humberto Ramos that Peter was not the only student bitten by the notorious radioactive spider, as the arachnid also sunk its fangs into the young Cindy Moon before it died. Like Peter, she developed special spider powers as a result -- and it would be fun to see those unique gifts on the big screen.
Being Korean-American, Silk would be one of the few principal Asian characters in the franchise, and has legitimately different powers than Spider-Man that would be fun to explore. For example her spider-sense a.k.a. Silk Sense is a lot stronger than his, and she actually has the ability to shoot organic webbing out of her fingertips. She could potentially be a great foil for Peter Parker -- but perhaps more importantly she is a Spider-Man character who has never been adapted in live-action before.
Blade
Blade shouldn't really need any introduction here, because there has already been a full trilogy featuring the character. Played by Wesley Snipes, the vampire hunter was a comic book hero who made it to the big screen even before Bryan Singer brought the X-Men into live-action, and is a landmark Marvel film for doing so. That being said, time has not been kind to the VFX in those features, which are of mixed quality anyway, so the idea of bringing Blade back to the movies during the Golden Age of Comic Book Films should be welcomed by fans.
There is some debate to be had regarding whether or not Wesley Snipes should be called on to reprise the role, but Blade is clearly a character who does well in live-action. The premise behind the protagonist is simple enough in a world where everyone knows the rules of vampires, and it would simply be awesome to learn that the undead actually exist in the Marvel Cinematic Universe. And if Marvel wanted to get super stylish with it, the movie could be set in the 19th century and see Blade battling against Dracula (which is exactly what he was doing when he was first introduced by Marv Wolfman and Gene Colan in 1973.
Shang-Chi
Marvel Studios has regularly attempted to work within a wide variety of genres and change up their storytelling, but it was a big swing and a miss when they first attempted a Martial Arts movie vibe. Iron Fist, a series produced for Netflix, was completely lacking in the style department, and did nothing to capitalize on what makes the hero so cool. Fortunately they have a chance to rectify this situation by giving Shang-Chi his own movie.
Also known as the Master of Kung-Fu, Shang-Chi was a Steve Englehart and Jim Starlin creation back in the early 1970s inspired by/ripped-off from the popular Kung Fu television series, but became a significant enough character to eventually become a member of The Avengers. Like the set up for Black Panther, there is an opportunity to create a Shang-Chi movie that lets him inhabit his own special world -- growing up as the brainwashed son of the evil Fu Manchu, turning on his father, and becoming a secret agent -- but from there he can expand into the rest of the MCU.
Victor Mancha
Admittedly this is kind of a weird one. As fans of the comics may know, Victor Mancha was introduced to the Marvel Universe as a member of the Runaways -- a teenage team that currently exists in live-action form as a Hulu series. That being said, if Marvel Studios wanted to him as, say, a member of the Young Avengers, he would make for a cool inclusion.
When Victor Mancha was first created by Brian K. Vaughan and Adrian Alphona, he was introduced as the son of a Mexican single mother -- but what wasn't made immediately known is that his father is actually Ultron (who created Victor as a clone mixing his mother's DNA and his nanotechnology). He's a dramatic character, as he's introduced as part of a prophecy that says he will become one of the universe's most evil villains, and could make a great role for a young, charismatic, range-possessing Hispanic actor.
Assistant Managing Editor
NJ native who calls LA home and lives in a Dreamatorium. A decade-plus CinemaBlend veteran who is endlessly enthusiastic about the career he's dreamt of since seventh grade.
Your Daily Blend of Entertainment News
Thank you for signing up to CinemaBlend. You will receive a verification email shortly.
There was a problem. Please refresh the page and try again.