How Dune Compares To Aquaman Or Game Of Thrones, According To Jason Momoa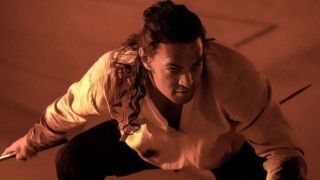 Dune is one of the most highly anticipated adaptations in recent memory. Its cast and crew, including Jason Momoa, have been busy hyping up the movie up in the wake of the first trailer's premiere. As a veteran of high profile adaptations, the Game of Thrones and Aquaman actor shared some particularly exciting details about the filmmaking process and how his experience on Dune was different from other adaptation sets.
Jason Momoa plays Duncan Idaho in the upcoming Dune adaptation -- a role that proved to be exciting for him, albeit physically demanding. Though the actor is no stranger to elaborate sets and fantastical stories, the man behind Game of Thrones' Khal Drogo and Aquaman recently admitted during a press conference attended by CinemaBlend that he felt there was a big difference between his other franchises and Dune:
Denis Villeneuve has assembled an incredible team of people to bring his adaptation of Frank Herbert's sci-fi series Dune to the big screen. In addition to snagging Jason Momoa and his castmates Timothee Chalamet, Zendaya, Rebecca Ferguson and Oscar Isaac, among others, he also recruited top notch talent behind the camera, including cinematographer Grieg Fraser, who is no stranger to huge franchises after working on Star Wars. Based on the trailer, its clear to see that he had an influential role in shaping the upcoming movie.
Though Jason Momoa and many of the other members of the Dune team are familiar with working on high-profile adaptations, this one is a little bit different. The original adaptation of Dune was, to put it mildly, not all that well received. Though it's since become a cult classic, some have been wary as to whether or not the newer adaptation would live up to expectations, too.
Since the first trailer was released, some skeptics have come around to the idea that we might be in for something special. The visual aesthetic and performances from the cast have sparked a new wave of intrigue about Dune -- and we're more eager than ever to see how it will compare, not only to the first Dune but also to other adaptations.
It's currently scheduled to hit theaters on December 18, 2020 -- but keep an eye on our 2020 and 2021 movie release guide, as that could change.
Your Daily Blend of Entertainment News