Ace Ventura And 8 Other Movies With Great Football Player Cameos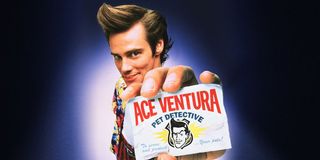 The NFL is back, and while this season may not be like the ones we've seen in the past, we now have another sport back up and running that, at one point this year, didn't look like it would happen. It's a cause for a celebration, and what better way to do that than re-living the times Hollywood has pulled in football greats to briefly shine in their movies.
The following are some of those moments, with an emphasis on the cameo or smaller roles football players filled. That means no Carl Weathers, O.J. Simpson or The Rock had he not gone undrafted after leaving college. We're here to celebrate the footballers who stepped up to the plate to act and had varying measures of success doing so.
Dan Marino - Ace Ventura: Pet Detective
Not to diminish the roles of other Miami Dolphins players and staff who appeared in Ace Ventura: Pet Detective, but can we really not talk about Dan Marino's role in the movie? Marino plays himself and is blamed by Ray Finkel to be the reason his football career was ruined. Marino's big moment comes when he notices the "bulge" in the back of Einhorn's underwear, which ultimately proves Ace's theory. If the NFL couldn't give this man a Super Bowl, the least we can give him is that this is one of the most memorable football cameos people will remember.
Lawrence Taylor - The Waterboy
The Waterboy is about one of the zaniest sports movies out there, so it's fitting that it feature one of the most brutal legends of professional football. Lawrence Taylor's football camp scene sees him inviting Bobby Boucher to talk to the kids about how he plays the game. As far as cameos go, it's perfect because Taylor gets to deliver the real punchline of "don't smoke crack," but it's not really a line he had to deliver in a way that requires any big acting. When it comes to most athletes in acting, the less lines they have to deliver, the better.
Brett Favre - There's Something About Mary
Where were you the first time you saw that Mary Jensen was in a relationship with Green Bay Packers quarterback and Hall of Famer Brett Favre? Favre's appearance is the icing on the cake in There's Something About Mary, and another pro footballer cameo in which their appearance is really most the work. Everyone else in the scene does the heavy lifting, so it's just on Favre to stand there and look like the legendary quarterback that he is/was when the scene was shot.
Tom Brady - Ted 2
It's no secret Tom Brady is friends with actor Mark Wahlberg, thanks in large part to Brady's stint with the New England Patriots and Wahlberg's love for Boston culture. Brady comes into Ted 2 when Ted needs a sperm donor, and Ted and John work up a scheme to try and steal the GOAT's seed. The plan fails pretty spectacularly, and we get to see Brady throw a "perfect spiral" as he throws Ted out the window. Brady's acting is pretty bad, but if you're a fan of Tom Brady, you're likely going to overlook that.
Mike Ditka - Kicking And Screaming
Kicking And Screaming may be a forgotten comedy in which Will Ferrell does his usual schtick of playing a mild-mannered man in some weird circumstances, but it does separate itself with a key appearance by Mike Ditka. Ditka plays himself in the movie, serving as the assistant to the youth soccer team. As a former football player and coach, obviously Ditka isn't the ideal coach for soccer. He did manage to find two talented Italian boys to take the youth soccer team over the top, however, so he gets some credit for that.
Hines Ward- The Dark Knight Rises
It's not often a football player is asked to show up on the set of a movie and do what they'd usually do, so Hines Ward should feel lucky for the gig he got in The Dark Knight Rises. The wide receiver catches a great pass in the big stadium scene and then puts on the motors completely unaware that the ground beneath him is collapsing as he runs. Ward plays himself in the movie, but as a professional athlete for the Gotham Rogues. It's like playing a fictional version of himself, but I guess that's what most cameos are where a celebrity plays themself.
Alex Karras- Blazing Saddles
Alex Karras is one of those rare talents who had it all. In addition to being a memorable athlete within the NFL, Karras also did a fair amount of movies and television. Obviously the one we're talking about now is his role as Mongo in Blazing Saddles, in which he plays a stereotypical brute raising hell in the little Western town. To this day, the scene with him punching out that horse looks so real that I'm not entirely sure he didn't do it. Of course, he didn't actually do it, right?
Bruce Smith - Little Giants
Little Giants has a few football players pop in to help the youth football team when they're at their lowest point, but it's hard not to remember the iconic scene by Bruce Smith. I remember being in awe watching Smith obliterate the football while teaching the kids about intimidation, to the point I may have actually tried it. Obviously it didn't work, and I was foolish to ever think I could be as much of a badass as Smith for trying.
Terry Bradshaw - Failure To Launch
Terry Bradshaw is known for a lot of things, though most people these days know him as the staple commentator on Fox NFL Sunday. In Failure to Launch, he plays Tripp's father, Al, a man desperate to get his son to finally get out of the house and start his life. Bradshaw's few scenes make for a very good performance, which honestly is kind of surprising for the four-time Super Bowl champion. More recently he's done shows like The Masked Singer, which if nothing else, showed that Bradshaw isn't quite a triple threat, but still talented all the same.
Got any other great cameos by football athletes? List them in the comments below and continue to stick with CinemaBlend for all the latest happening in television and movies.
Your Daily Blend of Entertainment News
Mick likes good television, but also reality television. He grew up on Star Wars, DC, Marvel, and pro wrestling and loves to discuss and dissect most of it. He's been writing online for over a decade and never dreamed he'd be in the position he is today.