Hugh Jackman Saw Tenet In Theaters And Shared His Thoughts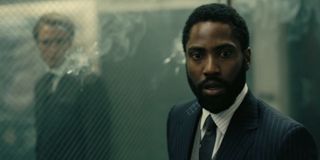 After countless delays and uncertainty about its release date, Tenet has finally landed in theaters. It first hit international theaters before finally arriving in the US. Now, one big-name actor who has headed to the theater to see Tenet is Wolverine himself, Hugh Jackman. And he has some thoughts to share with the public.
With Tenet finally being released, there's been plenty of people providing their take on the movie. So, after watching Christopher Nolan's latest on the big screen, Hugh Jackman took to social media to share some of his own thoughts. Check it out:
Mind-blowing, indeed. Tenet has long been promoted as a must-see in theaters with director Christopher Nolan lauding this one has the most designed for the theatrical experience over all of his other films. But with that said, current global events have hampered people's ability to go see it in the theaters. Still, it seems that the big screen is key to the movie's effect.
Hugh Jackman isn't the only big star to head to the theaters to see Tenet. In late August it was revealed by Tom Cruise on his social media that he masked up, took a taxi through London, and headed into the IMAX screen to watch Tenet-- which subsequently, pleased Tenet star John David Washington. And, not surprisingly, Tom Cruise said he "loved it."
Of course, Hugh Jackman and Christopher Nolan have a few things in common with their work. For one, they worked together in the past. It's been a while, but if you recall, Hugh Jackman played Robert Angier in the 2006 movie The Prestige, a movie about two magicians trying to one-up each other in their acts. They have not worked together since.
Of course, both artist were working on big superhero franchises around the same time. Hugh Jackman was working on The Wolverine and X-Men: Days of Future Past around the same time as The Dark Knight Rises. Hugh Jackman and Christopher Nolan have, at least for now, moved on from making superhero movies.
Tenet has been something of a test to see if big blockbusters can succeed during these challenging times. While it had a modest opening weekend, it looks like it struggled at the box office in its second week. This less-than-optimal performance has reportedly caused another delay for movies like Wonder Woman 1984. It might also mean more delays for other movies like Dune, Black Widow, and No Time To Die.
It's unfortunate, of course, that any of this is happening at all. Under ordinary circumstances, you have to wonder how well Tenet might have performed, considering its phenomenal theatrical experience. As Hugh Jackman said, if you're able to go see Christopher Nolan's latest in the theater, you're one of the lucky ones.
Your Daily Blend of Entertainment News