Ana De Armas' New Ad Is A Diamonds Campaign With A Ben Affleck Look-Alike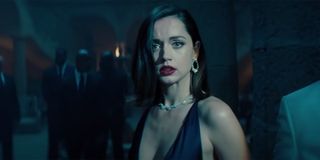 Ana de Armas' profile has risen considerably in recent months, after having starred in Rian Johnson's big hit Knives Out, then scored a gig playing Marilyn Monroe in an upcoming biopic. Did I mention she's dating Ben Affleck now, too? In fact, it would be more of a feat to have missed the news that de Armas and Affleck are dating than it would to know myriad details about their relationship at this point, and now de Armas' new ad campaign for a diamond company even seems to be cheekily nodding at her high-profile romance.
Diamonds are forever, and Ana de Armas has chosen to embark on a partnership with Only Natural Diamonds, which de Armas said she joined after being "drawn to the fact that NDC upholds a set of ethical standards and works with local groups to ensure the safety and wellbeing of communities around diamond mines" (as she told the company). So, she worked on a campaign with the company through the pandemic. Recently a stylish ad was put out featuring none other than a Ben Affleck look-alike. Take a look.
Previously, I mentioned the ad "seems" to be nodding at Ana de Armas' high-profile romance because, while no one is expressly saying that's what the ad is going for, if it's a coincidence, it's a rather amusing one. The segment follows Ana de Armas as she showers herself with Only Natural Diamonds. These diamonds come into play in a romance and later a wedding scene featuring a beau who looks suspiciously like Ben Affleck. The male stand-in is not actually Ben Affleck, but he does sport a beard like Affleck and looks quite similar from my vantage point.
Look, if I were a company working with one of Hollywood's most in-demand and sparkling actresses right now and if I were the ad person hired to do casting for said ad, and then some dude walked in looking charmingly a little bit like Ben Affleck, I'd probably take advantage of the opportunity too. Let's just say that's what happened and not that they were specifically looking for an Affleck look-alike. Who knows the real story here? I just know they look pretty dang similar:
Ben Affleck and Ana de Armas have been an item for quite some time. Because their romance coincided with a pandemic when more people were spending time at home and investing in other peoples' stories, their romance has been publicly eyed with curiosity and followed by fans at a rate most other romances don't inspire. This is particularly true now that they've spent time in quarantine together and have reportedly gotten pretty serious, as Ana de Armas has even spent time with Affleck's kids.
This is even more true because it's seemingly the first time Ben Affleck has been really serious with someone since his split and subsequent divorce from Jennifer Garner, whom he shares three children with. (He dated Lindsay Shookus off and on after that split, but that relationship was long-distance and Affleck was reportedly drinking at the time.) He's now with another high-profile actress, and the two even have a movie together that is supposed to be coming out later this year. That movie, Deep Water, will intriguingly be about a married couple that isn't getting along and begins playing dark and nefarious games with one another. The thriller is expected to hit theaters on November 13. Meanwhile, I gotta ask...
This poll is no longer available.
Amazing Race & Top Chef superfan with a pinch of Disney fairy dust thrown in. If you've created a rom-com I've probably watched it.