Mark Hamill Pays Tribute To Star Wars Designer Ron Cobb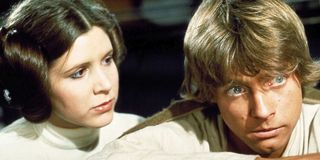 The Mos Eisley Cantina in the original Star Wars: A New Hope has become one of the most iconic locations in all of science fiction cinema. It was a place where a wide variety of strange and unusual creatures could be found. many of those iconic creature designs, that have become part of Star Wars canon and grown into their own races with histories of their own, were created by production designer Ron Cobb. Cobb would create many more of the most recognizable images in the genre. Unfortunately, we've lost this great artist, as Ron Cobb has passed away at the age of 83, but he's being remembered by those who worked alongside him, like Mark Hamill.
Mark Hamill posted a rememberce of Ron Cobb on Twitter, following the announcement from the official Star Wars Twitter account that Cobb had passed away. He calls Cobb's impact on genre films "immeasurable" and that's probably accurate. Star Wars alone was such a significant influence that the work Cobb did is still resonating with audiences through all the new creations he helped inspire.
Ron Cobb created several of the alien creatures in the Mos Eisley Cantina, including the Momaw Nadon, also known as the "hammerhead" alien, as shown in the image above. That particular alien design is probably one of the most easily remembered by fans and the race of aliens has become an entrenched part of the Star Wars universe. There's now a life-size animatronic of Dok-Ondar, a member of the Momaw Nadon race, at Star Wars: Galaxy's Edge at Disneyland and Walt Disney World, as just one example.
But Ron Cobb's contributions didn't end with Star Wars. He also designed the interior of the Nostromo in Alien and Doc Brown's Delorean time machine in Back to the Future as well as the interior of the alien mothership in Close Encounters of the Third Kind and the spacecrafts in The Last Starfighter.
That list alone would be worthy of a place in science fiction history to be sure. In addition to simply creating these things, they would then go on to inspire the next generation of designers. It's still more than a little shocking that one person was part of all these iconic moments.
Ron Cobb actually started his career with Walt Disney Animation as an "in-betweener." In the days of hand-drawn animation, the main animation artists were responsible only for drawing the main pose positions, and then these other artists would be brought in to handle the creation of all the images needed in between. Cobb was later a breakdown artist on Sleeping Beauty before leaving Disney.
It seems like we're losing all the greats these days. Even though many people probably did not know the name of Ron Cobb, they were probably a fan of his work. He'll be missed by fans, friends, and family, alike.
CinemaBlend's resident theme park junkie and amateur Disney historian. Armchair Imagineer. Epcot Stan. Future Club 33 Member.
Your Daily Blend of Entertainment News
Thank you for signing up to CinemaBlend. You will receive a verification email shortly.
There was a problem. Please refresh the page and try again.