Epic Green Lantern Fan Art Puts Tenet's John David Washington In The DCEU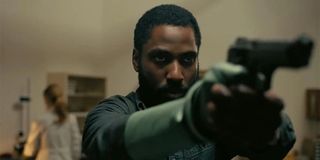 John David Washington has been a rising star in Hollywood over the past few years. Now, after being the lead actor in Christopher Nolan's latest thriller Tenet, he's practically catapulted into stardom with all eyes on what he will do next. And in the interim, Green Lantern fans have decided to take it upon themselves to recruit him into the DCEU with an epic new piece of fan art.
Since it's unlikely Ryan Reynolds will returning to play Hal Jordan/Green Lantern, that leaves the door open for another actor to wield the power ring. And since John David Washington has yet to play a superhero, no better time than now to recruit him into the Green Lantern Corp., right? That's clearly what DC fans think, as one just shared on social media an epic new piece of fan art with him cast as the superhero:
Yeah, I can totally see it. John David Washington would be a shoo-in for the role of John Stewart as the Green Lantern. He's got the looks, the acting chops, and the cool and confident attitude to make that role his own. Plus Tenet included a ton of action and stunt experience.
Believe it or not, Christopher Nolan even gave his own opinion on this recently. Nolan famously directed The Dark Knight trilogy, so he has a fair amount of knowledge on superheroes. When asked if he would direct John David Washington in a Green Lantern movie, here's what he said:
But, if John David Washington actually wanted to slip on the power ring, he wouldn't be alone in vying for the role. Several other actors have put it out there that they'd be interested in playing the character, too, including Tyrese Gibson, Common, and Spawn's Michael Jai White, who says that's the character he would choose because "that's who everyone wants me to play."
There hasn't been a Green Lantern movie in almost ten years, since Ryan Reynold's movie didn't do too well critically or at the box office. However, there's been word that DC has another movie in the works, likely revolving around the Green Lantern Corp. and could include both Hal Jordan and John Stewart. We'll just see who gets those roles.
Originally, that movie was supposed to release in 2020. So, here we are and there hasn't been much news on where that movie is in development. All we know is that Geoff Johns will be writing the script and it will be a reboot of Ryan Reynolds' movie. In fact, it looks like the Green Lantern TV series on HBO Max has more traction than the movie. Oddly, the TV series sounds very similar to the movie concept, but it's unknown at this point if they're the same project or two different projects.
Regardless, those making decisions at DC would be wise to take John David Washington into consideration when casting for the Green Lantern. Fans seem eager for him to play the role.