Shangi-Chi: The Crazy History Behind Marvel's Martial Arts Hero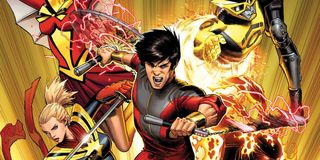 At long last, Shangi-Chi, Marvel Comics' martial arts hero will soon come to the big screen, just not as soon as everyone had hoped. But fear not as it's not all bad news because the two-month delay from its release date of May 7, 2021, to July 9, 2021, gives everyone more than enough time to read up on the wild and crazy history of the character first introduced nearly 50 years ago in Special Marvel Edition #15 in December 1973.
Oh, don't have all the free time in the world to read tens of thousands of comic book pages (or locate copies of those early editions with a certain problematic character)? Well, again, fear not because you've come to the right place if you're looking for a quick rundown of the extensive history behind Shang-Chi and some of the ups and downs and starts and stops the character and his comic book appearances have gone through since Steve Englehart and Jim Starlin came up with the concept all those years ago. And while this piece won't go into all the storylines involving the Chinese-American Marvel superhero, there's enough to give you a basic understanding before Shang-Chi and the Legend of the Ten Rings hits theaters in 2021.
Shang-Chi Was Born From Marvel's Failed Plan To Adapt The Kung Fu Television Series
There's an old saying that goes, "imitation is the sincerest form of flattery," and within those proverbial words of wisdom lies the origin of Shang-Chi. Before the iconic comic book character came to be, Marvel Comics wanted to adapt the television series Kung Fu as a comic book, but with WarnerMedia (then Warner Communications), the property's owner, also owning Marvel's rival DC Comics, that was never going to happen.
Instead of adapting the ABC action series, Marvel instead bought the rights to Sax Rohmer's Dr. Fu Manchu character, which gave them the ability to use the villain and various scenarios that would eventually lead to the creation of Shang-Chi, but also a number of other issues down the road, as Marvel writer Jim Starlin revealed in an interview with Universo HQ years after the fact.
Shang-Chi Was Introduced As Fu Manchu's Unknown Son, But That Changed Once Marvel Lost The Character's Rights
Shang-Chi was first introduced as Fu Manchu's previously unknown son in Master of Kung Fu, where he turned against his father once discovering his true, evil nature. Fu Manchu would throw everything he had at his son throughout the run of the comic series, but the fun and games came to an end once Marvel lost the rights to the characters and concepts drawn from Sax Rohmer's books.
Once that happened, Marvel did what any comic book publisher would do with a property involving characters they no longer own — they retconned Fu Manchu entirely. Later storylines would reveal that Shang-Chi's father wasn't the evil leader from previous storylines, but instead the ancient Chinese sorcerer Zheng Zu, who was simply using the name as an alias all along. And with the perception of Fu Manchu changing for the worst over the years, it was probably for the best.
The Character's Likeness Was Later Based On Martial Arts Icon Bruce Lee
In the early days of Shang-Chi's run in Marvel Comics, he is remembered for having a bob haircut, headband, and that pair of red pants, but in later versions of the character, he looks very similar to a certain martial arts and kung fu movie legend — Bruce Lee. But this is no accident, as longtime Shang-Chi artist Paul Gulacy told TwoMorrows.com in 2000:
Later on in the interview, Paul Glacy explained that basing Shang-Chi off Bruce Lee was a way to keep the martial-artist-turned-actor's legacy alive well after his 1973 death.
Shang-Chi Has Been An Avenger, Worked With X-Men, And Even Helped MI-6
Unlike characters in various Marvel movies that are restricted to specific properties from different studios, their comic book versions are free to go anywhere and everywhere they want within Marvel Comics, which is why so many X-Men have been Avengers and vice versa over the years. Well, one superhero in particular has been a member of both superhero groups, and that hero is none other than Shang-Chi. At various points in his history, the philosophical martial artist has helped the X-Men take on Kingpin and became an Avenger upon the request by Captain America and Iron Man. Hell, he even trained Spider-Man at one point.
But the most fascinating partnership of all is Shang-Chi's with the British intelligence service MI-6 when trying to take down his evil mastermind father. And although he never officially joined the intelligence service, Shang-Chi did embark upon many missions with the organization, including one where he prevented his father from knocking the moon out from its orbit. Hey, maybe Shang-Chi will be the next Bond.
A Shang-Chi Adaptation Was Pitched In The 1980s With Brandon Lee In The Lead Role
We are less than a year from finally seeing Shang-Chi and the Legend of the Ten Rings, but the upcoming Marvel Cinematic Universe Phase 4 movie isn't the first attempt at adapting the comic character. In fact, Marvel legend Stan Lee even went as far as attempting to get something going with Brandon Lee, the son of Bruce Lee, taking on the role of the character in the 1980s. In a 2018 conversation with Inverse, former President of Marvel Productions, Margaret Loesch, remembered a meeting when Brandon and his mother came to Marvel headquarters to discuss the matter:
Later in the interview, Margaret Loesch went on to reiterate Stan Lee saw a lot of potential in Brandon Lee and thought he would have been a great choice for the role if the project had gotten off the ground.
An Ang Lee-Produced Shang-Chi Movie Was In The Works In The Early 2000s With The Matrix's Choreographer Directing
The Shang-Chi project involving Brandon Lee never really got off the ground, but there was an attempt to bring the character to the big screen in the early 2000s that looked like it stood a chance of getting made. Back in 2003, Animated World Network reported that a movie under the title of The Hands of Shang Chi was in the works at DreamWorks and would be directed by Woo-ping Yuen, who's best known as the fight choreographer on films like The Matrix and Crouching Tiger, Hidden Dragon. A few years later in 2006, The Movie Blog reported that Ang Lee, who previously directed Hulk, was on as a producer. Sadly, nothing ever came of the project and the rights reverted back to Marvel.
Luckily for everyone, we will finally be seeing the onscreen debut of Shang-Chi in Destin Daniel Cretton's Shang-Chi and the Legend of the Ten Rings when it hits theaters on July 9, 2021. Until then, catch up with everything you need to know about the movie and other Marvel projects here at CinemaBlend.
Your Daily Blend of Entertainment News
Philip grew up in Louisiana (not New Orleans) before moving to St. Louis after graduating from Louisiana State University-Shreveport. When he's not writing about movies or television, Philip can be found being chased by his three kids, telling his dogs to stop barking at the mailman, or yelling about professional wrestling to his wife. If the stars properly align, he will talk about For Love Of The Game being the best baseball movie of all time.