Brie Larson: What To Watch On Streaming If You Like The Captain Marvel Star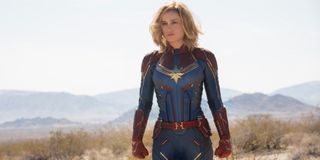 Whether it's Oscar-winning dramas, entertaining studio comedies, small-budget indies, or big-budget Marvel blockbusters, Brie Larson has proven herself to a dynamic screen presence who only continues to impress with her rich, varied performances. If you're a fan of the A-list actress, a number of her movies are available to stream on various streaming services. Here's what you should watch if you're a big fan of Brie Larson.
Short Term 12 (Amazon Prime/Sundance Now/Peacock/Tubi/Vudu)
At a residential treatment facility, a supervising staff member (Brie Larson) navigates the unsteady circumstances between her professional and personal lives.
Why It's A Great Option For Brie Larson Fans: Even in a growing career where she continues to impress with her versatility and vulnerability, Short Term 12 might very well remain Brie Larson's finest hour. Featuring pre-fame performances from Lakeith Stanfield, Kaitlyn Dever, Stephanie Beatriz, and Rami Malek in addition to Larson, this personal, affecting independent drama is vibrant in its honesty and compelling in its emotional investment. And the key to the movie's outstanding success is Larson's rich lead performance. Through the warmth, intelligence, authenticity, and heart that she conveys, she produces a stunning showcase for her early and developing talents.
Stream It On Amazon Prime here, (opens in new tab) SundanceNow here, Peacock here, (opens in new tab) Tubi here, Vudu here (opens in new tab), Hoopla here, PopcornFlix here, Plex here, (opens in new tab) and PlutoTV here.
Avengers: Endgame (Disney+)
Suffering from loss and grief after a devastating defeat, the remaining Avengers must reverse the universal life-altering damage caused by Thanos (Josh Brolin) at the end of Avengers: Infinity War.
Why It's A Great Option For Brie Larson Fans: Avengers: Endgame is a movie that doesn't belong to one person. It's an ensemble piece thoroughly, particularly as we follow this remaining superhero group during one of their darkest and most challenging chapters. It's the culmination of a decade's worth of world-building and cinematic chess pieces, resulting in a three-hour enterprise unlike many other blockbusters in this era (or any other eras). It's a movie event comprised of many talented people's hard-working efforts, though it did prove to be a stronger showcase for Brie Larson's newfound role within the ever-expanding Marvel Cinematic Universe. Her supporting turn ultimately became a promising standout in this massive mega-movie.
Stream It On Disney+ here. (opens in new tab)
Room (Showtime/Hoopla/Kanopy)
A mother (Brie Larson) and her son (Jacob Tremblay) are held captive for seven years, only to gain their freedom, thus allowing the boy to experience the open world for the first time.
Why It's A Great Option For Brie Larson Fans: Room is the movie that transformed Brie Larson from an exceptional up-and-coming talent to an Oscar-winning star. Based on the book of the same name by Emma Donoghue, who also wrote the screenplay, this compelling drama isn't an easy watch, but through the harrowing performances of our two central leads, Larson and Jacob Tremblay (also Oscar-nominated), we're given an intense and heart-wrenching tale of survival, one that only continues to demonstrate what a fine talent Larson is and how far she'll go in her bright future ahead.
Stream It On Showtime here, Hoopla here, and Kanopy here.
Scott Pilgrim Vs. The World (Netflix)
To win the heart of Ramona Flowers (Mary Elizabeth Winstead), Scott Pilgrim (Micheal Cera) must defeat all seven of his girlfriend's evil exes.
Why It's A Great Option For Brie Larson Fans: Filled with exuberant energy, hyper-stylized action-comedy, and a boatload of video game references, Scott Pilgrim vs. the World is one of the most deliriously entertaining romantic comedies of the past decade. Though we primarily follow the viewpoints of Michael Cera's title character and his newfound love interest, played by Mary Elizabeth Winstead, writer/director Edgar Wright's rambunctious movie is accelerated by its top-notch supporting cast, which includes Anna Kendrick, Aubrey Plaza, Brandon Routh, Chris Evans, Kieran Culkin, Johnny Simmons, Alison Pill, Mae Whitman, Ellen Wong, and Brie Larson, to only name a few. As Natalie V. "Envy" Adams, Larson gives a rocking performance in this cult favorite.
Stream It On Netflix here (opens in new tab).
21 Jump Street (Starz)
A mismatched pair of undercover cops go back to high school to take down a synthetic drug ring.
Why It's A Great Option For Brie Larson Fans: While Jonah Hill and Channing Tatum take the center stage in the buddy cop action-comedy 21 Jump Street, Phil Lord and Chris Miller's rambunctious movie adaptation of the popular '80s series is bolstered by its supporting players, including Dave Franco, Rob Riggle, Ice Cube, and Brie Larson in one of her first major studio roles. While she isn't given as many chances to be as funny as some of her fellow cast members, Larson's character adds an emotional sincerity to this meta, often knowingly hilarious studio comedy, providing a sweet tenderness that's possibly overlooked by some comedy lovers but helps enrich the movie's unsuspecting sentimental side, particularly between its slew of raunchy jokes and over-the-top action.
Stream It On Starz here. (opens in new tab)
Just Mercy (HBO Max)
Based on the memoir by Bryan Stevenson, a civil rights attorney (Michael B. Jordan) fights to free a man (Jamie Foxx) who was wrongly condemned to death row.
Why It's A Great Option For Brie Larson Fans: Stirring and urgent, Just Mercy is a tale of justice and civil rights action. It's a dramatically impacting true story in its own right, but it's also benefitted enormously by its impressive cast, which includes Michael B. Jordan, Jamie Foxx, Tim Blake Nelson, and Brie Larson.
Stream It On HBO Max here (opens in new tab).
The Gambler (Tubi)
A literary professor (Mark Wahlberg) with heavy gambling debts enters an elaborate entanglement of risk and deception. It's made more complicated when he forms a correspondence with his student (Brie Larson). Based on the 1974 film of the same name.
Why It's A Great Option For Brie Larson Fans: While this Mark Wahlberg vehicle has generally been forgotten, particularly as more time passes, The Gambler (2014) is an altogether decent remake with strong performances from John Goodman, Jessica Lange, Michel Kenneth Williams, and Brie Larson. As an inquisitive student intrigued by her professor's nightlife gambling habit, Larson takes what even the director considered an "underwritten character" and turns her into a sharp, intriguing character with keen insight and uncovered layers. It's a credit to Larson's talents that she finds ways to make this character fleshed out and more informed through her radiant performance.
Stream It On Tubi here.
Digging For Fire (Amazon Prime/Tubi/Hoopla/Vudu/Kanopy/Plex)
Over the course of a weekend, a husband (Jake Johnson) and a wife (Rosemarie DeWitt) find themselves on separate adventures when they discover a bone and a gun.
Why It's A Great Option For Brie Larson Fans: Throughout the years, writer/director Joe Swanberg has gotten even more comfortable with his loose, improv-heavy filmmaking style. Continuing to gain the trust of his actors, the Drinking Buddies filmmaker has assembled some strong acting talents in his recent projects, and that includes his 2015 film, Digging For Fire. Starring Jake Johnson, Rosemarie DeWitt, Sam Rockwell, Orlando Bloom, Anna Kendrick, and Brie Larson, this enjoyable, appealingly honest dramedy trusts its familiar and up-and-coming actors to create an affable, enjoyable atmosphere that's approachable and creatively nimble, thus allowing Larson to shine in her respective role.
Stream It On Amazon Prime here (opens in new tab), Tubi here, Hoopla here, Vudu here (opens in new tab), Kanopy here, and Plex here (opens in new tab).
Captain Marvel (Disney+)
The origin story of Carol Danvers (Brie Larson), better known as Captain Marvel, as she lands on Earth in the midst of galactic conflict in 1995.
Why It's A Great Option For Brie Larson Fans: In her formal introduction into the always-inflating Marvel Cinematic Universe, Brie Larson is given an origin story that doesn't quite match the talents of its Oscar-winning performer. Nevertheless, she provides an intriguingly introspective addition to the superhero film franchise, one that's willing to explore the uncertain humanity of its superhuman protagonist. Aided by the warm buddy chemistry she shares with her Kong: Skull Island co-star Samuel L. Jackson, Larson's first official Marvel movie takes us to wide galaxies and worlds both known and unknown, but it's through Larson's searching performance that we stay rooted in the character's unexpectedly grounded characterization. The results aren't perfect, but they promise an exciting tomorrow.
Stream It On Disney+ here (opens in new tab).
Don Jon (Starz)
A young New Jersey bachelor (Joseph Gordon-Levitt) with unrealistic expectations resulting from a porn addiction discovers love and intimacy when he forms a serious relationship with a gorgeous woman (Scarlett Johansson).
Why It's A Great Option For Brie Larson Fans: In Don Jon, writer/director/star Joseph Gordon-Levitt's spirited feature directorial debut, we're given an energetic, exhilarating, and undeniably passionate look at modern romance and the impossible standards we put upon ourselves and others in our digital age. While the movie isn't without its shortcomings, it's an entertaining, engaging first feature with lively performances from its impressive cast, which also includes Scarlett Johannson, Julianne Moore, Tony Danza, and Brie Larson. While Larson's performance is largely silent, playing an indifferent sister who often spends her time glued to her phone while giving her family condescending looks, it still showcases the actress' sparkling wit and very expressive talents.
Stream It On Starz here (opens in new tab).
Free Fire (Netflix/Hoopla/Kanopy)
In 1978 Boston, a deserted warehouse hosts an extensive shootout between two gangs. Everyone involved must use their wits and ace marksmanship to survive the night.
Why It's A Great Option For Brie Larson Fans: Director Ben Wheatley's free-wielding, no-holds-prisoners black action-comedy doesn't hit every one of its targets, but through the undying commitment of his assured cast and their short-lived characters, Free Fire becomes a loudly profane, cheekily violent, but still consistently amusing bottle movie with a rough-and-tumble story, a murder's row of insults, and a whole lot of bullets. In an ensemble that includes (but doesn't limit to) Sharlto Copley, Armie Hammer, Cillian Murphy, Jack Reynor, Sam Riley, and Brie Larson, the actress (appearing in this film shortly after her Oscar win) makes a hell of an impression and proves herself as an encouraging new action star.
Stream It On Netflix here, (opens in new tab) Hoopla here, and Kanopy here.
Rampart (Tubi/Peacock/Vudu/PlutoTV/Kanopy/Crackle)
In 1999, a veteran police officer (Woody Harrelson), who is considered the last of the renegade cops, tries to fight his hardships and care for his family.
Why It's A Great Option For Brie Larson Fans: In their first acting collaboration together, as they would later go on to star in 2017's The Glass Castle, Woody Harrelson and Brie Larson give exceptional performances in Rampart, director Oren Moverman's tense, nihilistic character study with a moody, unsettling demeanor. While this movie doesn't make for the most comfortable or relaxing watch if you're looking for something more casual, soothing, and/or enjoyable for a Saturday night movie watch, Harrelson's unwavering central performance is complemented and benefitted by Larson's supporting turn as Helen, a rebellious teenage daughter who might not be on the best terms with her father.
Stream It On Tubi here, Peacock here (opens in new tab), Vudu here (opens in new tab), PlutoTV here, Kanopy here, and Crackle here.
The Spectacular Now (Showtime)
A hard-drinking high schooler (Miles Teller) finds his outlook on life changed when he forms a relationship with a caring classmate (Shailene Woodley).
Why It's A Great Option For Brie Larson Fans: In director James Ponsoldt's sensitive, soulful coming-of-age teen romance drama, The Spectacular Now, we're often taken by the almost effortless authenticity provided by the actors. Miles Teller and Shailene Woodley are remarkably natural and ever-present with their performances. So much so that they hardly ever feel like performances. It's the type of respectfully low-key and reflective teen movie that feels both at home with another era and a reflection of new sensibilities. It's a wonderful film that's only benefitted by its strong cast of supporting actors, which includes Jennifer Jason Leigh, Mary Elisabeth Winstead, Kyle Chandler, Kaitlyn Dever, Bob Odenkirk, and Brie Larson, each in key roles.
Stream It On Showtime here and Kanopy here.
What's your favorite Brie Larson movie? Be sure to let us know in the comment section!
Your Daily Blend of Entertainment News
Will is an entertainment writer based in Pittsburgh, PA. His writing can also be found in The Playlist, Cut Print Film, We Got This Covered, The Young Folks, Slate and other outlets. He also co-hosts the weekly film/TV podcast Cinemaholics with Jon Negroni and he likes to think he's a professional Garfield enthusiast.
Your Daily Blend of Entertainment News
Thank you for signing up to CinemaBlend. You will receive a verification email shortly.
There was a problem. Please refresh the page and try again.