10 Hidden Gem Movies Available To Stream On Peacock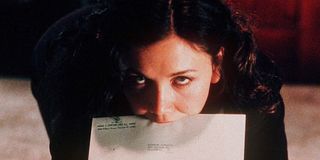 Earlier this July, Peacock unveiled its surprisingly solid stream of movies and shows available on its platform. Quite a few of which are currently free, as an added bonus. In addition to all the great, classic movies that have been made available through the service, there are a number of hidden gems that might get lost in the shuffle. Don't let these ones get lost in the crowd.
There's room for plenty of good (and maybe a few not-so-good) movies on this blooming service, but we would also like to point out and celebrate some other, lesser-known movies that are just as worthy of your time and your consideration. With that said, let's take a look at just a handful of hidden, largely underappreciated gems that are now available to watch on Peacock.
Sin Nombre (2009)
Before he went on to direct Netflix's Maniac, Beasts of No Nation, the first season of HBO's True Detective, and the upcoming No Time To Die, Cary Joji Fukunaga made his feature film debut with 2009's engrossing and impassioned Sin Nombre. This immigration tale is notably smaller in scale than the following projects under this acclaimed director, but it carries an authenticity and vibrancy that's extraordinary and instantly compelling. If you're a big fan of the director's work, you should definitely make a point to check out this early work. Even from the beginning, he was proving his greatness.
Stream It On Peacock here (opens in new tab).
Joe (2013)
While it's often his boisterous, high-energy performances that get the most notice, Nicolas Cage is an actor capable of tremendous range, one who can command the screen with subtle, more intuitive instincts whenever he gets the chance. Thankfully, director David Gordon Green (Pineapple Express) gave the Oscar-winning actor an opportunity to prove his most nuanced acting skills when he cast him in the title role of Joe, a grounded, introspective character study that features one of Cage's best performances of the past decade.
If you love Nicolas Cage, you'll definitely want to check this one out. But it's a fine film in its own right, and it might even impress those who aren't taken by the A-list actor's singular brand of acting.
Stream It On Peacock here (opens in new tab).
Big Fan (2009)
If you know Patton Oswalt best as a comedian, you're only seeing some of his talents. As he proved with 2009's overlooked indie, Big Fan, Oswalt is an exceptional dramatic actor, much like several other comedians, particularly in this dramedy that plays to his acting strengths. In this dark, intriguing character study at what happens when we must wrestle with the complex humanity of our idols. While his fans would get another chance to discover the actor/comedian's acting strengths in 2011's Young Adult, folks who love Oswalt's comedy should definitely make a point to check out this darling.
Stream It On Peacock here (opens in new tab).
Hard Candy (2005)
In a role that's a million miles removed from Juno, the performance that would turn the actress into a household name, Ellen Page starred in 2005's disturbing and controversial drama-thriller, Hard Candy. As the title would suggest, the film is far from an easy watch as Page plays Hayley Stark, a teenage girl who confronts a fashion photographer (Patrick Wilson) she believes is a pedophile. What follows is an uncomfortable, unsettling, but very intriguing movie that isn't afraid to challenge and disturb its audience in frequent measures. It won't be for everyone, but it's a harrowing watch with one of Page's finest, most confident performances.
Stream It On Peacock here (opens in new tab).
The TV Set (2006)
In this hilariously brutal look at the taxing and soul-consuming process that comes with making something through a merciless and soulless studio system, The TV Set is writer/director Jake Kasdan's bitterly entertaining look at what becomes of the creative process whenever an unconventionally brilliant performer tries to make something through an unforgiving, intellectually void television network. The results are shabby but very entertaining, and it features stellar performances from David Duchovny, Sigourney Weaver, Judy Greer, and more.
In the years to follow, Kadan would continue to make a variety of movies, many of which were pretty big in scale, including Walk Hard, Bad Teacher, Sex Tape, and the latest two Jumanji movies. But for my money, The TV Set remains one of his finest and, in sadly appropriate fashion, most overlooked achievements.
Stream It On Peacock here. (opens in new tab)
Starred Up (2013)
Prison movies aren't necessarily hard to find, but few of them hit as hard as 2013's enthralling Starred Up. In this visceral, smartly-handled, and quite impressively authentic drama, we follow an ultra-angry and viciously violent inmate (Jack O'Connell) who finds himself reunited with his father (Ben Mendelsohn), who has served a great deal of time in the big house. In this exploration of the U.K. prison system, Starred Up doesn't hold its punches. The movie is a bruising and engaging look at explosive masculinity, particularly under such extreme circumstances, and it's an absolute powerhouse.
Stream It On Peacock here (opens in new tab).
Secretary (2002)
Before there was Fifty Shades of Grey, there was Secretary. Starring Maggie Gyllenhaal in possibly still her finest performance, this darkly comedic erotic workplace tale follows an unsettled, socially awkward secretary who gets involved in an intense BDSM relationship with her boss, a dominant lawyer (James Spader). The results are kinky, bizarre, and involving, particularly thanks to Gyllenhaal's exceptional performance.
The movie walks a fine line between its comedy and its off-kilter romance, but it handles this tricky balance well, providing a surprisingly satisfying cross of the two for an unconventional date night movie. If you're in the mood for something a little more peculiar and a little more unbecoming, Secretary is worth exploring.
Stream It On Peacock here (opens in new tab).
Bernie (2011)
While many movie-lovers are quick to praise 2003's adorable School of Rock, as well they should, Jack Black and director Richard Linklater's second collaboration, 2011's Bernie, sadly doesn't get the same notice or praise. It's a shame because the movie is nearly as good, if notably much bleaker in its darkly comedic recount of its shocking true-life story.
To give away too much might spoil some of the surprises, but it should be noted that Black is wonderful in its versatile and charismatic performance, while supporting turns from Matthew McConaughey, Shirley MacLaine, and several real-life TX residents offering their honest accounts of this bizarre stranger than fiction story add a great deal of investment and splashy commentary into the mix.
Stream It On Peacock here (opens in new tab).
Short Term 12 (2013)
In the role that paved the way for Brie Larson's future success in Hollywood, before her Oscar-winning performance in Room and her leading woman role in Marvel's Captain Marvel, Short Term 12 became one of 2013's best-reviewed films through its compassionate-but-authentic portrayal of the foster parent system and the conditions of the workers who put themselves through this demanding, time-consuming work. The results are enriching and heartfelt, with some notable "before they were famous" performances from LaKeith Stanfield, Rami Malek, Stephanie Beatriz, and Kaitlyn Dever.
It was also the movie that propelled the career of its director, Destin Daniel Cretton, who would later direct last year's Just Mercy and the forthcoming Marvel blockbuster, Shang-Chi and the Legend of the Ten Rings.
Stream It On Peacock here (opens in new tab).
The Four Seasons (1981)
While he's best known as an actor, particularly for his work in the long-running MASH, Alan Alda is also an undervalued director, particularly with his warm and lovely feature directorial debut, 1981's The Four Seasons. Sharing the screen with Carol Burnett, this romantic dramedy follows the lives of a trio of wealthy couples who take vacations together once every season. From there, they have free-flowing discussions on seemingly everything and anything, allowing the movie to carry a relaxing and agreeable tone throughout, despite some of its occasional subject matters. Alda is one of the most appealing screen presences out there, and it shouldn't be too surprising to learn that his debut feature carries many of the actor's great charms.
Stream It On Peacock here (opens in new tab).
In addition to all these worthwhile titles, there are few more hidden gems we'd recommend for your viewing pleasure. Those movies include (but aren't limited to) Everything Must Go, Idlewild, Broken Flowers, Dave Chappelle's Block Party, The Comedy, Transsiberian, and The King. What are some hidden gems that you recommend from Peacock's ever-expanding catalog? Please let us know in the comment section below.
Your Daily Blend of Entertainment News
Will is an entertainment writer based in Pittsburgh, PA. His writing can also be found in The Playlist, Cut Print Film, We Got This Covered, The Young Folks, Slate and other outlets. He also co-hosts the weekly film/TV podcast Cinemaholics with Jon Negroni and he likes to think he's a professional Garfield enthusiast.