Basic Instinct And 12 Other Sexy Thrillers To Rent Or Stream Online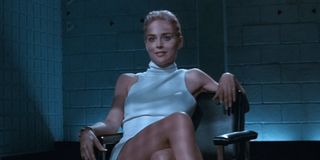 A film categorized as a thriller, by the mere definition of the genre, does not particularly sound like something one should associate with sexiness. However, when you look at a movie like Basic Instinct, it makes you realize how well they can go together. That definitive, iconic classic is actually available now on Netflix, among other sexy movies that can be found on your favorite digital platforms.
The reason I find this crossover subgenre initially ironic is because a thriller typically involves anxiety-inducing suspense, graphic violence, and other elements of a disturbing nature - all of which are things that, in real-life, are far from sexy. Yet, these are all narrative elements that have proved to be the most inherently "attractive" to the common filmgoing audience and, in retrospect, adding a theme of romance (especially the forbidden kind, even) seems like the next natural step.
It appears that Hollywood agrees, which is why we were able to compile a list of 13 films that expertly and memorably combine the sinister with the seductive. All of the following thrillers are either available to stream or can be rented digitally, starting with one that may be the modern crown jewel of the category.
Basic Instinct (1992)
In Basic Instinct, San Francisco detective (Michael Douglas) investigating a rock star's death by ice pick suspects the culprit the may be the victim's girlfriend, a beautiful crime fiction writer (Sharon Stone).
Why It Is A Sexy Thriller Worth Watching: Despite his beliefs of her murderous ways, Douglas still cannot resist Stone's allure, which describes the titular double meaning of Basic Instinct - director Paul Verhoeven's steamy, suspenseful, and quite controversial hit that scored two Oscar nods.
Stream Basic Instinct on Netflix here.
Rent Basic Instinct on Amazon here.
Fatal Attraction (1987)
Fatal Attraction is the ultimate nightmare story of martial infidelity gone very wrong. What begins as a one-time fling between a married New York lawyer and a book editor soon becomes an escalating cat and mouse situation, involving stalking, blackmail, and blood.
Why It Is A Sexy Thriller Worth Watching: Prior to his lustful mind games with Sharon Stone, Michael Douglas fell prey to the temptation an Oscar-nominated Glenn Close, which would turn out to be an even more Fatal Attraction in this haunting cautionary tale.
Stream Fatal Attraction on Starz here.
Rent Fatal Attraction on Amazon here.
Unfaithful (2002)
Unsatisfied by a marriage to her otherwise loving husband of 11 years (Richard Gere), a New York charity organizer (Diane Lane) is drawn into a secret relationship on the side after chance meeting with a handsome Frenchman (Olivier Martinez) in the 2002 film, Unfaithful.
Why It Is A Sexy Thriller Worth Watching: Diane Lane's obsessive attraction to Olivier Martinez in Unfaithful also turns out to be a fatal one, but in a way that spreads the guilt evenly across this volatile love triangle.
Stream Unfaithful on Max Go here.
Rent Unfaithful on Amazon here.
Sliver (1993)
In Sliver, a recently divorced editor sees a fresh start in her new apartment at a prestigious high-rise, unaware that she and other tenants are at risk of falling prey to a murderous voyeur.
Why It Is A Sexy Thriller Worth Watching: After being the supposed antagonist of Basic Instinct a year earlier, in Sliver, Sharon Stone plays the victim, unsure if she is able to trust the charming neighbor (William Baldwin) she has been spending many fervid nights with or an older crime novelist (Tom Berenger) who makes no secret of his affection.
Stream Sliver on Amazon Prime here.
Rent Sliver on Amazon here.
The Boy Next Door (2016)
The relationship between a lonely teacher and mother and her neighbor's attractive young nephew escalates from friendship, to casual flirting, to romance, and, finally, dangerous obsession in The Boy Next Door.
Why It Is A Sexy Thriller Worth Watching: Speaking of suspicious neighbors, the title character of The Boy Next Door, played by Ryan Guzman, seems perfectly unthreatening to Jennifer Lopez until his violent tendencies are revealed she denies him more from their passionate night together.
Rent The Boy Next Door on Amazon here.
Single White Female (1992)
After throwing out her adulterous fiancé (Steven Weber), a software designer (Bridget Fonda) thinks she has found the perfect new roommate (Jennifer Jason Leigh), but the behavior she displays soon after moving in forces her to reconsider.
Why It Is A Sexy Thriller Worth Watching: Jennifer Jason Leigh's absolutely chilling performance as a woman who ominously transitions from harmlessly shy to sexually and violently manipulative is key to why Single White Female is considered one of the most gripping erotically-charged psychological dramas of all time.
Rent Single White Female on Amazon here.
The Hand That Rocks The Cradle (1992)
In The Hand That Rocks The Cradle, a married couple (Annabelle Sciorra and Matt McCoy) with two children believe they have found the perfect nanny (Rebecca DeMornay), but little do they know of the plans she has in store for them.
Why It Is A Sexy Thriller Worth Watching: For reasons I will not disclose, DeMornay's Peyton really has it out for Sciorra's character Claire in The Hand That Rocks the Cradle, implementing her manipulative ways onto both her children and her husband by seductive means.
Stream The Hand That Rocks the Cradle on Amazon Prime here or on IMDbTV here.
Rent The Hand That Rocks the Cradle on Amazon here.
Wild Things (1998)
After two attractive classmates (Neve Campbell and Denise Richards) accuse their high school guidance counselor (Matt Dillon) of sexual assault, a Florida detective (Kevin Bacon) begins to suspect there is more to this case than meets the eye.
Why It Is A Sexy Thriller Worth Watching: Considering the alternate title of this drama was Sex Crimes, you can expect Wild Things to have plenty of engrossing mystery and head-turning twists and more than enough alluring eroticism - and that's just in the theatrical version.
Rent Wild Things on Amazon here.
Cat People (1982)
A young woman (Nastassja Kinski) discovers that her newly emerging sexual desires have a certain animalistic quality to them, and in a more literal sense than she is willing to believe.
Why It Is A Sexy Thriller Worth Watching: In this more intimate and erotic update of a 1942 horror film, Cat People is a positively spooky and shocking tale of forbidden romance with a particularly transformative twist and a theme song by David Bowie.
Rent Cat People on Amazon here.
The Handmaiden (2015)
A woman (Tae-ri Kim) becomes the live-in aid for a wealthy heiress (Min-hee Kim) as part of an elaborate con, but the plan is interrupted when hidden taboo desires come to light, in the 1930s.
Why It Is A Sexy Thriller Worth Watching: Forbidden romance (but not in the bestial sense) is also a main theme of The Handmaiden - a beautifully executed South Korean film, streaming exclusively in the US on Amazon Prime, from Chan-Wook Park, the director of yet another crime drama that envelopes into a shocking love story, Oldboy.
Stream The Handmaiden on Amazon Prime here.
Mulholland Drive (2001)
An aspiring actress (Laura Harring) helps an amnesiac victim of a near-fatal car accident (Naomi Watts) search for clues to her past on a harrowing journey that takes them to the darkest and most bizarre corners of Hollywood.
Why It Is A Sexy Thriller Worth Watching: David Lynch received an Academy Award nomination for Mulholland Drive, which is often considered his greatest achievement for the captivating blend of his signature surrealism and shocking depravity with the passionate core love story between its two female leads.
Rent Mulholland Drive on Amazon here.
Double Indemnity (1944)
An insurance salesman (Fred MacMurray) falls for his client: desirable housewife (Barbara Stanwyck) who convinces him to help murder her wealthy husband in a scandalous insurance scheme.
Why It Is A Sexy Thriller Worth Watching: James M. Cain's 1935 novel Double Indemnity inspired this tale of seduction with sinister intent, which is remembered as a definitive and widely beloved film noir classic.
Rent Double Indemnity on Amazon here.
Body Heat (1981)
A lawyer (William Hurt) falls for a desirable woman (Kathleen Turner) who convinces him to help murder her wealthy husband (Richard Crenna) so they can be together.
Why It Is A Sexy Thriller Worth Watching: As you can see, the plot of Body Heat, written and directed by Star Wars veteran Lawrence Kasdan, closely resembles the story of Double Indemnity, but the absence of the Hays Code and a Florida heatwave setting guarantees that things get much steamier.
Rent Body Heat on Amazon here.
What do you think? Are these tales of temptation hard to resist, or have you seen sexier thrillers? Let us know in the comments and be sure to check back for additional information and updates on films that are as hot as they are horrific, as well as even more of our own recommendations of the best movies and TV shows available to stream right now, here on CinemaBlend.
Jason has been writing since he was able to pick up a washable marker, with which he wrote his debut illustrated children's story, later transitioning to a short-lived comic book series and (very) amateur filmmaking before finally settling on pursuing a career in writing about movies in lieu of making them. Look for his name in just about any article related to Batman.
Your Daily Blend of Entertainment News
Thank you for signing up to CinemaBlend. You will receive a verification email shortly.
There was a problem. Please refresh the page and try again.