The Sexiest Movies Streaming On Amazon Prime Right Now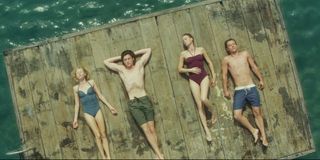 CinemaBlend participates in affiliate programs with various companies. We may earn a commission when you click on or make purchases via links.
If there is one thing you could say about Amazon Prime it would be that the streaming service doesn't hold back when it comes to content. With some of the best all around films to the most frightening horror flicks on the internet and even exhilarating action movies, there's a little something for everyone. But what about those of us who are looking for some steamy, sultry, and downright sexy movies? Well, Amazon has you covered there as well.
But with so many options (so, so many) available at your fingertips, you don't want to spend countless hours looking through page after page trying to find the right romance or erotic thriller only to be disappointed and a little let down by the end results. Fret not, as I have put together a list of some of the sexiest, most enticing, and sometimes hard to explain movies currently available on Amazon Prime.
The Handmaiden (2016)
The 2016 erotic Korean thriller The Handmaiden tells the story of two young women on opposites sides of a conman's attempt to defraud one of them out her inheritance, but quickly turns into a complicated and sensual tale of love and so much seduction. The movie, which is directed by Park Chan-wook (best known for his 2003 psychological gut-punch Oldboy), is an adaptation of Sarah Waters' 2002 novel Fingersmith, only instead of a sex-crazed Victorian story, this version is set in colonial Korea. Despite the change in location, The Handmaiden doesn't hold back in its explicit and controversial depiction of exploration of the characters' sexuality.
Stream it on Amazon Prime here.
Disobedience (2018)
The 2017 romance Disobedience follows a New York photographer (Rachel Weisz) as she returns to London following the death of her father. During the trip, she meets up with an old friend and love interest (Rachel McAdams), and the encounter quickly blossoms into a hot and passionate love affair that sends her on a path of self-discovery as she questions her faith and sexuality. This story of forbidden love is set within a conservative Orthodox Jewish community and full of repressed feelings and sexual encounters between two women coming to terms with their feelings. And perhaps this idea of being viewed as wrong, evil, and unnatural by many of the characters featured in this movie make the affair between the central characters so steamy in the first place.
Stream it on Amazon Prime here.
Sliver (1993)
When people think of Sharon Stone and erotic thrillers from the 1990s, chances are the first movie they think about is Basic Instinct, but that isn't the only sexy film featuring the leading lady that decade. Stone is also in the 1993 drama Sliver where she plays a woman who strikes up a relationship with another tenant (William Baldwin) who may or may not be a pervert with a taste for voyeurism. With plenty of sexual encounters, instances of murder, and more twists and turns than anyone knows what to do with, this racy tale of love, death, and steamy sex was so intense it originally received an NC-17 rating. And while it's not on the level of Basic Instinct (maybe that's a good thing), this movie is really something to be seen.
Stream it on Amazon Prime here.
Adore (2013)
The 2013 romantic drama Adore stars Naomi Watts and Robin Wright as two lifelong friends who fall into passionate and erotic relationships with each other's sons, which complicates things in the small Australian beach community they call home. This tale of flirtation, temptation, passion takes place over the course of many years from the time the main characters' sons are barely 18 all the way until they are married with children of their own. Even then, the connection between the four central characters remains just as strong, if not stronger than ever, even if that means upending the lives of everyone they love just for the sake of passionate and unorthodox love affairs.
Stream it on Amazon Prime here.
Obsession (2015)
The 2015 psychological thriller Obsession, also known as Rendez-Vous tells the story of a young woman (Loes Haverkort) who moves with her husband (Mark van Eeuwen) and child to the south of France after she inherits an old mansion in need of repair. Things turn up a notch when she falls for a young contractor (Pierre Boulanger) and the two enter an extremely passionate love affair that could ruin everything. And then things take a dark turn. Some of the rendezvous in this Dutch film are full of unadulterated passion even as they take part in one of the most intense tales of adultery in recent memory.
Stream it on Amazon Prime here.
Deadly Virtues: Love.Honor.Obey. (2014)
Set within the house of a couple held against their will, the 2014 suspense thriller Deadly Virtues: Love.Honor.Obey. takes place over a single weekend where an intruder breaks into the couple's home, ties up the husband, and plays a series of games with the wife that become more erotic and sickening as the hours go by. This extremely graphic and violent film is full of physical and emotional hardships that will test the audience just as much as it does the characters featured in its 87-minute runtime.
Stream it on Amazon Prime here.
BookendS (2020)
A young couple unexpectedly finds themselves taking part in a swingers party at one of their friends' houses and are forced to push their relationship to the limits. And to make matters worse, they are trapped in the sex-filled party house during the middle of a hurricane that is ravaging outside the windows. And while BookendS isn't as creepy or violent as other movies on this list, it still has this strange atmosphere that makes you think that something bad is going to happen around every corner. It's short, a little sweet, and really sweaty, but it's a fairly romantic and erotic 74-minute ride.
Stream it on Amazon Prime here.
The Neon Demon (2016)
There are dark explorations of human the psyche and obsession with fame and beauty and then there is the Nicolas Winding Refn's 2016 spectacle The Neon Demon which follows an orphaned aspiring model by the name of Jesse (Elle Fanning) as she tries to find her place in the seedy underbelly of Los Angeles' bustling fashion world. Through encounters with all sorts of unsavory characters like Keanu Reeves' Hank, Jena Malone's Ruby, and Bella Heathcote's Gigi, and Abbey Lee's Sarah, Jesse becomes consumed (literally at one point) by the madness of the world around her. And with all the temptation of a better life, the young virgin finds herself surrounded by human vultures who want nothing more than to take her innocence. And while it's extremely dark and cerebral, the movie is dripping with sex.
Stream it on Amazon Prime here.
Suspiria (2018)
Luca Guadagnino's 2018 remake of Dario Argento's 1977 supernatural art film Suspiria takes a lot from the original on which it was based but still finds room to add some of the most erotic and steamy dance scenes in a film that has little to nothing to do about the act of sexual intercourse. Set in 1977, the horror art film follows Susana Bannion (Dakota Johnson) as she rises through the ranks of a prestigious Berlin dance academy that is more than meets the eye. There is nudity, ceremonial dancing that is oddly erotic, and plenty of death and destruction (especially those final moments), making this a strange yet fitting movie to be included here. There are scenes in this movie, however, that will take you a while to forget, if at all.
Stream it on Amazon Prime here.
A Simple Favor (2019)
Despite its title, Paul Feig's 2019 crime drama A Simple Favor is anything but a simple and easy movie. One of the best whodunnits not called Knives Out to be released in recent years follows the blossoming friendship between blogger and widow Stephanie Smothers (Anna Kendrick) and public relations professional Emily Nelson (Blake Lively) as they begin to tell one another their deepest and darkest secrets. Things get out of hand, however, when Emily mysteriously vanishes, sending her new friend on a long and winding path before she gets to the truth. This sleek and sexy thriller has some pretty insane sex scenes (especially a certain flashback), but it also has this vibe about it that just comes off as racy, steamy, and all sorts of wrong.
Stream it on Amazon Prime here.
Those are just some of the steamiest, raciest, and sexist movies you can stream right now on Amazon Prime. But trust me, there are so many more out there that I couldn't include on this list (trust me, there are some insane titles on the platform). Let me know what you think of this list, and who knows, maybe I'll make another one with the truly bizarre movies next time. Well, I probably won't include some of them, they are that insane.
Philip grew up in Louisiana (not New Orleans) before moving to St. Louis after graduating from Louisiana State University-Shreveport. When he's not writing about movies or television, Philip can be found being chased by his three kids, telling his dogs to stop yelling at the mailman, or yelling about professional wrestling to his wife. If the stars properly align, he will talk about For Love Of The Game being the best baseball movie of all time.
Your Daily Blend of Entertainment News
Thank you for signing up to CinemaBlend. You will receive a verification email shortly.
There was a problem. Please refresh the page and try again.