Keanu Reeves Still Hanging Out With Girlfriend Alexandra Grant In Berlin As The Matrix 4 Films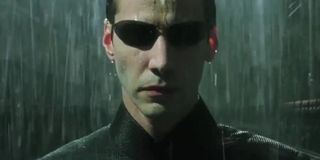 Keanu Reeves is a beloved and busy actor. Last seen on his latest movie Bill & Ted Face the Music, he's got a nice lineup of movies on his plate. Right now,he's working hard in Berlin, filming The Matrix 4 with director Lana Wachowski. But when he's off work, he's still been seen hanging out with girlfriend Alexandra Grant, which should be no real surprise.
Back in August we reported that Alexandra Grant was with Keanu Reeves while he worked on The Matrix 4 set, seeing the sights around Berlin like a World War II bunker turned art gallery. Now, according to People, Reeves and Grant were spotted kissing outside a hotel in Berlin. Talk about romantic.
The photo in question showed Keanu Reeves wearing blue jeans and a black jacket while carrying a couple of bags. He leaned over and gave Alexandra Grant a kiss through the window while she sat in her car. Looks like Reeves and Grant's relationship is still on a firm footing. The star couple has been reportedly dating for some time in secret before finally making it public back in 2019 on the red carpet.
Since then, Alexandra Grant has been thrust into the spotlight. While she's an artist in her own right with roughly 92k followers on Instagram, the newfound attention caused everyone she knew to call her within the week of finding out. But she simply asked the question, "What's the opportunity for good?"
Unfortunately, the sudden attention has also had some negative effects. After she and Keanu Reeves appeared on the red carpet, she reportedly was harassed for months by Keanu Reeves' stalker, forcing Alexandra Grant to ask for a restraining order. But considering they're still together in Berlin, it must not have scared Grant away from the relationship.
After being delayed due to current events back in March, The Matrix 4 reportedly resumed production in late June. At the time, photos of Keanu Reeves and Alexandra Grant surfaced, showing them hanging out on the set of The Matrix 4. Co-stars Carrie-Anne Moss and Neil Patrick Harris were also seen around the set.
Keanu Reeves hasn't played Neo since coming off the end of The Matrix Revolutions back in 2003. His career has changed and grown a lot since then, but he still seems grateful for being a part of The Matrix 4 and said that Lana Wachowski has written a "beautiful script." Unfortunately, there's no telling what that script might contain.
Fortunately for The Matrix fans, they won't have to wait too long to see the upcoming sequel. Originally, it was scheduled to hit theaters in April 2022 but has been moved up to December 22nd, 2021. For more movie news, be sure to stay tuned to CinemaBlend.
Your Daily Blend of Entertainment News
Your Daily Blend of Entertainment News
Thank you for signing up to CinemaBlend. You will receive a verification email shortly.
There was a problem. Please refresh the page and try again.