Jamie Foxx: What To Watch On Streaming If You Like The Project Power Star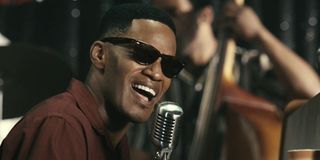 As a comedic, dramatic, and musical performer, Jamie Foxx has certainly proven himself over the years. Once a sketch comedy star on In Living Color, Foxx has gone on to become a bonafide A-list movie star with an Oscar to his name and several high-profile projects under his belt. Most recently, this line-up includes Project Power, which hit Netflix earlier this summer.
The original superhero action-drama was another good showcase for Foxx's clear talents, though there are a number of movies that put his skills on display. Many of which are currently available across various streaming services, as it turns out. Therefore, if you consider yourself a big fan of Jamie Foxx, you should make a point to check out these stream-friendly titles, which includes everything from awards contenders to goofy comedies to animated family films. When it comes to Foxx's filmography, there should be something for everyone to enjoy.
Django Unchained (2012)
A freed slave (Jamie Foxx) sets out to rescue his wife (Kerry Washington) from a plantation owner (Leonardo DiCaprio) with the help of a German bounty hunter (Christoph Waltz).
Why It's A Great Option For Jamie Foxx Fans: While it's not without its controversies, Quentin Tarantino's Django Unchained is another splashy, sensationalized spectacle from the famous writer/director, one that gives Foxx a tremendous starring role that allows the A-list Oscar winner to shine as an action, comedic and dramatic performer once more.
While Tarantino always knows how to pack a punch, it's ultimately Foxx's performance that carries this whole enterprise. As we watch Django's journey, Foxx's performance is always filled with conviction, passion, and emotional power. He brings the full power to Django's character arc and it's a fiery display. For my money, Django Unchained still remains one of Foxx's best performances to date.
Stream It On Netflix here.
Ray (2004)
A musical biopic centered around 30 years in the life of blues musician Ray Charles (Jamie Foxx).
Why It's A Great Option For Jamie Foxx Fans: While Jamie Foxx has given many impressive performances throughout his starry career, only one of them turned him into an Oscar winner. That movie was Ray, a biopic centered around the early rise of Ray Charles. While the film itself can often favor many familiar musical biopic tropes, Foxx's electrifying performance makes it rich with warmth, heart, passion, and soul. With the musician alive during the creative process (he was set to attend the movie's premiere but he died only months prior, it's easy to see how Charles' influence played a part in bringing Ray to life, with Foxx bringing all the vibrant intensity that you'd expect while also showcasing his ever-impressive vocal and dramatic range.
Stream It On HBO Max here.
Jarhead (2005)
A biopic centered around U.S. Marine Anthony Swofford's time serving in the Gulf War.
Why It's A Great Option For Jamie Foxx Fans: Where so many movies explore the valor and honor that comes with fighting in a way for your country, Sam Mendes' Jarhead opts for a different perspective, which involves exploring the mundanity that may befall soldiers who are left to squander in the trenches, hoping to find answers in a war they hardly understand — if they ever understand it at all. This approach earned Jarhead a mixed critical response, but it's worth noting that — even if you don't care for the approach — it's hard to fault its strong performances, notably from Jake Gyllenhaal as our lead and Jamie Foxx as Staff Sgt. Sykes. In his first major role after winning his Oscar, Foxx gets plenty of time to shine.
Stream It On Starz here.
Ali (2001)
A sports biopic centered around boxing legend Muhammad Ali (Will Smith).
Why It's A Great Option For Jamie Foxx Fans: While Ali is ultimately Will Smith's movie, this is the film that would pave the way for Jamie Foxx and director Michael Mann's working relationship. As Drew Bundini Brown, Ali's cornerman and assistant trainer, Foxx doesn't get as much time to shine as his A-list co-star, but he continues to prove his growing dramatic talents, working well off the former sitcom star who is also trying to prove himself as a heavyweight dramatic performer (you see what I did there?). While it doesn't get as much recognition as a few other Mann movies, notably due to it being a box office bomb (which was becoming rare, at the time, for Smith's career), it was evidently fruitful in fostering a collaborative process between Foxx and Mann.
Stream It On Showtime here.
The Soloist (2009)
A newspaper journalist (Robert Downey Jr.) discovers that a homeless man (Jamie Foxx) is a musical genius and vows to improve his life situation.
Why It's A Great Option For Jamie Foxx Fans: Though its Oscar hopes were dashed, The Soloist remains a great showcase for its dual stars, Robert Downey Jr. and, particularly, Jamie Foxx. Based on the true story of Nathaniel Ayers, an immensely talented musician who developed schizophrenia and became homeless, the movie's approach can occasionally be wobbly and uneven. But the performances outshine the movie more often than not, particularly Foxx, who provides one of his most affecting and emotionally raw performances to date. While the movie's award season hopes might've undetermined the sincerity of his work, it still remains a good and worthwhile showcase for this talented performer.
Stream It On Amazon Prime here, CBS All Access here, Crackle here, PlutoTV here, PopcornFlix here, and Plex here.
Any Given Sunday (1999)
A behind-the-scenes look at a struggling football team.
Why It's A Great Option For Jamie Foxx Fans: Admittedly, Oliver Stone's Any Given Sunday has received a mixed reception over the years, which seems to derive from its extended length and its frantic filmmaking. But while Stone's approach to this football movie has its equal share of detractors and supporters (much like any professional football team, one supposes), one aspect of the movie that does continue to earn its favor share of praise is the outstanding ensemble, which includes Al Pacino, Dennis Quaid, LL Cool J, Ann-Margaret, Cameron Diaz, Charlton Heston, Matthew Modine, Aaron Eckhart, and Jamie Foxx, to name only a few cast members. As "Steamin'' Willie Beaman, a quarterback with a complicated history with coaches, Foxx was given one of his biggest and earliest chances to stand out as a dramatic performer.
Stream It On Hulu here.
White House Down (2013)
A Capitol policeman (Channing Tatum) must spring into action to rescue his daughter (Joey King) and the President of the United States (Jamie Foxx) from a terrorist assault.
Why It's A Great Option For Jamie Foxx Fans: Though it's often dismissed as the other "White House under attack" movie from 2013, opposite to Olympus Has Fallen, White House Down is — in my view — the better, more entertaining blockbuster of the two, notably thanks to the easy chemistry shared between Channing Tatum and Jamie Foxx. When he's assuming the role of the Commander in Chief, Foxx brings a quiet dignity, but he also plays up his strengths as a comedic performer when bouncing off his leading man co-star. Together, they make an enjoyable pair in a movie that won't go down as one of the greats but it's not without its thrills.
Stream It On Crackle here.
Miami Vice (2006)
Based on the popular TV show of the same name, Detective Crockett (Colin Farrell) and Detective Tubbs (Jamie Foxx) find their professional and personal lives dangerously intertwined.
Why It's A Great Option For Jamie Foxx Fans: Reuniting with director Michael Mann, Jamie Foxx didn't receive as much critical or commercial notice for this follow-up as he did for their previous work, but this intriguingly grounded version of the popular '80s TV show provides a slick, coolly confident action blockbuster that's filled with style and gritty intensity. Though it takes many liberties in moving away from the cheesy appeal of its source material, Mann's confident filmmaking brings pulp and artistic engagement, which makes up for the lack of buddy chemistry (perhaps intentionally so?) between Foxx and Colin Farrell. While it was given a cold response upon release, it's been considered a cult hit over time.
Stream It On Starz here.
Beat Shazam! (2017 - Present)
A game show where players must compete to identify a series of songs.
Why It's A Great Option For Jamie Foxx Fans: In addition to being an A-list actor, Jamie Foxx also (somehow) has time to host Fox's game show Beat Shazam! The poppy, high energy series is considered breezy, undemanding television, and it's benefitted by Foxx's oversized personality as the face behind the program. Putting his charisma and quick-witted comedic talents to good use, this show might not be his most critically acclaimed or most prestigious work, but if you're looking for something relaxing and amusing, it might not be the worst way to spend time laying around on your couch. Plus, you can also put your musical knowledge to the test with every episode.
Stream It On Hulu here.
In addition to all these titles, it's also worth noting that Horrible Bosses is on HBO Max, Valentine's Day is on Netflix, Sleepless is also on Netflix, Bait is on Amazon Prime, Due Date is on Netflix, Robin Hood is also on HBO Max, and Stealth is on Crackle. Do you love Jamie Foxx? What's your favorite movie with the Oscar-winning actor? Let us know in the comment section!
Your Daily Blend of Entertainment News
Will is an entertainment writer based in Pittsburgh, PA. His writing can also be found in The Playlist, Cut Print Film, We Got This Covered, The Young Folks, Slate and other outlets. He also co-hosts the weekly film/TV podcast Cinemaholics with Jon Negroni and he likes to think he's a professional Garfield enthusiast.