What's Going On With The Metal Gear Solid Movie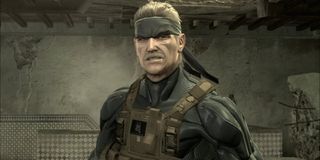 The Metal Gear Solid franchise has long been known for its cinematic structure (and extremely long cutscenes) just as much as it has for its inventive and satisfying gameplay mechanics. This is why it is so frustrating that after all these years (the franchise goes all way back to 1987's Metal Gear) we have never gotten a Metal Gear Solid movie. One could argue that each game is is essentially its own complex and oftentimes convoluted hours-long movie, but still, millions of Solid Snake's fans around the world are starving for a proper film adaptation.
In recent years, the chances of a Metal Gear Solid movie actually coming to fruition have been better than ever, but again, here we are in 2020, with nothing in the form of a cinematic experience. But fans of Hideo Kojima's crowing achievement in video game storytelling are a hardy bunch and will take joy in anything that has to do with the franchise (well, maybe not Metal Gear Survive), and will undoubtedly wait as long as they have to see the series adapted to the big screen.
Here's the story so far…
A Metal Gear Solid Movie Has Been In The Works For Years
Way back in the olden days of 2012, Metal Gear Solid fans across the globe were jumping with joy when Konami (the game's publisher) revealed that legendary movie producer Avi Arad would be helping adapt the game into a movie just as he had help do for the Spider-Man movies and pretty much every non-MCU Marvel movie dating back to the 1990s.
At the time of the announcement, CinemaBlend reported that the project was anything but a guarantee, and eight years later, we still have yet to see anything in terms of a movie come to theaters. However, this was just the beginning of the Metal Gear Solid movie's long road.
Kong: Skull Island's Jordan Vogt-Roberts Came On To Direct The Metal Gear Solid Movie In 2014
To best illustrate just how long the Metal Gear Solid movie (or at least the current iteration) has been in the works, Jordan Vogt-Roberts was brought on as the director before he was even revealed to be the one behind Kong: Skull Island, a movie that came out in March 2017. Back in June 2014, Deadline reported that Vogt-Roberts, who was making a name for himself with The Kings of Summer, was in negotiations to direct the Metal Gear Solid movie.
In March 2015 (just months before Hideo Kojima left Konami on mysterious terms), the project was still moving forward at a nice clip with Jordan Vogt-Roberts still on to direct and Avi Arad helping push things along behind the scenes.
In 2017, Jurassic World And Star Wars Writer Derek Connolly Was Hired To Write The Metal Gear Solid Movie
After two years of radio silence, it was announced in late 2017 that Derek Connolly, who helped write the stories for the Jurassic World movies, as well as Star Wars: The Rise of Skywalker, would be teaming up with his Kong: Skull Island collaborator (Jordan Vogt-Roberts) to write the script for the Metal Gear Solid movie, according to Variety. There weren't a lot of details released at the time of the big announcement, but Vogt-Roberts did reveal in an interview with Gamespot at the San Diego Comic Con in 2018 that he and Connolly had turned in a script and were in the process of working on rewrites.
Jordan Vogt-Roberts Said In 2017 The Adaptation Wouldn't Be Of Any Specific Metal Gear Solid Game
One of the biggest obstacles with adapting a franchise like Metal Gear Solid is trying to figure out which game should be the one getting the big-screen treatment. There's an argument for each of the games in the main franchise, but even so, a lot would still have to be left out. Director Jordan Vogt discussed this with Eurogamer in 2017 in a conversation in which he revealed:
Jordan Vogt-Roberts' statement, although pretty vague, does shed some light on a pretty cool development with the movie, one that could offer interesting scenarios involving Solid Snake, Big Boss, and hopefully Revolver Ocelot.
In 2018, Jordan Vogt-Roberts Released Concept Art To Show The Movie's Direction
Not wanting to be one who sits around idly not show off what he and the team working on the Metal Gear Solid movie were up to, Jordan Vogt-Roberts shared some amazing concept art with Kotaku in 2018 that showcased some of the things that his script would include, stating:
The Kong: Skull Island director would go on to say that he also brought in the artists to help him get everything worked out with the script and think about the different directions he would like to take.
The Inclusion Of A Metal Gear Solid Franchise Favorite: The Cardboard Box, Was Revealed In 2018
One of the longest running gags in the Metal Gear Solid franchise is the Solid Snake's (and Big Boss in the later games that are actually prequels) use of various cardboard boxes in a number of ways. These boxes do everything from help Snake hide from enemy guards, fast travel around Shadow Moses, and even allow him to walk past Sniper Wolf's wolves (after one of them urinates on the box) in the first game, and the uses got even crazier from there.
That being said, there is no way in hell boxes wouldn't come into play in Jordan Vogt-Roberts' Metal Gear Solid movie, and the director said as much in an interview with Gamespot. During the 2018 conversation at the San Diego Comic-Con, Vogt-Roberts said he would have failed at life if he didn't include the trope before adding that there are going to be multiple cardboard boxes in the movie.
Metal Gear Solid Creator Hideo Kojima Wants To See The Old Guard's Luca Marinelli Play Snake In 2020
It seems like everyone has an opinion about who should play Solid Snake in the Metal Gear Solid movie, with names like Oscar Isaac, Chris Evans, and even The Old Guard's Luca Marinelli being brought up as options for the clone of Big Boss.
Hideo Kojima, the creator of Solid Snake and everything else in the franchise, took to Instagram in July 2020 to say that Marinelli would be perfect to portray Solid Snake, explaining that not only did he think highly of him as an actor, he also thought that one of the stares of the Netflix graphic novel adaptation would be the "spitting image" of the Foxhound operative if he put on a bandana. And who knows, maybe Kojima could be on to something.
Jordan Vogt-Roberts' Troubles Getting The Movie Off The Ground Were Made Worse By COVID In 2020
Jordan Vogt-Roberts' journey to get the Metal Gear Solid movie off the ground has been long and full of twists, turns, and major obstacles in the way, none more so than the COVID-19 pandemic that brought the entertainment industry to a standstill throughout much of 2020. During a June 2020 appearance on Gary Whitta's in-game Animal Crossing talk show Animal Talk (via Gamespot), the director had this to say about the project:
Jordan Vogt-Roberts didn't go into the details as to how the pandemic specifically impacted the movie, but with the movie industry facing tough times ahead, it's easy to see how the project would be affected.
Who knows when we'll finally get to see the Metal Gear Solid movie, but when it finally does come, it will certainly be worth the wait. In the meantime, I guess we can just do what we always do in tough times and start playing the games all over again. That's not a bad idea.
Your Daily Blend of Entertainment News
Philip grew up in Louisiana (not New Orleans) before moving to St. Louis after graduating from Louisiana State University-Shreveport. When he's not writing about movies or television, Philip can be found being chased by his three kids, telling his dogs to stop yelling at the mailman, or yelling about professional wrestling to his wife. If the stars properly align, he will talk about For Love Of The Game being the best baseball movie of all time.