7 Great Rosario Dawson Movie And TV Appearances You May Have Forgotten About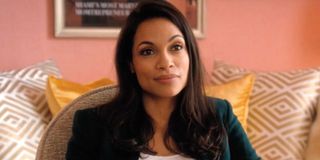 Kevin Smith once described Rosario Dawson, star of his 2006 comedy Clerks II, "the hottest geek on Earth." Indeed, in addition to her talent and beauty, the Latina actress is not shy about her fandoms - many of which she has become a part of. She is the connective tissue in Marvel's Netflix television series timeline as nurse Claire Temple, she provided the voice of Barbara Gordon in The LEGO Batman Movie, and has yet to appear on The Mandalorian as the live action debut of fan-favorite Star Wars character Ahsoka Tano.
Of course, there is more to the 41-year-old New Yorker than donning capes to fight crime, space battles, or tending to the wounds of superheroes. Rosario Dawson was the head Old Town girl, Gail, in both Sin City movies, a skilled stunt driver who bested Kurt Russell in Quentin Tarantino's Grindhouse segment Death Proof, a drug-addict exotic dancer in the film adaptation of Tony winner Rent, and proved she has what it takes to survive in a world ruled by the dead for more than a decade in Zombieland: Double Tap.
However, for every Rosario Dawson role you remember and praise her for, there is one that could have slipped your mind, failed hit your radar, or you just never got around to seeing it. Well, allow us to remind you of what you have been missing out on (or help beef up your to-watch list) with just seven of the actress' greatest hits that deserve more attention, starting at the very beginning of her career.
Ruby (Kids)
This drama also marks the career debut (and, arguably, peak) of Spring Breakers director Harmony Korine, who was only 19 when he wrote this brutally honest exposé of America's youth. One of the interwoven cautionary tales in Kids features then-15-year-old Rosario Dawson as Ruby, who gets tested for HIV along with her no longer sexually innocent friend Jennie (Chloë Sevigny), for support. The upsetting results are the tip of the increasingly dark iceberg of this critically-acclaimed, controversial, and initially NC-17 film that some disturbed audiences may have voluntarily forgotten since 1995.
Valerie Brown (Josie And The Pussycats)
This live action adaptation of the Archie Comics series also suffered the same fate, save those who believe it was unfairly misjudged (including star Rosario Dawson) upon its 2001 release. Dawson plays the multi-talented Valerie Brown, who forms the successful titular rock band from Josie and the Pussycats with guitarist and lead-vocalist Josie McCoy (Rachel Leigh Cook) and drummer Melody Valentine (Tara Reid), only to become pawns in a national mind control conspiracy. Perhaps the trio's appearances on Riverdale may coerce audiences into revisiting (or discovering) this comedy and recognize it for the clever, if not ridiculous, satire of the music industry it intended to be.
Andy Fox (Shattered Glass)
It is especially disappointing how little appreciation this 2003 film based on a shocking true story gets these days - not just as an overlooked Rosario Dawson role (reuniting with Kids co-star Chloë Sevigny here), but also a showcase of Hayden Christensen's talent, overshadowed by his Anakin Skywalker in the Star Wars prequels. He plays writer Stephen Glass, who was caught fabricating stories during his years at The New Republic magazine in the mid-to-late 1990s. Dawson plays Andy Fox, one of a few Forbes reporters instrumental in helping expose Glass' dishonesty in Shattered Glass, a Golden Globe-nominated historical drama that deserves to be recognized alongside Spotlight and All the President's Men as one of the finest journalism films of all time.
Mary (10 Years)
Rosario Dawson is also not the only one overlooked from this star-studded ensemble dramedy following a group of old friends who realize they still have some growing up to do at their high school reunion. The most potent example of this focuses on Dawson's character, Mary, and the unresolved feelings that ex-boyfriend Jake (Channing Tatum) realizes he has for her while attending the reunion with his wife (Tatum's then real-life spouse Jenna Dewan). Fellow future Marvel stars Chris Pratt and Anthony Mackie, fellow future Star Wars actor Oscar Isaac, and plenty more familiar faces also make up the cast of 10 Years, all of which put their best foot forward in this enjoyably witty and crushingly real film.
Wonder Woman (DC Animated Universe)
Going the extra mile past playing just one role from every major comic book publisher is Rosario Dawson who, in addition to playing The LEGO Batman Movie's Barbara "Batgirl" Gordon, has also provided the voice for DC's most famous female hero for years. She has played Wonder Woman in nearly every film she appears in from the DC Animated Universe since 2015's Justice League: Throne of Atlantis, including the Amazonian princess' self-titled spin-off Wonder Woman: Bloodlines in 2019. She owns the role so well just with her voice that, if not for the incomparable Gal Gadot, I would have recommended Dawson for the DCEU.
Velvet Von Black (The Haunted World Of El Superbeasto)
I even think it would be interesting to see Rosario Dawson reprise her role from this odd, morbidly funny, and extremely non-kid-friendly animated film in a live action update. From the mind of director Rob Zombie, The Haunted World of El Superbeasto sees the titular luchador/secret agent (voiced by comedian Tom Papa) take on undead Nazis, a mad scientist, and Dawson as a Satanically branded stripper named Velvet Von Black. The mostly straight-to-DVD 2009 flick was actually Dawson's second time working with the rock star turned modern-day exploitation cinema guru after her The Devil's Rejects cameo ended up on the cutting room floor.
Rosario Dawson (Aaliyah's "Miss You" Video)
One can imagine how thankful Rosario Dawson must have been to, technically, work with with her friend Aaliyah more than a year after the iconic R&B icon and actress' tragic death in 2001. The video for her single "Miss You" (a coincidentally fitting title) features Dawson and other celebrities who were close to the late singer (such as DMX, Missy Elliot, and Jamie Foxx) lip-synching the lyrics. As a tribute to her friend, it remains one of Dawson's most honest, heartfelt, and heartbreaking onscreen appearances.
What do you think? Have I covered all the performances that Rosario Dawson deserves more credit for, or did I unintentionally prove that I'm just as guilty of overlooking the best of her career? Let us know in the comments and be sure to check back for additional information and updates on the geek goddess, as well as even more retrospectives on your favorite celebrities' lesser known acting roles, here on CinemaBlend.
Jason has been writing since he was able to pick up a washable marker, with which he wrote his debut illustrated children's story, later transitioning to a short-lived comic book series and (very) amateur filmmaking before finally settling on pursuing a career in writing about movies in lieu of making them. Look for his name in just about any article related to Batman.
Your Daily Blend of Entertainment News
Thank you for signing up to CinemaBlend. You will receive a verification email shortly.
There was a problem. Please refresh the page and try again.