What Zendaya Misses About Acting In Movies Before The Pandemic Hit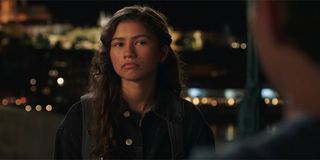 Hollywood has fundamentally changed the way it makes and releases movies in the wake of the COVID-19 pandemic. While studios struggle to balance the need to keep their films moving forward, casts and crews are encountering new safety precautions on sets. That's not the only thing that's changed for stars like Zendaya, though -- and she recently got very honest about what she misses most about acting in movies pre-pandemic.
Zendaya has actually had a pretty good year, at least professionally. She won an Emmy for her performance in HBO's Euphoria, and managed to film new episodes for that series as well as a whole movie, Malcolm & Marie, while under quarantine.
Both projects were completed by following safety protocols, to ensure that no one on set contracted COVID-19. Still, it goes without saying that it was likely a much different experience than Zendaya is normally used to on set.
Having said that, when Elle recently asked her what she's most looking forward to doing once the pandemic has passed, she revealed that it's less about being able to return to "normal" on set. Instead, it seems, it's about what she's able to do when she's not filming:
It sounds like Zendaya is staying pretty grounded, all things considered. She does have plenty to look forward to -- Dune has been pushed back to April 2021, though it's hard to say whether it will be safe for actors to travel and do press events by then.
Zendaya also has some new projects in the works. She'll make another appearance in the Spider-Man sequel, and she's currently slated to star in an upcoming Ronnie Spector biopic.
Your Daily Blend of Entertainment News