Why Hamilton's Daveed Diggs Says The Hype Surrounding The Musical Is Now Easier To Handle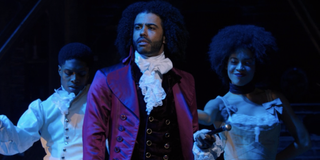 Anyone who's experienced a sudden rise to fame will probably tell you it has its upsides and downsides. Hamilton's Daveed Diggs went from being an up-and-coming actor and musician to being one of the most famous people to ever grace a Broadway stage. In retrospect, it sounds like it was a lot to take in all at once -- but he's now finding it's a bit easier to manage all the hype surrounding Hamilton.
Before Daveed Diggs booked Hamilton, he focused much of his creative energy into being a hip hop artist. That eventually led him to Tommy Kail and Lin-Manuel Miranda, two of the primary creative forces behind the soon-to-be world famous musical. The rest is, not to put too fine a point on it, history.
He may not have envisioned himself becoming part of such a huge phenomenon when he signed on to play Marquis de Lafayette and Thomas Jefferson. In a conversation with NME, Daveed Diggs admitted that he's coming to terms with the hype that helped catapult his career:
There's no denying that Hamilton served as a high-profile stepping stone for Daveed Diggs' career (if winning a Tony Award and starring in the most talked-about musical of the 21st century doesn't get your foot in the door, what will?). He's spoken before about struggling with the attention and the impact that Hamilton had on his life and career choices, and it's easy to understand how it might be difficult to focus on your whole career when you keep being asked to comment on just one part of it.
The actor has made the most of his newfound fame, though. He's channeled his talent for acting and writing through several successful projects. He contributed an original song to Zootopia and wrote, produced and starred in the indie drama Blindspotting. He continues to create music and perform with two of his pre-Hamilton collaborations, clipping. and Freestyle Love Supreme.
He's also continued to show his strengths as an actor, from supporting roles in films like Wonder to starring roles in Velvet Buzzsaw and the television adaptation of Snowpiercer. He's also been cast as the voice of Sebastian the Crab in Disney's highly anticipated remake of The Little Mermaid.
Your Daily Blend of Entertainment News
Thank you for signing up to CinemaBlend. You will receive a verification email shortly.
There was a problem. Please refresh the page and try again.