Rebel Wilson Reveals How Her Old Eating Habits Compare To Her New Ones In Honest Weight Loss Assessment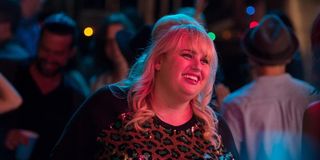 During 2020, Rebel Wilson, widely known for her comedy in movies like Pitch Perfect, has been working hard on a "year of health" by radically altering her diet and exercise habits to hit her weight loss goals. She's made extraordinary progress on that front, losing some 40 pounds since she started. So how did Wilson reach that goal? In her own weight loss assessment, the actress recently shared her old habits and compared them to her new ones, and they couldn't be starker.
Diet and exercise are never easy, but Rebel Wilson seemed determined this year to make those hard changes to better herself. After her hard work, she saw the fruits of her labor. Now, looking back, she recalled what her old habits looked like, and they're wildly different from what she does today. Here's what Rebel Wilson had to say to People:
Rebel Wilson's will to make these changes is pretty inspirational. Going from all carbs to protein is a big shift. So it's understandable that it would be a challenge, especially if she didn't eat a lot of meat beforehand. But it sounds like her discipline and determination helped her surmount that obstacle.
While she's made big changes, it doesn't sound like Rebel Wilson's become too intense about the dieting. She later revealed that she's trying to take a balanced approach to it and even had a specific mantra to hold onto when faced with a decision:
This isn't the only time Rebel Wilson has been open about her eating habits. Earlier this year, she shared about she would eat a lot of sugar and dessert as a form of stress eating. Her newfound fame had heightened her anxiety, and the way she dealt with it was "eating donuts."
Of course, dieting wasn't the only thing Rebel Wilson did to get her weight down. She has been working closely with a personal trainer Jono Castano Acero and spent six days a week exercising, including high-intensity interval training, mobility, weights, resistance and the like. Not to mention that she lost roughly eight pounds alone from working on the set of Cats.
But, what drove Rebel Wilson to make this ultimate change? Apparently it wasn't to lose weight, but to get to the root cause of why she was overeating. She claimed that she was at a point in her career where people were paying her to stay overweight, which messed with her head. Now, with such dramatic weight loss, Wilson's ready to go by a different nickname: "Fit Amy."
Your Daily Blend of Entertainment News