The Passion Of The Christ 2: What's Going On With Mel Gibson's Planned Sequel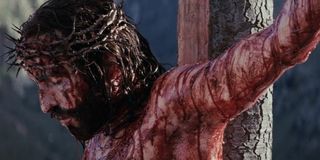 The second coming is coming. When it might come, though, we don't know. Following the astronomical box office success of 2004's The Passion of the Christ, it seemed like a given that director Mel Gibson would eventually make a follow-up to his biblical drama. Sure enough, in the past few years, we've gotten confirmation from the filmmaker, screenwriter, and lead actor that it'll arrive in the not-too-distant future.
But when it'll arrive wasn't foretold. Well, not explicitly, at least.
Developments haven't been quick, but details have slowly been forthcoming. It might be two whole decades after the release of the original movie before we get The Passion of the Christ: Resurrection, as it's currently titled, but the people involved are clearly passionate about it (no pun intended) and they have lofty ambitions and expectations to boot. But what do you know so far? Let's take a look at the timeline and see.
In 2016, Screenwriter Randall Wallace Announces Passion of the Christ 2
Following the phenomenal success of 2004's The Passion of the Christ, there were some folks wondering if co-writer/director Mel Gibson would ever make a cinematic follow-up to his high-grossing biblical tale. Alas, the filmmaker's deeply troubled personal history eventually overshadowed the astounding profitability of his film, stalling his career for several years until his critical rebound in 2016 with his Best Picture-nominated Hacksaw Ridge.
It was around this point in time that Oscar-nominated screenwriter Randall Wallace, who wrote Mel Gibson's Best Picture-winning Braveheart and also penned and directed 2000's We Were Soldiers, announced that he was working with Gibson on a sequel to his hit religious drama. Details were limited, but he claimed that the story would follow the resurrection of Christ, which makes sense. Following his climatic death in Passion of the Christ, the resurrection was set to follow.
Mel Gibson Hints At The Plot Of The Sequel, Titled Resurrection
A few months later in 2016, during an appearance on The Late Show with Stephen Colbert to promote Hacksaw Ridge, Mel Gibson confirms Randall Wallace's sequel talk, revealing that the plot of this proposed sequel would follow Jesus Christ's descent into Hell and the otherworldly battles he faced following his crucifixion and leading to his resurrection. Gibson's interest in the sequel was certainly apparent, though he admitted that it would still be "probably three years off." Ultimately, it took Jesus three days to resurrect, but it would take Gibson nearly 20 years before he could depict this transformation. Nevertheless, the filmmaker noted that it was a "big project." Therefore, it would take time to finalize his vision. But there's no doubt that Gibson wants it to happen. The timeline remains fuzzy, but the idea is being formed. Here's what he said on The Late Show:
In 2018, Jim Caviezel Enters Talks To Reprise The Role Of Jesus Christ
Following this informal sequel announcement, one had to wonder, "Will Jim Caviezel come back?" The gap between films will be so extensive that it wouldn't be out-of-the-question to hire a younger actor for this divine role. But like Christ before him, Caviezel will return.
In 2018, it was announced that Jim Caviezel would reprise his role as Jesus Christ in Mel Gibson's proposed sequel. Details regarding the project, including its production timeline, remained hazy, but Caviezel's returning involvement made it apparent that the project was still in motion. But it would still take time before cameras rolled. Now 52 years old, the actor will be pretty well into his 50s by the time the project comes together — assuming it does come together anytime in the near future. But his demanding portrayal of Christ in Passion was praised.
Jim Caviezel Claims Passion Of The Christ 2 Will Be 'The Biggest Movie In History'
Certainly, any expectations for Passion of the Christ 2 must be sky-high. While it garnered mixed reviews, both during and after its release, as well as its fair share of controversy, Mel Gibson's directorial feature became a phenomenal box office hit. For over a decade, it was the highest-grossing R-rated movie in history, which was largely thanks to its returning audience. Released at the beginning of Lent, The Passion of the Christ was an experience, and it appealed to the devout, as well as the folks curious by all the headlines it garnered. Certainly, anticipations would be astronomical for a sequel, even one that's late-in-the-game, and Jim Caviezel has no problem stoking the flames.
In an interview with USA Today, Jim Caviezel set the bar pretty damn high by claiming it'd be "the biggest movie in history." His words:
In September 2020, Jim Caviezel Claims He Got A New Draft Of The Script, Now Titled The Passion Of The Christ: Resurrection
While Mel Gibson and Jim Caviezel were doing their part to drum up anticipation for their promised sequel, the conversation became muted in 2019. During this time, whenever Gibson wasn't starring in different movies, he and Randall Wallace were apparently hard at work on the latest drafts of the script, which were sent to Caviezel.
At least, that's what Jim Caviezel said as recently as this September when he appeared on SiriusXM's Breitbart News Daily for his film, Infidel. In this discussion, Caviezel revealed that he got the third draft of the screenplay, which carried the title The Passion of the Christ: Resurrection. This claim contradicts another one he reportedly made in March, where he said he received the fifth draft. Nevertheless, it's still moving forward. Here's what Caviezel said:
Are you looking forward to The Passion of the Christ: Resurrection? Do you think Mel Gibson will (or should) follow up his record-breaking biblical drama? Let us know what you think in the comment section!
Your Daily Blend of Entertainment News
Will is an entertainment writer based in Pittsburgh, PA. His writing can also be found in The Playlist, Cut Print Film, We Got This Covered, The Young Folks, Slate and other outlets. He also co-hosts the weekly film/TV podcast Cinemaholics with Jon Negroni and he likes to think he's a professional Garfield enthusiast.