Jonathan Groff: What To Watch Streaming If You Like The Hamilton Star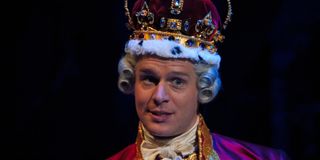 Jonathan Groff has a good-guy persona that usually translates well to his characters. Because even when he's playing a character with a dark side, you still find yourself liking him. Groff even does this with mad King George III in Hamilton. The musical's version of King George III is a little off his rockers, but you still kind of like the guy. This is all due to Groff's natural likability.
Jonathan Groff has brought his likability and earnestness to many of his projects. Whether trying to destroy a glee club, hanging out with reindeer, or hunting killers, Groff makes his characters endearing and enjoyable to watch. Let's take a look at some of Jonathan Groff's major movie and TV projects and where you can stream them.
Hamilton - Disney+
Hamilton is the hit Broadway musical written by Lin-Manuel Miranda. Through rap, show tunes, pop, and R&B music, it tells the story of founding father Alexander Hamilton. Groff appeared in the original Broadway production as King George III. He was the ruler of the United Kingdom when America won the American Revolutionary War.
Groff gets to play a wacky and crazy version of King George III, making him one of the comedic reliefs in Hamilton. It's a playful part for Groff that allows him to show off his vocal talents and comedic timing.
Stream Hamilton on Disney+ here.
Glee - Netflix
Glee is a Fox series that aired from 2009 to 2015. It was produced by Ryan Murphy and starred Lea Michele, Matthew Morrison, Cory Monteith, Amber Riley, Chris Colfer, Naya Rivera, and Darren Criss. It followed the New Directions glee club at McKinley High School as they dealt with typical teen issues, all while singing songs and preparing for competitions.
Jonathan Groff had a recurring role in Glee's first season as Rachel (Lea Michele)'s love interest and leader of rival group Vocal Adrenaline. He then had guest appearances throughout the show and plays a major role in Glee's final season.
Stream Glee on Netflix here.
Looking - HBO Max
Looking was an HBO original series that aired from 2014 to 2016. It followed the lives of gay men living in San Francisco. Looking's cast included Frankie J. Alvarez, Murray Bartlett, Lauren Weedman, Russell Tovey, and Raul Castillo.
Jonathan Groff played Patrick. In the first season, Patrick found himself in a love triangle with business savvy Kevin (Russell Tovey), who was in a relationship, and free-spirited Richie (Raul Castillo). Much of the first two seasons involved Patrick being drawn to both men but for different reasons. He also dealt with family issues and friendships. Looking is one of those underrated shows that didn't get enough attention while it was on the air, but hopefully finds an audience through streaming. HBO thankfully gave Looking a made-for-tv movie to tie up all loose ends.
Stream Looking the TV show and movie on HBO Max (show) (movie)
The Frozen Series-Disney+
Frozen is Disney's animated film about sisters Anna (Kristen Bell) and Elsa (Idina Menzel). Elsa becomes the Queen of Arendelle, but when her ice powers become too much for her to control, she heads off on her own. Her sister Anna sets off to find her.
Kristoff (Jonathan Groff) accompanied by his trusty reindeer Sven, helps Anna on her journey. The two fall in love, despite him being a bit of a fixer-upper. The Frozen gang return for a sequel, and other short films. Kristoff is the right amount of odd and endearing, which makes him a perfect match for Anna. Frozen II fans also were treated to some smooth Groff singing with "Lost in the Woods."
Stream Frozen and Frozen II here (1, 2)
Mindhunter - Netflix
Joe Penhall, Charlize Theron, and David Fincher executive produce Mindhunter. Mindhunter follows FBI agents Holden Ford (Jonathan Groff) and Bill Tench (Holt McCallany) as they try to get inside the minds of murderers to develop murderer profiles.
Groff is the main character along with McCallany. Groff's Holden is a bit more fascinated with what makes a serial killer tick than Tench. In many ways, his fascination and curiosity about them make the audience more invested in the mind of a serial killer. Groff has had lead roles before but this is one of his few serious drama ones, especially as the main protagonist.
Stream Mindhunter on Netflix here.
The Normal Heart - HBO Max
The Normal Heart is an HBO Original movie about gay men during the 1980s and the HIV-AIDS crisis. Mark Ruffalo is the main character, Ned Weeks. Ned is passionate about trying to stop the spread of HIV and saving gay men from dying. Ryan Murphy directed The Normal Heart and the cast includes Julia Roberts, Taylor Kitsch, Jim Parson, Matt Bomer, and Jonathan Groff.
Groff plays Craig, Bruce (Taylor Kitsch)'s boyfriend and a close friend of Ned. Groff's part is small but a vital one in it helps set up the high stakes and severity of these men's situation. The Normal Heart is a powerful film that leaves you devastated and angry, mainly due to the cast's moving performances, and because of the movie's real-life inspirations.
Stream The Normal Heart on HBO Max here.
Boss - Starz
Boss is a Starz original series that stars Kelsey Grammer as Tom Kane, a fictional mayor of Chicago. Kane is corrupt and all-powerful but faces his own mortality when he's diagnosed with Lewy body dementia. The cast of Boss includes Connie Nielsen, Hannah Ware, Jeff Hephner, and Kathleen Robertson.
Jonathan Groff is introduced in Boss in Season 2, and appears in ten episodes before it was canceled. Groff's character Ian Todd starts the series as Kane's assistant but quickly shows himself as an ambitious character trying to work his way up. He also forms a close bond with Kane's daughter Emma (Hannah Ware), but keeps a major secret that doesn't get to play out because of the series' cancellation. Ian is a bit corrupt like Kane, but still has some humanity to him. It would have been interesting to see Ian in Season 3 with the big reveal at the end of Season 2 to watch how that storyline played out, and see Groff add more layers to this character.
Stream Boss on Starz here.
The Conspirator - Youtube
The Conspirator is directed by Robert Redford and stars an all-star cast lead by James McAvoy and Robin Wright. The Conspirator cast also includes Tom Wilkinson, Alexis Bledel, and Justin Long. The film follows the events after the assassination of Abraham Lincoln, including the trial to prosecute men and a woman accused of conspiring to kill Lincoln along with John Wilkes Booth.
Groff has a small role in The Conspirator, playing Louis J. Weichmann, a man who stayed with the accused Mary (Wright). Weichmann testifies against Mary and her missing son, but her lawyer Frederick Aiken (McAvoy) turns the tables on him, making him look guilty as well. It's a small role for Groff, but the film is full of talented actors and Groff naturally fits into a period piece like The Conspirator.
Stream The Conspirator on Youtube here.
Taking Woodstock (Peacock)
Taking Woodstock is the story of Elliot Tiber (Demetri Martin) and how he and his town help save the Woodstock concert. The first half of Taking Woodstock focuses on Tiber and his village trying to get everything ready for the concert, and the second half focuses on Tiber's experience during it and how it helps him grow. The Taking Woodstock cast includes Martin, Imelda Staunton, Jonathan Groff, Eugene Levy, and Liev Schreiber.
Groff plays co-creator and Woodstock organizer Michael Lang. It's a supporting role for Groff, but his character is very interesting when compared to some of Groff's other characters. He often plays a straight-laced, slightly nerdy or type-A character but Lang doesn't fall into that category at all. It's a nice departure from Groff's character norms and it fits him well, even the long curly wig works.
Stream Taking Woodstock on Peacock here.
C.O.G (Tubi)
Jonathan Groff stars as David (who tells everyone that his name is Samuel). He takes a job as an apple picker to gain real-life experience after getting his Master's Degree. C.O.G tells the story of the jobs David takes while on his journey, the people he meets, and coming to terms with his own identity. C.O.G's cast includes Denis O'Hare, Casey Wilson, Corey Stoll, and Troian Bellisario.
C.O.G is based on an essay by David Sedaris that appears in his book Naked. Groff is the main character in C.O.G, so the film really relies on him to fail or succeed. Groff gives a strong performance as he makes David a sympathetic and frustrating character simultaneously. You understand David's inner turmoil but you also know he can be a real jerk at times.
Stream C.O.G on Tubi here.
Jonathan Groff will appear alongside Keanu Reeves and Carrie Anne Moss, and many other new cast members in The Matrix 4. Groff's will also team up with Kristen Bell again for a musical called Molly and the Moon. We can't wait to see Groff in The Matrix 4 and Molly and the Moon, but for now, this list should provide plenty of Groff content.
Your Daily Blend of Entertainment News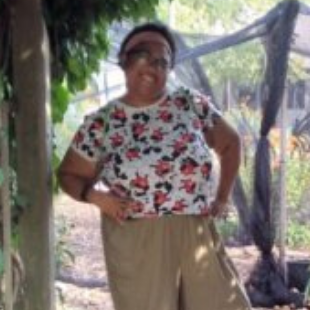 Spent most of my life in various parts of Illinois, including attending college in Evanston. I have been a life long lover of pop culture, especially television, turned that passion into writing about all things entertainment related. When I'm not writing about pop culture, I can be found channeling Gordon Ramsay by kicking people out the kitchen.