Zack Snyder's Justice League: See What Carla Gugino Could Have Looked Like As Catwoman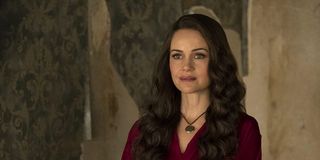 Zack Snyder is hard at work on his version of Justice League, bringing some surprise characters into the mix in the process. It'll will be packed with characters when all is said and done, including major DC villains like Lex Luthor and Deathstroke. And recently, Snyder appeared to be teasing Catwoman, and many fans pointed to Carla Gugino as a potential candidate for the role. Now, a fan has given us a taste of what that could look like.
In Batman v Superman: Dawn of Justice, many characters from Batman's world were surprisingly missing, including Selina Kyle/Catwoman. Since Zack Snyder is now tackling Justice League, many fans would love to see Carla Gugino make an appearance as Catwoman, as evidenced by this fan art recently posted on Instagram. Check it out:
Wow. I have to admit that looks dead on and that Carla Gugino would fit the Catwoman role like a glove. That said, while Zack Snyder has teased the possible appearance of Catwoman in Justice League, there's been no clear confirmation that Carla Gugino will be playing her. Still, if Zack Snyder wants Catwoman in Justice League, it would make sense for him to pick Carla Gugino. He even previously admitted on a podcast that she would be a great choice.
Zack Snyder and Carla Gugino already have a firm working relationship. Watchmen fans will recall that she played Sally Jupiter/Silk Spectre in the 2008 film. Later, she played Dr. Vera Gorski in Snyder's Sucker Punch and also offered her voice for Man of Steel and Batman v Superman: Dawn of Justice. So if she were to be offered the Catwoman role, she'd be right at home.
If Catwoman does make an appearance in Justice League, it's hard to imagine she would have much of a role, considering the already packed cast list. Would she make a mere cameo? Could she appear in a flashback scene to explain more of Batman's backstory? Whatever the case, there's no doubt it would be cool to see her show up in some capacity.
The last time we saw Catwoman make a live-action appearance in a Batman film was when Anne Hathaway's played the character in The Dark Knight Rises back in 2012. And regardless of whether we see Catwoman appear in Zack Snyder's Justice League, we know she'll for sure be playing a role in Matt Reeves' upcoming film, The Batman. Mad Max: Fury Road actress Zoe Kravitz will be the one to dawn the claws in that film alongside Robert Pattinson's Batman.
Still, Carla Gugino could easily tackle an older, more mature version of Catwoman, if not any other DC character. She's long been an underrated actress who proven to surprise audiences with her performances time and time again. Now, only time will tell if Zack Snyder taps her to hop into the Justice League action when it debuts on HBO Max in 2021.